The third single from the upcoming Lunacy LP, Echo in the Memory, escalates. "Open Ended" builds and surges, creating waves of  doomy soundscapes that fill up the seemingly endless void. As a follow up to the first single, "Dust," and his second, "Glypth," the Pennsylvania-based producer continues in his exploration of lo-fi noise and cinematic constructions within his dystopian conceptual work. Deteriorated organ sounds cry out underneath Lunacy's distorted vocals—and the result is a tempestuous blanket of dusty haze.
"Open Ended"'s video portrays that abandoned emptiness of a dystopic society through its grain and fuzz. A visual interpretation of the monochrome monotony of life. As the track progresses it "transmit[s] static images of abandoned industrial machinery and old growth."
Watch below:
"Open Ended" is off Echo in the Memory LP which comes out April 1, 2022 on Dedstrange. Pre-order here.
Upcoming tour dates:
Europe w/ A Place To Bury Strangers*:
31.03 – MARTIGNY – LES CAVES DU MANOIR *
01.04 – PARIS – TRABENDO *
02.04 – LONDON – LAFAYETTE *
04.04 – ANTWERP – KAVKA *
05.04 – MUNSTER – GLEISS 22 *
06.04 – AMSTERDAM – MELKWEG *
07.04 – GRONINGEN – VERA *
09.04 – STOCKHOLM – HUS 7 *
10.04 – OSLO – JOHN DEE *
11.04 – COPENHAGEN – PUMPEHUSET *
12.04 – BERLIN – HOLE 44 *
13.04 – KOLN – MTC CLUB *
United States w/ VR Sex^:
04.18 – WASHINGTON DC – DC9 ^
04.20 – PHILADELPHIA – PHILAMOCA ^
04.22 – BROOKLYN – SAINT VITUS ^
04.23 – BOSTON – MIDDLE EAST (UPSTAIRS) ^
04.26 – DETROIT – UFO CLUB ^
04.27 – CHICAGO – EMPTY BOTTLE ^
04.29 – DENVER – HI DIVE ^
04.30 – SALT LAKE CITY – URBAN LOUNGE ^
05.03 – EL PASO – THE DUNGEON
05.04 – AUSTIN – TBA
05.06 – ASHVILLE – STATIC AGE RECORDS
05.09 – PHILADELPHIA – JOHNNY BRENDAS*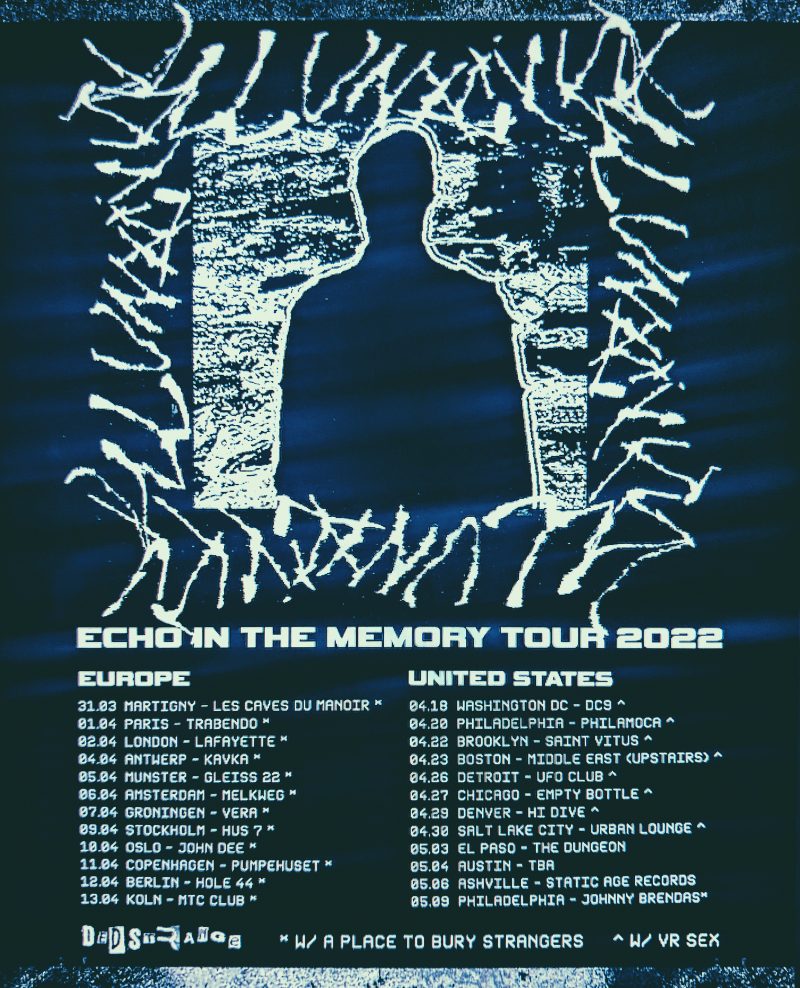 Connect with Lunacy:
Facebook
Instagram