He's a surrogate for love
Sticks to skin just like a glove
Talks your ear off every night
But gives your nose the devil's dust
Los Angeles cultural anthropological outfit VR SEX are gearing up for the imminent release of Rough Dimension, a new LP out next Friday via Dais Records. To guide us through the sordid study of the land of dreams, Andrew Clinco (Drab Majesty) once again dons the moniker "Noel Skum" for this project. With VR Sex, his acid punk musical guise,  he poetically explores darker and heavier sounds, while traversing the seedier roadways and passages of the human experience.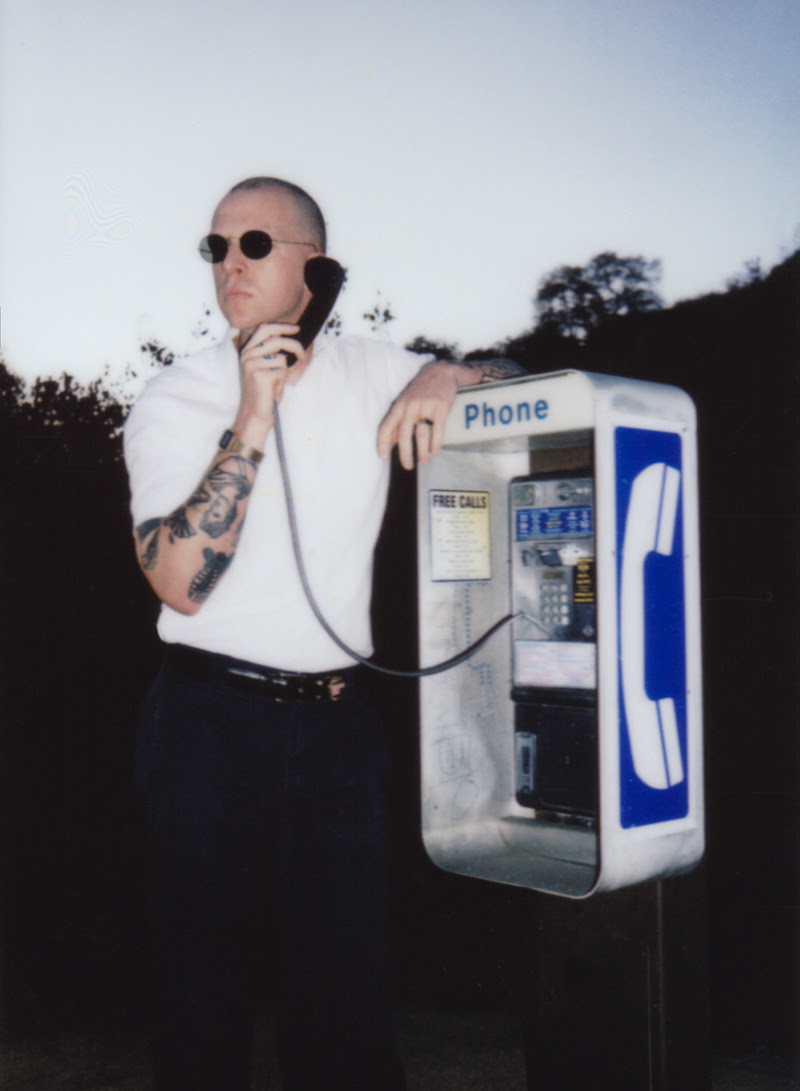 In the latest single from the album, "Live (In A Dream)", Skum vents his fascination with…and scorn for…the seedy, surreal margins of low-life Los Angeles. The band weaves themes of futurist sleaze within a framework of driving, distorted guitars, and cathode-blasted synths, channeling The Damned and The Fall. His muses: those doomed to dead ends of vanity, lust, and technology. After all, "Noel Skum" is just the rearranged letters of Elon Musk.
The visualizer and lyric video for the track is "a brief yet familiar story of delusion and destruction. The song is a tale of myopia while the video zooms out and observes the world and its both natural and man-made absurdities and atrocities," says Skum. Cleverly using stock footage from various skirmishes throughout the 20th century, everything old is new again. Everything is returning on the karmic wheel. It perfectly illustrates Skum's candid delivery of resistance to the same old BS.
Watch the video for "Live In A Dream", below:
Rough Dimension takes its title from an architectural phrase – but more importantly refers to the warped, wicked underworld the songs both chronicle and condemn. The album melds the melodic and the macabre with a 21st century Babylon absurdism.
Rough Dimension will be released on March 25th, 2022. VR SEX will be on tour in North America from March 24 – April 30th.  Check out the tour dates listed below and don't miss out.
VR SEX, ON TOUR:
3/24/2022 San Diego, CA The Casbah %
3/25/2022 Los Angeles, CA Zebulon %
3/26/2022 Oakland, CA Elbo Room Jack London %
3/28/2022 Seattle, WA Barboza %
3/30/2022 Vancouver, BC The Fox Cabaret %
3/31/2022 Portland, OR Mississippi Studios %
4/1/2022 Boise, ID Neurolux %
4/2/2022 Reno, NV Holland Project %
4/8/2022 Phoenix, AZ Valley Bar
4/9/2022 Tucson, AZ Club Congress
4/11/2022 Austin, TX Hotel Vegas #
4/12/2022 Dallas, TX Cheap Steaks #
4/13/2022 Houston, TX Secret Group #
4/14/2022 New Orleans, LA Santos #
4/15/2022 Atlanta, GA The Earl #
4/16/2022 Nashville, TN The End #
4/18/2022 Washington, DC DC9 $
4/20/2022 Philadelphia, PA PhilaMOCA $
4/22/2022 Brooklyn, NY Saint Vitus $
4/23/2022 Cambridge, MA Middle East (Upstairs) $
4/24/2022 Montreal, QB L'esco
4/25/2022 Toronto, ON The Monarch
4/26/2022 Detroit, MI UFO Factory $
4/27/2022 Chicago, IL The Empty Bottle $
4/29/2022 Denver, CO Hi Dive $
4/30/2022 Salt Lake City, UT Urban Lounge $
% with Marbled Eye
# with The Serfs
$ with Lunacy
Follow  VR SEX: