Los Angeles acid deathrock punks VR Sex wander the perilous path of desire and delusion in their star-paved video for "Walk of Fame.
VR Sex is led by Noel Skum, the acid punk guise of Andrew Clinco of Drab Majesty, who utilizes this persona to explore heavier sounds while traveling down the darker roadways and passages of human existence.
As Covid regulations began to lift and foot traffic in Los Angeles increased, Skum and director Jai Love started frequenting the Hollywood Walk of Fame in an effort to document the present-day personalities that make up the colorful stretch of sidewalk.
"In our travels, we befriended what some would call a Jesus impersonator who goes by the name of Jesse Christmas," says Skum. "While donning Christ-like garb and a crown of thorns, in no way does Jesse actually claim to be the second coming of Christ, nor does he profess any sort of religious dogma; he mostly just likes to walk around Hollywood Blvd. dressed as Jesus because, according to him 'the dude had sick style.' When we approached him to be in our music video Jesse obliged but under one condition: He also wanted his rock n' roll alter ego 'Clark Nova' to be featured. 'Walk Of Fame' is both an audio and visual chronicle of a day in the life of Jesse Christmas aka Clark Nova."
The video is a bizarre tour of Hollywood's Walk of Fame, peppered with a charismatic cast of characters– including a cameo from local legend Angelyne. It is a snapshot of life in Los Angeles – the characters, the distance from reality, the all-too-real moments of life, and surreal fantasy in the City of Angels.
The track itself is a dreamy psychedelic lurch through the city's seedy underbelly, slightly recalling the dizzy 90s Britpop of Pulp, with the rawness of Pixies and Dandy Warhols. Yet, the art-punk influences from the works of Wire, Chrome, and Minimal Man, are clearly worn on Skum's rolled-up sleeves, as he laments his disdain for and fascination with low-life Los Angeles—a city whose cracked pavement often leads to the doomed dead ends of vanity, lust, and technology.
Watch the video for "Walk of Fame" below:
Although initially launched as an outlet for "heavier sounds" beyond Clinco's duties in new wave fantasists Drab Majesty, VR SEX has ripened into a captivating exercise in world-building, weaving themes of gritty city neo-futurist sleaze within a framework of driving, distorted guitars, and cathode-blasted synths. VR Sex takes its title from an architectural phrase, but more importantly refers to the warped, wicked underworld the songs both chronicle and condemn.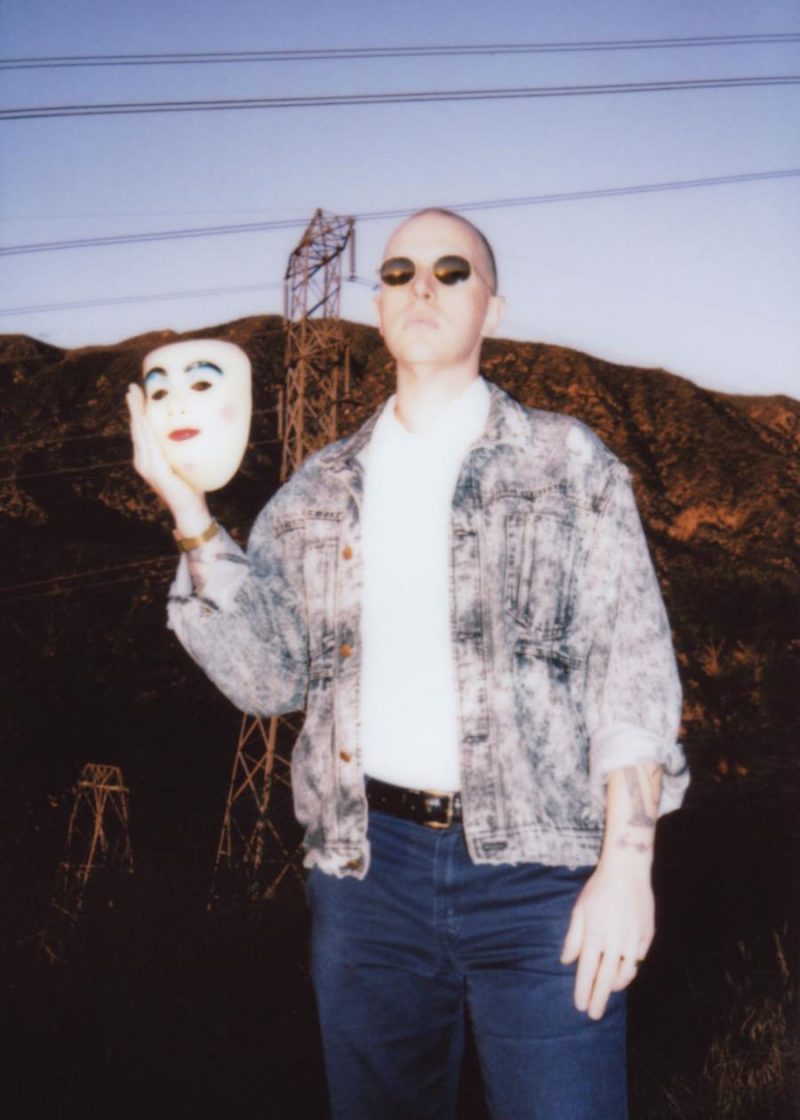 "Rough Dimension charts its own twisted vision of "our unforgiving reality," says Skum, describing the collection of songs as "a bristling mix of the melodic and the macabre, absurdist observations of fast living and desperate measures, the clock of youth ticking towards midnight as dreams unravel in Babylon."
Written and demoed across two weeks alone in a Marseille flat using his prized 1980's Gibson "Invader" and a laptop, Skum then took the tracks to Strange Weather studios in Brooklyn to record with Ben Greenberg (Uniform, The Men) who helmed 2019's debut, Human Traffic Jam. The results are notably ripping, refined, and riveting.
These cautionary tales of psychic decay and tainted love are a thrill rather than a drag for the band.  Skum relishes the sleazy glamour and mocks it through wry observations of the actions of parasites and predators. "The Rough Dimension may be a cesspool, but it's home," he says.
Rough Dimension is set for release on March 25th, 2022 via Dais Records.
VR SEX, ON TOUR:
3/24/2022 San Diego, CA The Casbah %
3/25/2022 Los Angeles, CA Zebulon %
3/26/2022 Oakland, CA Elbo Room Jack London %
3/28/2022 Seattle, WA Barboza %
3/30/2022 Vancouver, BC The Fox Cabaret %
3/31/2022 Portland, OR Mississippi Studios %
4/1/2022 Boise, ID Neurolux %
4/2/2022 Reno, NV Holland Project %
4/8/2022 Phoenix, AZ Valley Bar
4/9/2022 Tucson, AZ Club Congress
4/11/2022 Austin, TX Hotel Vegas #
4/12/2022 Dallas, TX Cheap Steaks #
4/13/2022 Houston, TX Secret Group #
4/14/2022 New Orleans, LA Santos #
4/15/2022 Atlanta, GA The Earl #
4/16/2022 Nashville, TN The End #
4/18/2022 Washington, DC DC9 $
4/20/2022 Philadelphia, PA PhilaMOCA $
4/22/2022 Brooklyn, NY Saint Vitus $
4/23/2022 Cambridge, MA Middle East (Upstairs) $
4/24/2022 Montreal, QB L'esco
4/25/2022 Toronto, ON The Monarch
4/26/2022 Detroit, MI UFO Factory $
4/27/2022 Chicago, IL The Empty Bottle $
4/29/2022 Denver, CO Hi Dive $
4/30/2022 Salt Lake City, UT Urban Lounge $
% with Marbled Eye # with The Serfs $ with Lunacy
Follow VR SEX: