On August 21st, 1989 The Cure released "Love Song", a track from the band's eighth studio album Disintegration. The song was penned by frontman Robert Smith as a wedding present to his wife Mary Poole, whom he had married just a year before the song's release.
Robert Smith had met Mary Poole when he was just 14 years old at St. Wilfrid's Comprehensive School in Crawley, England, when he mustered the courage to ask her to be his partner in a drama-class project.
"I just struck lucky early on," he told The Guardian in 2004. And indeed luck was with him, as he got a partner for life instead.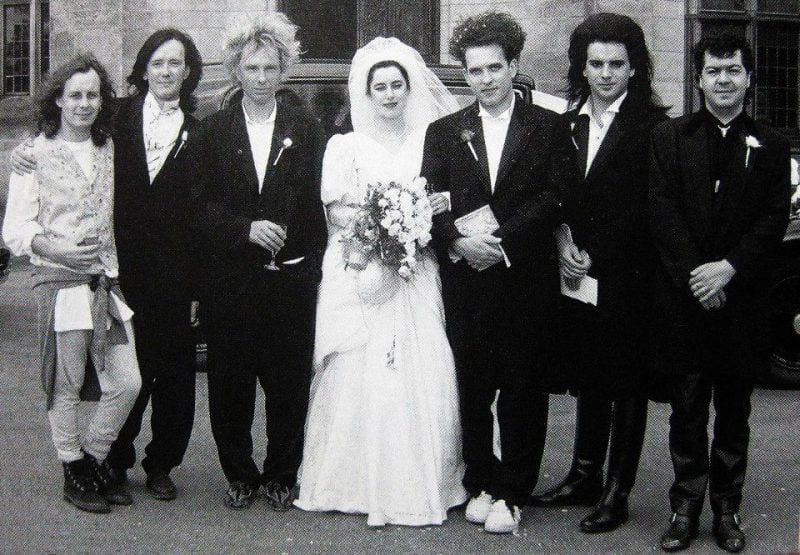 Mary would be a constant motivation pushing Robert towards success with The Cure, making subtle cameo appearances throughout the band's career, beginning with the song "M" on the band's second studio album Seventeen Seconds.
It was not until 1987's video for "Just Like Heaven", an engagement gift to Mary, that her romance with Robert would take center-stage, quite literally, as the couple is seen dancing on the cliffs of Beachy Head in Brighton for the song's music video.
(For more on the video for "Just Like Heaven", go here.)
Robert Smith and Mary Poole would marry on August 13, 1988.
"It's an open show of emotion," Robert recounted to writer Jeff Apter around the time of "Lovesong's" release in August of 1989.
"It's not trying to be clever. It's taken me 10 years to reach the point where I feel comfortable singing a very straightforward love song. In the past, I've always felt a last-minute need to disguise the sentiment. …I couldn't think of what to give her, so I wrote her that song — cheap and cheerful. She would have preferred diamonds, I think, but she might look back and be glad that I gave her that."
Watch the video for "Love Song" below:
On the making of the music video for "Love Song", Cure keyboardist Roger O'Donnell, (who wrote the music for the single's  b-side "Fear of Ghosts"), recounts:
"I remember this video shoot very well. It was shot right in the middle of the break between the European and American legs of the prayer tour summer 1989. Of course, nobody was particularly excited about giving up a day of their time off, and especially for a song none of us thought was going to be a hit! We were, of course, all completely wrong as it was the cure's most successful single ever, reaching number 2 in the US."
"Tim pope originally wanted to shoot the video in cheddar gorge, a cave in the west of England, but couldn't get permission so he had to recreate it in a studio in London. Richard, the art director ( standing next to the wigs in the photo) made all the stalagmites from a combination of polystyrene and plaster and then sprayed them … I've still got a piece at home. I had my own cave off to one side so once I'd done my shots I was finished whilst Robert spent the rest of the day having water dripped all over him. That's Paul Cox in the middle, our long time photographer, he was there to do some stills for the 1990 cure calendar. All in all one of the more painless of Tim's videos to make"