A testament to the enduring sounds of post-punk, industrial, new wave, synth-pop, and experimental – Substance features today's most compelling acts as well as the pioneers who forged the way.
It's been impossible to ignore the (well-deserved) hype around the second annual Substance Festival that will be held in Los Angeles from November 26 to November 28. The festival, which spans across three stages on three different floors of the historic Belasco Theatre, taps into every underground genre—there is literally something for everyone. From historic acts, to well-established ones, Substance connects the dots between the past and the future. Here, up and comers collide with some of North America's most cherished artists.
Each day is carefully curated to satiate a variety of tastes—whether it's metal, EBM, post-punk, or synthpop—the festival has made it easy to discover new acts to fall in love with while, at the same time, experiencing performances by your favorite bands. Let's take a preview of what's in store next weekend.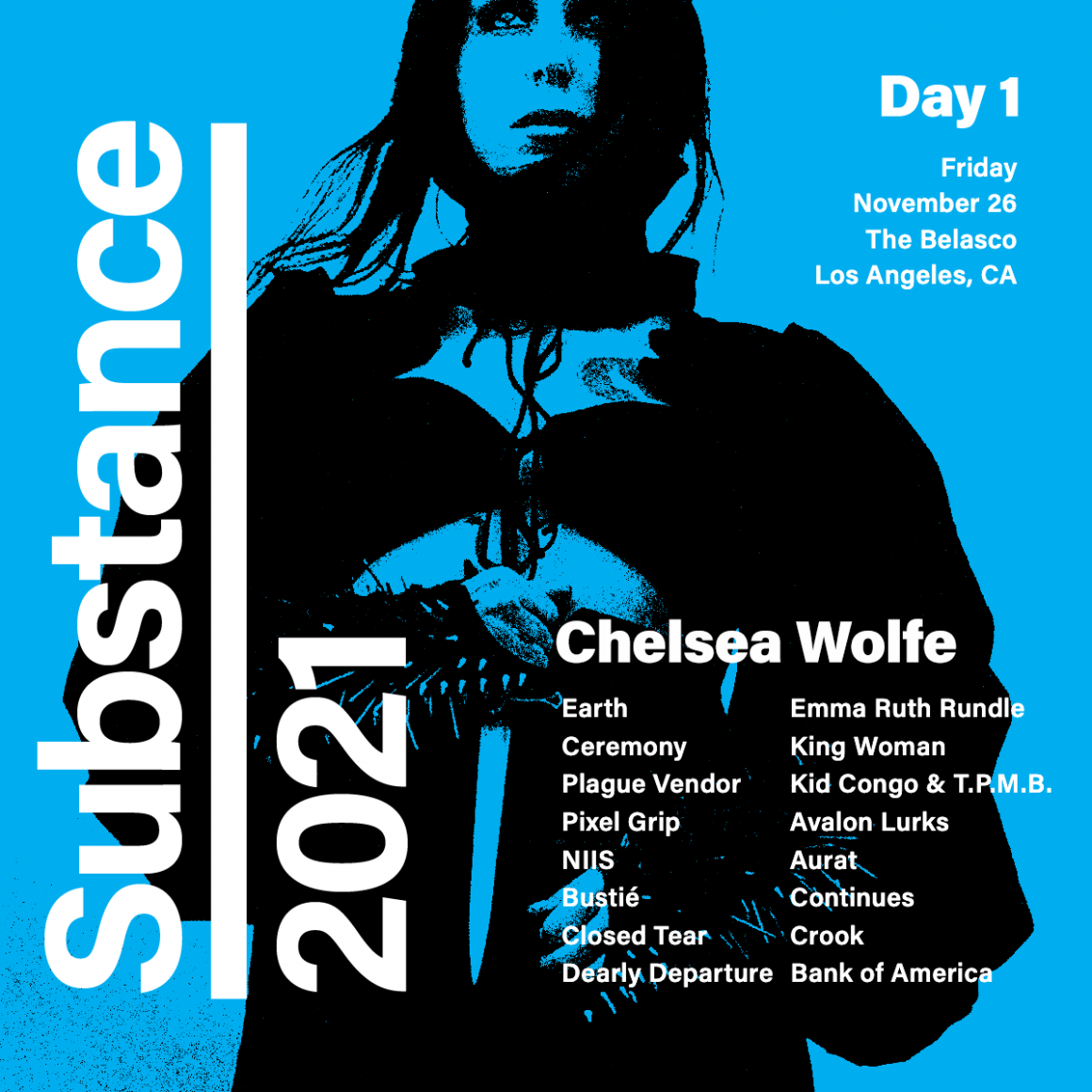 Friday, November 26 eases us into Substance Festival with a serious lineup. Headliner Chelsea Wolfe has become a staple in the dark underground with her specific blend of doom metal, neofolk and ethereal music. Alongside her, metal goddess King Woman will hold down the throne as Kid Kongo (The Gun Club, The Cramps, Nick Cave and the Bad Seeds) will provide a raucous performance with his band T.P.M.B. Try not to miss the Chicago-based trio, Pixel Grip, with their EBM-infused dance or locals, Aurat, whose most recent release of deathrock-cum-EBM is a favorite here at Post-Punk.com.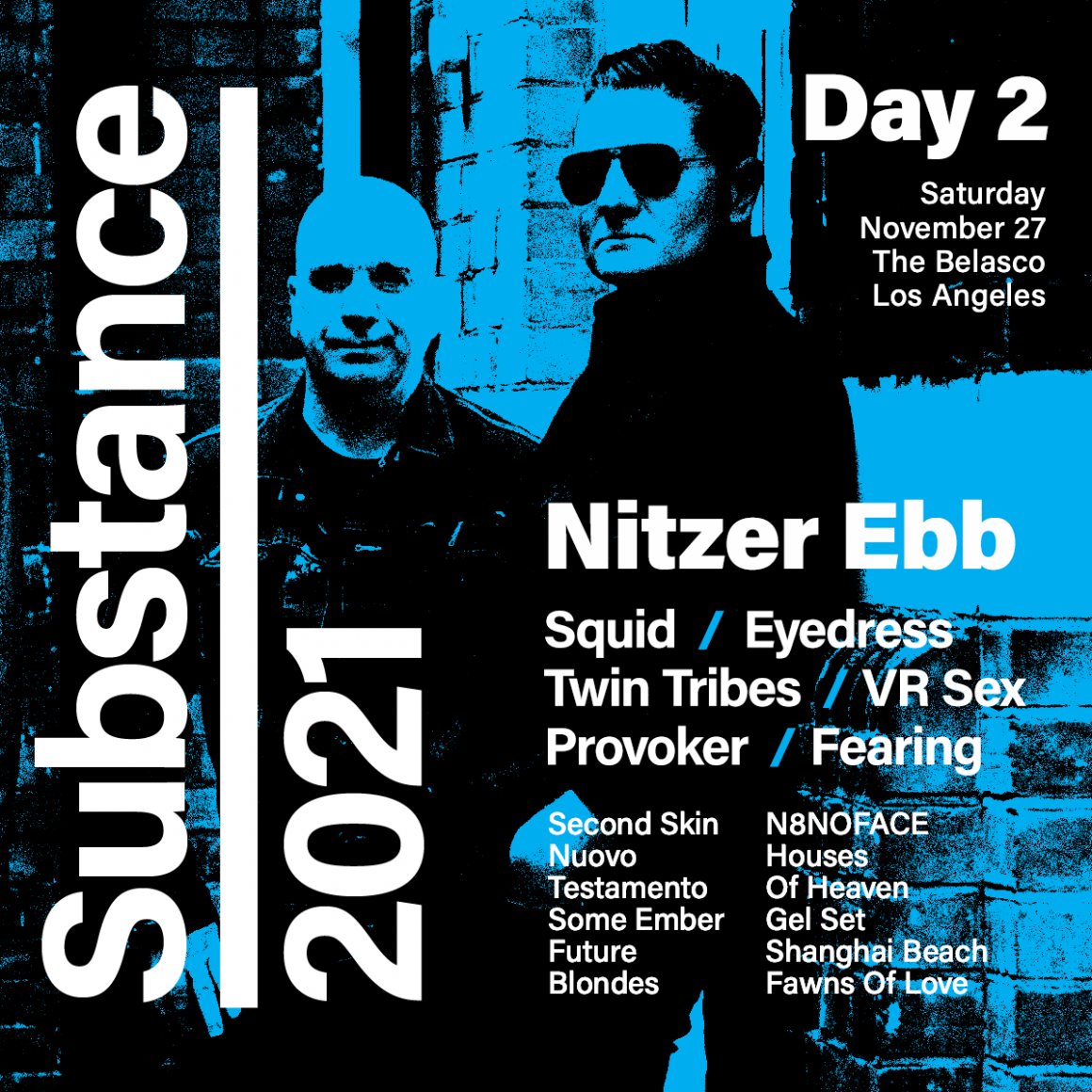 It's hard to imagine where certain types of music would be without Nitzer Ebb. The EBM band, who hailed from the UK in the early 1980s, are found in DJ sets and on dance floors most nights (no matter the genre). As headliners on Saturday, expect nothing but hard-hitting running basslines and percussion under Douglas McCarthy's aggressive shouts. It might be hard to parse out which bands to see on this day since the lineup is so solid but, if possible, catch the upcoming new wave act, Second Skin, and the Italo darlings, Nuovo Testamento. Other highlights will be the post-punk power of Fearing alongside VR Sex, Some Ember, Future Blondes, and Squid, who are appearing on the heels of two sold-out shows in LA.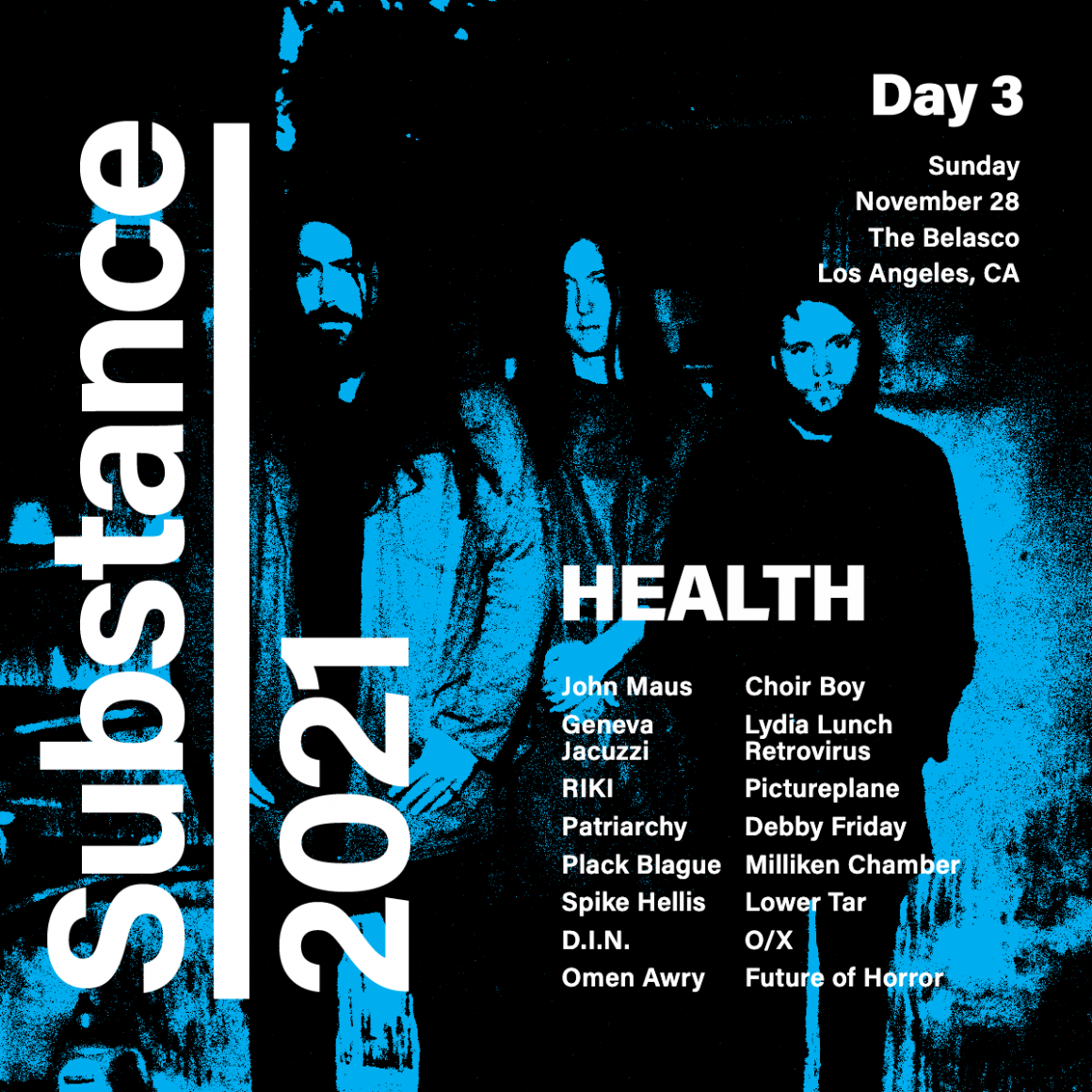 The final day, Sunday, November 28th, is another that will be difficult to maneuver simply because of the quality in the artist lineup. From Lydia Lunch Retrovirus, to the New Romantic Riki, the last day of the festival boasts legends and newcomers alike. The noisy electro band, HEALTH, will headline the evening, so be sure to save up energy for the entire day. Additionally, the synthy post-punk glory and gloom of Choir Boy will be a highlight as well as Debby Friday, who is one to check out with her cross-genre music. For industrial fans, Lower Tar, O/X, and Spike Hellis will be ones not to miss. Finally, D.I.N. is a charming synth act that will steal your heart without question—trust me on this one.
While it might be a bit overwhelming, Substance has curated a Spotify playlist so you can become more familiar with their artists. Check it out below:
Get your tickets to Substance Festival here. Follow Substance on IG.
See the schedule and timetable for each day below:
Day 1 Schedule: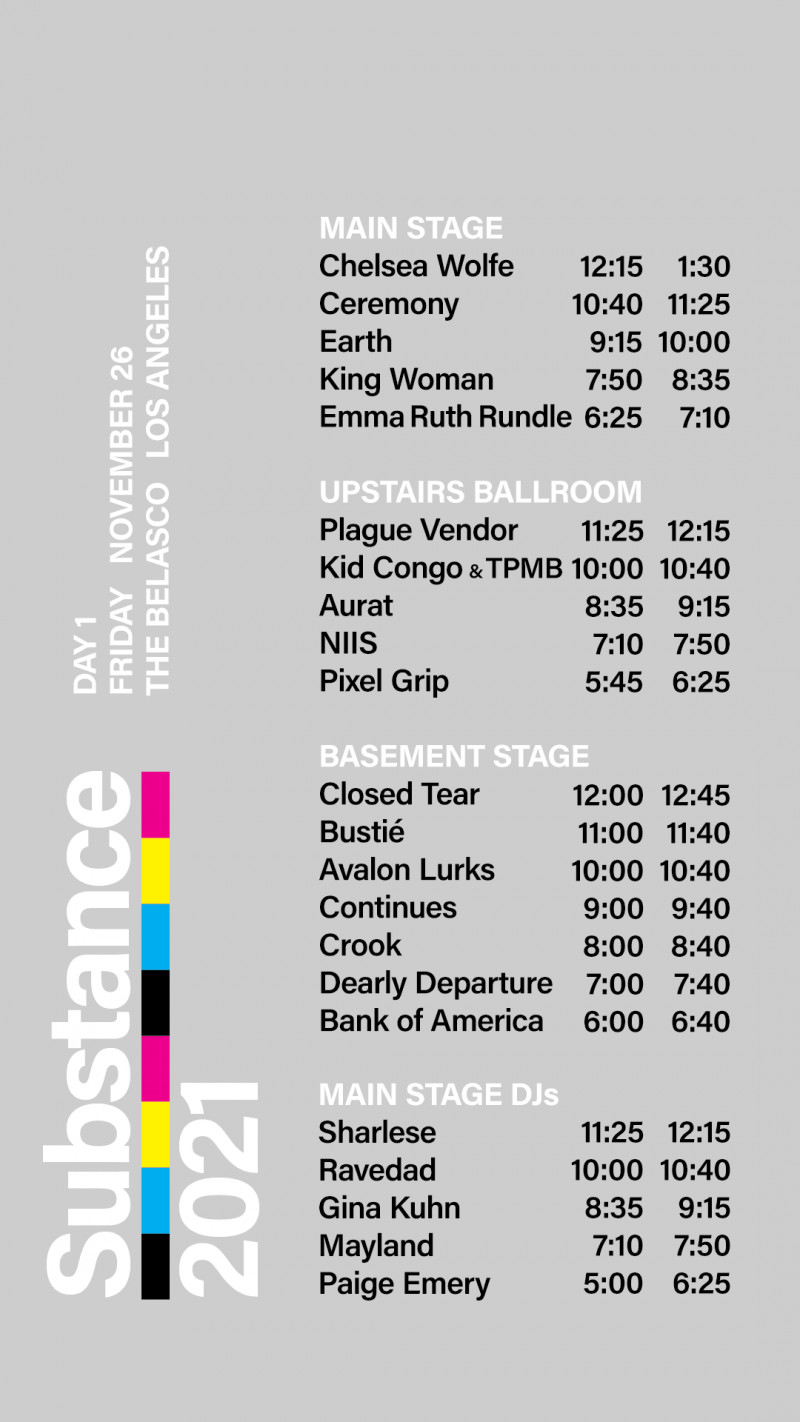 Day 2 Schedule: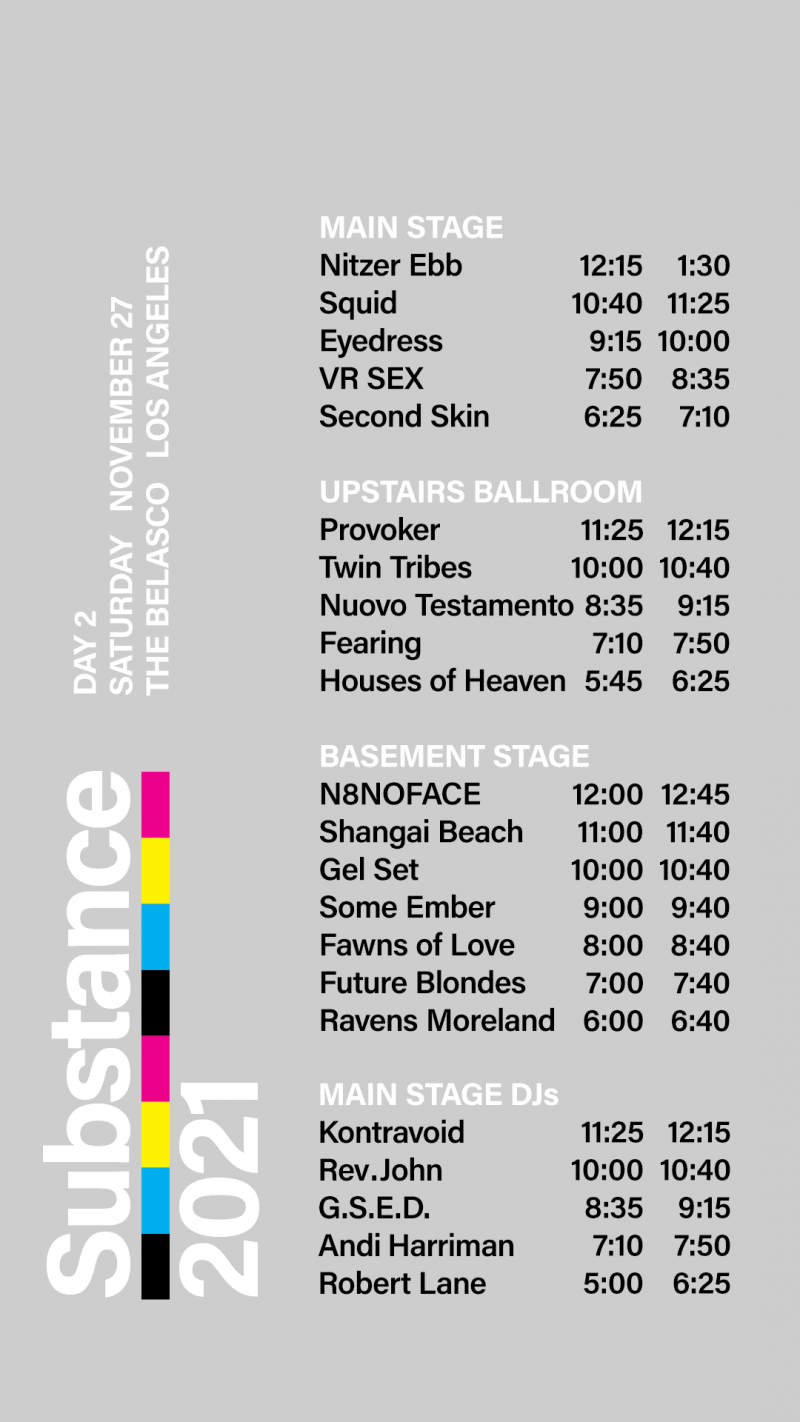 Day 3 Schedule: