Ever since our ears were kissed with the the first taste of Meridiane, we've been on the edge of our seat, waiting for news of a full length album. For those unfamiliar, Meridiane is a collaboration between Pieter Nooten (Clan of Xymox), Joshua Strachan (Vaura, Azar Swan), Warren Defever (His Name Is Alive), Kennedy Ashlyn (Them Are Us Too, SRSQ), Christine Papania (Ariadne), and cellist Kaily Schenker. This week, the project announced the release of their debut album To Walk Behind the Sun, due out on December 10th via Primal Architecture Records. With that in mind, we're honored to premiere "Worlds of Shadow," the latest track from the project. Have a listen or three below.
"Worlds of Shadow" is full of cavernous spaces, deep textures, and beautiful tremors, creating an atmosphere that's equally haunting as it is comforting. The piece very much the sum of its collaborators, but yet still serves as its own living, breathing, wholly unique entity. Warm synth patches, trickling piano, deeply bowed strings, minimal guitar textures, and deep percussive bass make up the meat of the track, with Strachen's croon serving as the tie that binds. Aside from the natural Sleeps With the Fishes and Hope is a Candle touchstones, there's a slight ghost of David Bowie's underrated Scott Walker homage "The Motel" churning just underneath the surface. Clocking in at just under eight minutes, the track casts a spell that's difficult to move on from, a world worth living in for an eternity.
Pre-orders are now available for To Walk Behind the Sun, exclusively via Bandcamp. Check below for the full album track listing and artwork.
Meridiane- To Walk Behind the Sun
1. The Watercourse
2. A Voice Inside the Timber
3. The Returning
4. Névé Part I*
5. A New Formation
6. Worlds of Shadow
7. The Arc
*appears as a digital bonus track, not on the vinyl release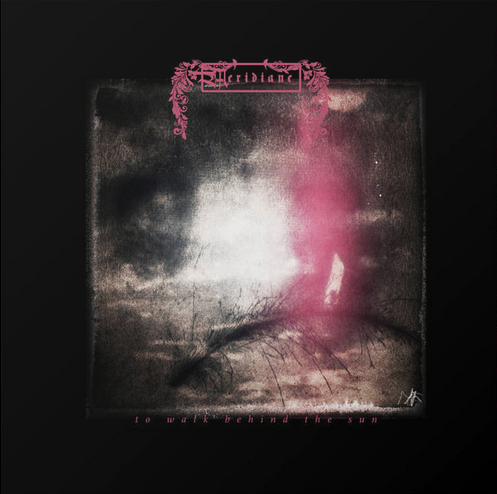 Header image by Caroline Harrison
Album art by by Judith in den Bosch
Layout and design by Terence Hannum