Because synth pop has many facets, it's sometimes hard to characterize. One search on Bandcamp for the genre, and the results show a wide range of music styles that may or may not quite fit everyone's definition. Synth pop is, however, music created primarily on synths, and, if we're quite honest, it has a clear, heavy lean on a 1980s-inspired sound.
A good basis of the history and definition of synth pop is best explained in the 2009 BBC documentary Synth Britannia which traces the history of the synthesizer in popular music beginning the late 70s. From Daniel Miller's groundbreaking work as The Normal and The Silicon Teens under the Mute label, to the universal appeal and explosion of New Order with "Blue Monday", the documentary cites a few key points that categorizes synth pop.
One of synth pop's hallmarks includes the utilization of a synthesizer from a post-punk experimental tool into the necessary and irreplaceable instrument of choice. This, combined with the concept of futuristic themes, was represented though their electronic pop songs. Bands and artists such as The Human League, Gary Numan, Soft Cell, and Depeche Mode created music that was completely original and fun to dance to in the club.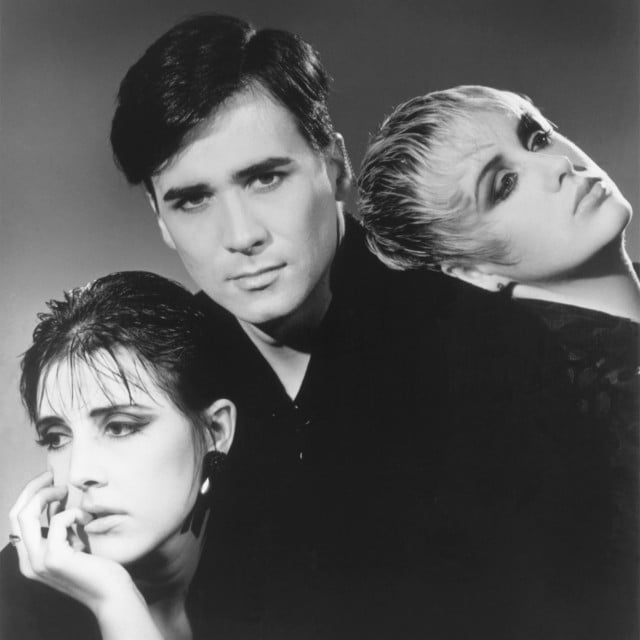 Below is a list of acts that follow the loose synth pop guidelines from the early 1980s: catchy and lovable songs with a pop foundation (though can often be melancholy in nature), and a penchant for synths, drum machines, and everything electronic. And yes, some are easily identified as synth pop, while others sit on the outskirts of the genre… but all are worth your attention.
Korine
The Philadelphia-based duo has been a Post-Punk favorite for a few years now – and deservedly so. Members Trey Frye and Morgy Ramone consistently deliver music that makes you feel. Their delicate blend of upbeat moments shrouded in eternal melancholy recall the duplicity between light and dark found in Depeche Mode.
Riki
Riki's self-titled album from earlier this year on Dais caused a shock wave in the underground with a slew of refreshing tracks that became instant classics. With the flair of Alphaville and a touch of Nena-esque qualities, the debut album by the Los Angeles artist is unforgettable.
Vandal Moon
Vandal Moon, a Santa Cruz based duo, fits the bill as a traditional synth pop act: sad melodies that are catchy, lyrics about a future world ("Robot Lover", anyone?), and it helps that singer, Blake Voss, has a vocal style reminiscent of Gary Numan. Do we need much more? The new album, Black Kiss, is an excellent example of the genre's best elements stylistically and aurally.
Profit Prison
The upcoming EP, Dreams of a Dark Building, by Seattle artist Profit Prison is highly anticipated by the Post-Punk editors. With "120 Days" as an indicator of what's in store, the EP will be a synthetic cloud of shimmering, low-fi songs that are as heart wrenching as they are sugary sweet.
Pixel Grip
Heavy Handed, the LP released last year by the Chicago band Pixel Grip, feels like an album that flew under the radar despite how danceable and accessible it was. With impressive vocals by Rita Lukea, there's an element of the 2000s synth pop revival similar to La Roux. This, combined with a Giorgio Moroder disco synth beat, makes for an excellent record.
S. Product
The recent release by the Los Angeles band S. Product stands on the fringes of synth pop. The Suicide Beat EP recalls DAF's poppier era: a lead synth and accessible melody that often includes a consistent snare and aggressive bassline. At times, Suicide Beat is pure dance floor-ready EBM, while other moments capture a sweetness that only synth pop can emote.
Rue Oberkampf
CHRISTOPHE-PHILIPPE, the LP released last year by Rue Oberkampf, is another band that crosses between genres. While the Munich-based band have a firm footing in the EBM genre, vocalist Julia de Jouy's vocals add a lushness to harsh basslines alongside melodic synths that are reminiscent of Visage or Desireless.
Bram Droulers
With song titles like "New Wave Girls", it's easy to tell where the London-based musician Bram Droulers takes influence. The EP, Sun, is a collection of minimalistic songs that sparkle and shine, an homage to the early 1980s sound of analog synths and drum machines – ones akin to the Silicon Teens or a stripped back Soft Cell from The Bedsit Tapes release.
Стереополина (Stereopolina)
The pure synth pop of Stereopolina is an addictive rush of epic club tracks that you've yet to hear. On Институт Культуры и Отдыха (Institut Kultury I Otdyha), the St. Petersburg artist's vocals sound absolutely irresistible over the melancholy-tinged songs that can easily make you dance or cry. Stereopolina is the contemporary answer to 80s pop acts such as Eighth Wonder or Stacey Q – do not sleep on this incredible release.