"If I can't dance to it, it's not my revolution"
Dark indie dandy Mark Fernyhough has unveiled his video for "Waves", a timely song about revolution referencing feminist Emma Goldman, poet Marina Tsvetaeva who escaped to Berlin from the Russian Revolution, and the words of the titular V from Alan Moore's V for Vendetta.
The music video for "Waves" sees Mark performing alongside drummer Agata D'mon amongst the desolate former East Berlin terrain. Towering menacingly over the proceedings are Zeitgeisty mask-wearing fashion models dressed by Swedish designer Lena Enquist.
On this stark yet visually compelling scene, Mark comments:
"Masks whilst serving a purpose, visually conjure up post-apocalyptic nightmares."
Hailing from a classic haunted house English upbringing and currently based between Berlin and London, Mark Fernyhough has opened for dark indie legends Suede on numerous tours. He mixes his musical activities with Vogue featured conceptual art and photography, plus directs his own music videos.
Penned this summer, the song "Waves" is a product of today's globally fractured times, its lyrics paralleling the highly charged politicized mood with historical events and figures. Indeed, feminist Emma Goldman is referenced with the line: "If I can't dance to it, it's not my revolution" whilst the chorus takes its "Roar of the Waves" refrain from a Marina Tsvetaeva poem.
"I've been immersed in a great deal of Russian literature and since Tsvetaeva escaped to Berlin from the Russian Revolution her work especially struck a chord", Mark adds.
Since Mark's photography has been published in the US by Image Comics and Berlin's Black Dog Comics store features a shelf he curated, it's unsurprising that 'Waves' contains a comic book reference – namely one culled from Alan Moore's anti-establishment classic 'V for Vendetta'.
"Ideas are Bulletproof is a powerful statement" says Mark, "it's in the classic vein of 'The pen is mightier than the sword' or 'ladies don't like men in shorts."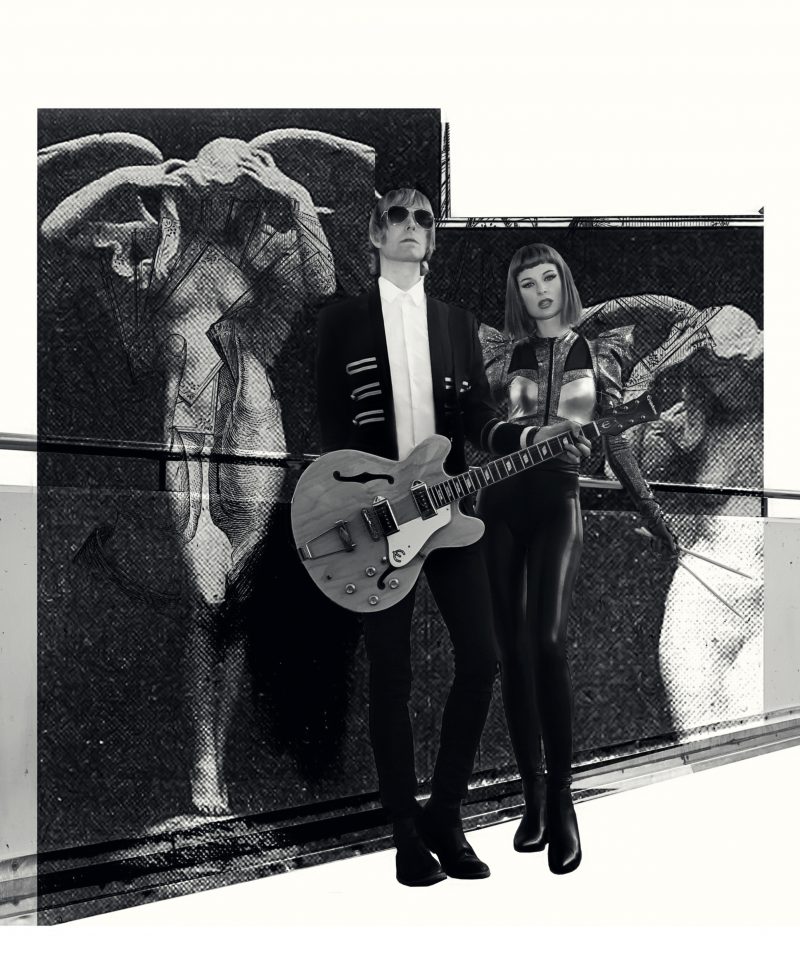 Outside Post-Punk.com's music video premiere Mark will additionally be launching his new single through a special live set performed at an exhibition by French artist Camille Schaefer- the enigmatic star of Mark's previous music video "Divided Cities". The performance will take place at a gallery on Berlin's Torstrasse and also feature Agata D'mon on drumming duties.
On his inspirations beyond the music alone, Mark muses:
"It's nice to sidestep the value system of the music industry and flirt with the art scene. Art, books, and style have always been as inspiring to me as music. Bands like Suede and Roxy Music created an entire experience- their own musical and visual language. That school of thought is what I'm interested in exploring."
Watch the video for "Waves" below:
"Waves" is an early taste of Marks forthcoming album which encompasses Post-Punk and 80s New Wave vibes.
'There's some really heavy tracks and some quite edgy electronic ones. Lyrically the songs are shot through with literary, art, and political references."
Indeed, Mark's next single out this winter is an ode to female spirit artist Hilma Af Klint. Despite his cerebral songwriting he confesses there are certain limits:
"Regardless of my high-minded lyrical aspirations, there's a serious dearth of mathematical references. Simply because I couldn't count myself out of a paper bag".
Follow Mark Fernyhough: