Actually Huizenga, the self-proclaimed queen of industrial snuff pop is a force of nature. A tongue-in-cheek edgelord who unleashes upon the world a unique brand of shock rock that lampoons the sleazy tropes of the music industry, warped within the camp reality of her band Patriarchy.
Following a legendary performance at Substance Festival in Los Angeles this past November, we caught up with Actually, and her bandmates AJ and Bradley, on the way to their second show with this lineup. The three were traveling through Bat County via a Route 66 road trip to perform with rising EBM Stars Spike Hellis at Oddfellows in Las Vegas.
Spike Hellis' Lainey and Cortland recently appeared in the NSFW video for Patriachy's "Lock Jaw".
"They are in a video shot during lockdown where they are torturing us," Says Actually, "It's awesome that they did it, because they're like, our sister band."
Watch the video below:
During our phone interview with Patriarchy, we passed the time playing some Anti-Valentine's Day games as they traveled down the legendary highway, passing derelict military tanks, and other oddities by the roadside.
First, we asked the band what would they write in their Tinder bios.
"Yeah, well I would never have a Tinder profile, " says Actually,  "but I guess my ideal date would be a day around a renaissance fair. Yeah. And he could pay a little extra so we can have a court with Queen Elizabeth. Oh, and I love a turkey leg or two."
Meanwhile, AJ's answer: "drummer looking for a classy lady who's passionate about responsible recycling and trash…uh, junk removal, and long rides on my Harley".
Bradley's concise answer: "Just a guy with two hands!"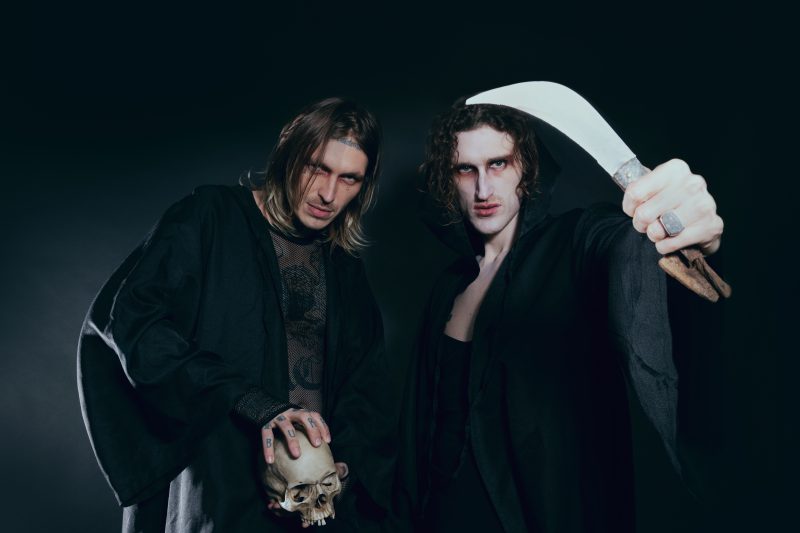 We next asked the band What would be their choices for a game of F***, Marry, Kill…
What ensued was a description of the band participating in a bizarre killing sex frenzy ala Bed, Bloodbath, and The Beyond the Grave home decor. Complete with Ed Gein with human skin lampshades, as well as matching jackets and gloves, and references to Christian Death's "Spiritual Cramp"
Actually, however, declared that she would marry herself. More on that in a bit.
Next up the game was what would your newspaper "Desperately Seeking" dating ad look like?
Actually: "Female looking for a real vampire. Like. R E A L.  Like in real life. I'd want for someone who thinks they're a real vampire to come to me, but, you know, they would probably end up being a total nerd like me, unless it's, like, Only Lovers Left Alive. That'd be awesome.
Meanwhile, AJ's answer was very patriotic:
"Blue-collar joe looking for a red-blooded American princess. Black. White. doesn't matter. Just be clean."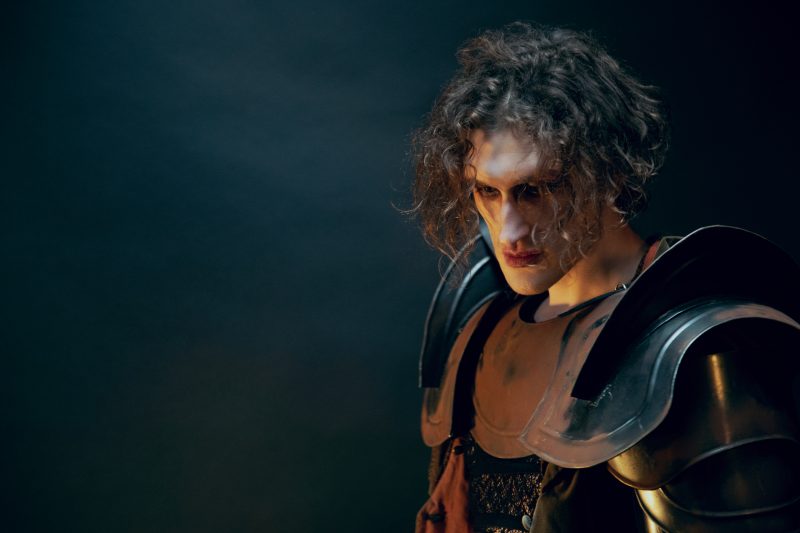 We then tried to talk about "Missed Connections", but it turned into a recitation of James Joyce's flatulent love letters to his wife and muse Nora Barnacle.
So the next question we asked was "If you were to get hitched in Las Vegas, what aging musician or impersonator of such would preside over the ceremony?
Actually: "That's a hard one, because I think maybe I would have Cher. She never ages. That's why.
There's your vampire right there!
Yeah! So that's my choice. I would love to be married by her. I don't care to who as long as she's doing it. Oh, yeah. I've got to marry myself. So then Cher can also preside over the f*cking and the killing too.
AJ's choice was to ironically be married by Bruce Springsteen to "Born in the USA", and Bradley's choice was Dog the Bounty Hunter.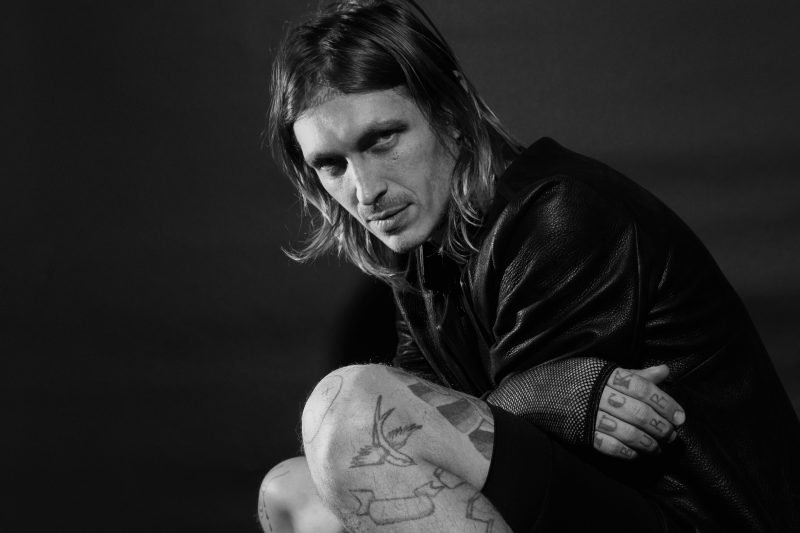 Our next question was "What songs would be your picks for a Valentine's Day mixtape? 
Actually:  "The theme song from Braveheart."
Speaking of themes, how about the themes on the new album?
Actually: "It's a lot less intellectual than my last album because it's all about what I thought love was supposed to be according to lust that I didn't know before. If that makes sense.  I was sad over some sexual experiences that I thought were love, and I decided to write about it instead of crying."
The next single coming out is called "Suffer".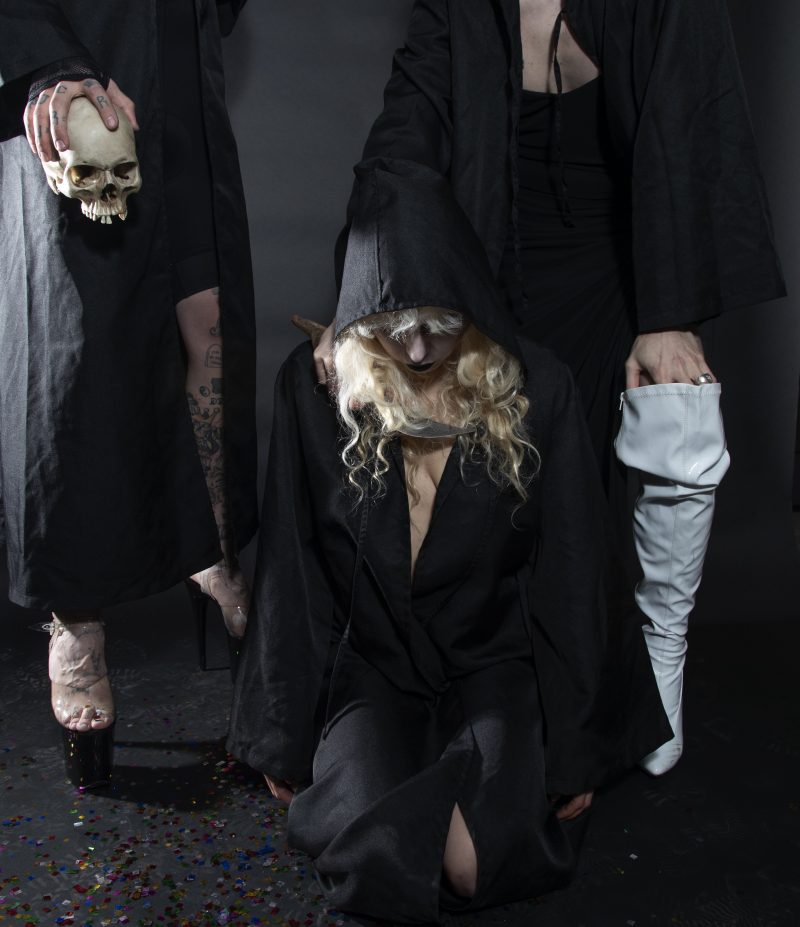 During your upcoming shows, what other songs from the new album can couples inappropriately make out to? 
Actually: "Man for You. It's a new one and it's just very sweet. That's a good one to make out to. To F*** to could be any one of them."
Can you tell us about working with Kris Baha on the Lock Jaw remixes?
Actually: "I was like in quarantine and I would work out to Kris Baha's music. And I wrote him and said, "I love your music I work out to it!". And he loved the song so much he did two remixes!"
"He's so sweet. And he leaves cute voice memos with an Australian accent."
Anything else to plug?
AJ: "So we are soon going to be releasing a sample pack for all young aspiring producers and tenured programmers alike. A full suite of drum samples overlaid with Actually's "Erotic Noise". So you can expect to find kick drums expertly recorded with deep guttural grunt. You can hear an orgasmic whimper over a high hat.
You can hear a merry crack of a snare with a tight little gap. And other percussive industrial sounds expertly recorded with great intention and attention."
Actually: "We're going to show it off at NAMM *LAUGHS*."
The Interview ended suddenly as an onslaught of crows surround the car as Patriarchy pulled into a rest stop for a non Fet-Life version of a pee break.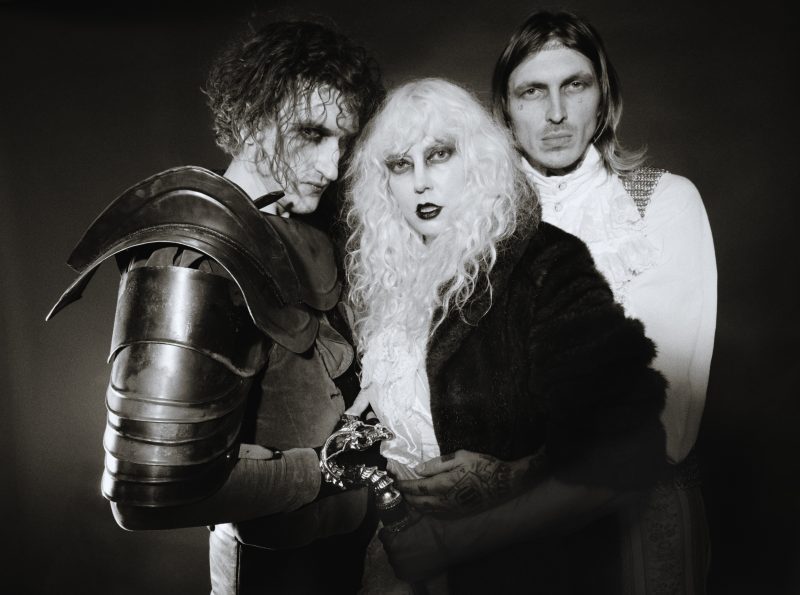 Patriarchy have several tours yet to be announced for 2022. The next single "Suffer" comes out the first week of March.
Live dates are confirmed at the moment:
Follow Patriarchy: