The "Fear City" era of NYC, bound together by poverty, creative diversity and a city full of chaos yielded an explosion of experimentation, overlapping of styles and sounds, and mythology (half of it untrue, if you ask the photographers out and about that time). 
ZE Records sprung out of the ashes of disco: a veritable island of misfit toys for the post-punk, no wave, new wave and sometimes unlistenable talents of the Downtown crowd. ZE's founders, Michael Zilkha and Michel Esteban, injected disco with a hefty dose of irony by dragging yesterday's news into the sleazy world below 14th Street, and letting the weirdos have their fun with it. The duo's financial backing, social connections and conceptual savvy got the ball rolling.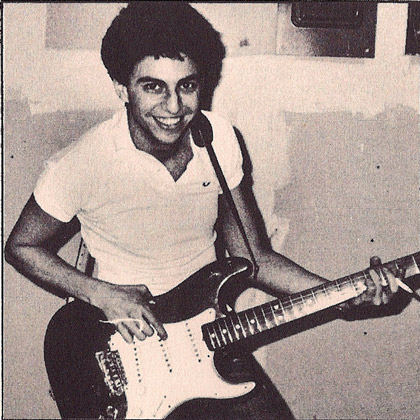 Zilkha explained the genesis of the fledgling label: "The first album I put out was James White and the Blacks, which was the Contortions slowed down to a disco beat, because they didn't wanna sign to an unknown label and I wanted a dance band. Then August Darnell from Kid Creole and the Coconuts slowed down Contort Yourself. That really became the basis for mutant disco."
ZE's eclectic roster gleefully mixed genres and criss-crossed racial divides, often with sophisticated humour. ZE Records boldly defied the anti-disco snobbery of the punk scene by incorporating wry intellectuals, the avant-garde, and straight-up oddballs. They ushered the dying disco era into Valhalla with a veritable Brechtian salute, particularly with Cristina's debut.  John Cale, Alan Vega and Suicide, Richard Strange, Lizzy Mercier Descloux, Lydia Lunch, The Waitresses, Teenage Jesus and the Jerks, and James Chance and the Contortions all added their names to the ZE Records roster over the next couple of years.
"I always had lots of patience for rock critics," says Zilkha. "The jazz critic for the LA Herald Examiner called me and said there was this extraordinary record I should hear.  Don Was flew in from Detroit to play me Wheel Me Out, and it was exactly what I'd been trying to do with the Contortions and with Kid Creole. It was the perfect melding of metal and dance. And it turned out that David Was was that jazz critic at the LA Herald Examiner!! I had no money at the time, but they let me have the record anyway…partly because no one else wanted it, and also because it really belonged on my label." 
Between 1978 and 1984, ZE managed, against many odds, to score a few hits with their motley crew of eccentrics, but structural issues with the record company cropped up and he left for Texas to start an energy company with his father. "I felt like I said what I had to say," says Zilkha. I didn't feel like the records I was making at the end were as vital. Once you've had hits, record companies expect you to make more hits, and I had done everything in a vacuum." 
The Mutant Disco influence, however, still remains. You can still hear echoes of Cristina, Lizzy Mercier Descloux and Suicide in NYC-based bands like Hennessey, Scissor Sisters, LCD Soundsystem, and The Vacant Lots, who all stemmed directly from that scene. 
At that point in musical history, the microgenres hadn't yet gelled; they were formed and informed by each other at breakneck speed. Forty years later, each genre has a distinct flavour, but in the late 70s and early 80s, these producers were using the same recording equipment and techniques to explore sound. If Kraftwerk serves as a Book of Genesis for synth music, Planet Rock may well be considered the Big Bang: after its 1982 release, the tectonic plates of the entire electronic music world shifted. Kraftwerk, if indirectly, played as much of a role in the formation of hip-hop as it did in minimal synth wave. Planet Rock, produced by Arthur Baker and John Robie, melds early rap with electronic elements, as well as a repeating motif painstakingly recreated from Trans-Europe Express. 
Cut to thirty-five years later: Zilkha joined forces with his old friend, producer John Robie. Robie, best known in the hip-hop world as the genius behind Afrika Bambaataa's Planet Rock, also produced tracks for Cabaret Voltaire and New Order. Both producers are adamant about quality writing in their output, which is why their creative alliance has withstood time. They're old friends with similar tastes and flow, bouncing back and forth with stories, geeking out over the history of pop music, and remembering stories throughout their careers. The two started working on a semi-autobiographical musical, resulting in a timestamp called The Future Is Mine.  The song, performed by Mister Biggs of Soul Sonic Force and Houston rapper Bun B under the name MegaDoom 2, underwent several incarnations. 
"At first it had a sort of intergalactic, love and peace to the world sort of message, but Michael and I decided the track deserved a stronger lyric," says Robie. "I looked up the history of black oppression and riffed off that, and Mister Biggs came up with all those fantastic chants." Zilkha adds: "Initially the history lesson went up to about MLK's assassination, but once we decided this song was going to stand on its own rather than be part of the musical, that's when the last part became "the more things change, the more they stay the same." 
The Future Is Mine is anything but conformist. The opus of brutal American history clocks in at just over eight minutes, peppered with synth arpeggios galore. The track was faithfully produced in the style of the era. It springs literally from the very source of that sound, hearkening back to a time when hip-hop, new wave, no wave and all the other musical mish-moshes dwelled under the roof of places like The Mudd Club.
Robie and Zilkha remain committed to the craft and lament the sacrifice of vibrant creativity in favour of generating revenue. For The Future Is Mine, Robie wanted that authentic drift that he brought to Planet Rock. In order to do so, he rejected modern technology and used the computer as a recording medium. "I didn't use MIDI at all," he said. "I went out and bought an old Prophet-10 synthesizer which has a step sequencer in it, recorded it in 808, and tracked the 808 which triggers the step sequencer. I had to program every note and every chord one by one, and triggered it with the trigger from the 808. Everyone thinks that the 808 is based on the sound of the synthesis, but it's not…the 808 drifts. That's why it feels so funky. You can use a computer and MIDI and use it as a way to make sounds, but it's not going to feel the same as a track that's all generated from the click of an 808. All the instruments follow the drift of the 808."
Production was very time-consuming and had to be played in real time, which meant repetitive recording. "I was dedicated to getting that feel," says Robie. "Many people probably won't believe it, because these days it's so inconceivable to think of playing synthesizers in real time like this, or not to utilize MIDI. The reason why older recordings had a lot more vital energy is because if you're in a recording studio and had a finite amount of tracks, you had to plan what you were doing because you only had 24 tracks, but also because you were paying tons of money to be in a recording studio. So you had to be prepared and committed to each individual track. Now with MIDI, you can noodle around and you're never committed to it…But if you cut and paste something, it's a cop-out.  You're not going to get the same forward motion."
Zilkha suggested they create a video revolving around the photojournalistic work of his friends Fred Baldwin and Wendy Watriss, who chronicled the Civil Rights Movement. The photographers donated use of their work, and the video took root.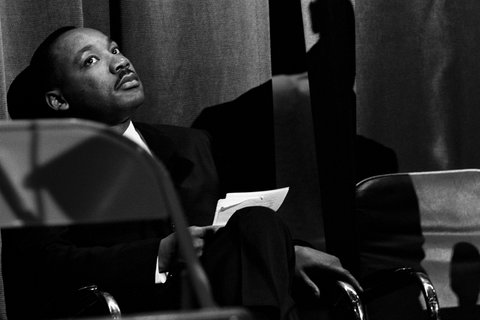 "Using news footage turned out to be impossible, so we tried a different creative route by staging it ourselves," says Robie, who directed the video. "We dressed up kids as Putin and Trump, which became surreal. We replaced the news footage with original drawings by Mirella Morcheva, and contemporary documentary photographs by Alice Teeple because they chronicle our current situation of economic inequality better than anything else. It had an organic flow to it. In a way the obstacles ended up helping us be more creative."
Zilkha remains proud of the fact that ZE's releases focused on clever lyrics, as well as some of the earliest use of sampling in music. "The first overtly political song I made was Tell Me That I'm Dreaming, which had Ronald Reagan's first State of the Union address that we chopped up. There were other political songs, but that was the first time we really started using people directly. There weren't any samplers, we just got it off TV, sitting there with a tape recorder. Samplers were extremely expensive and didn't sample for very long. Warner Brothers were a little worried but it turned out it was fine because it was in the public domain."
Robie believes there is a lack of substance in mainstream contemporary music. "There are these endless anthems about phony notions of self-empowerment," he scoffs. "That's the new protest song…a narcissistic approach, constantly looking in the mirror. It's become a musical version of a selfie. Look at the diversity in the Billboard charts of around 1968. It's staggering. On one hand you have Cream, Vanilla Fudge, Jimi Hendrix and right alongside them you have Andy Williams, Perry Como, and absolute fluff like Ohio Express's Yummy Yummy Yummy. I don't see that level of diversity anymore." 
Zilkha agrees, "You certainly wouldn't see Suicide endorsing a product in their music. The whole culture was different. I left NYC in 1986 because I couldn't stand it any longer. The reason was money had really destroyed NYC. When Ronald Reagan came in you suddenly had bankers securing mortgages. It all became about money. Cristina, my then-wife, her friends were trying to commiserate with her because I wasn't a banker. It got really weird in NYC so I left. It changed, it really did change, and gentrification started then. I guess it seeps into the music and becomes its own reality."
After The Future Is Mine started taking on a life of its own, Zilkha revived ZE Records for the release of this single, knowing the label would help both with distribution and with his new publishing company, ZE Books, which recently released Intelligence For Dummies, a compilation of Glenn O'Brien's writings. 
Does this mean ZE will release more music in the future? Zilkha is still on the fence, but open-minded, particularly in the vein of protest music. "I don't know who I would work with, but I had wanted to make protest songs for some time. I could never get August from Kid Creole to do them with me, for instance – he just said "that isn't who he is." I don't want to do anything that isn't art or doesn't have significance. I don't want to do product." 
The Future Is Mine video:
More offerings from ZE Records: