It's a rare treat these days to hear a band so authentically embrace the vibe of early 80s No Wave, but electro post-punk outfit The Vacant Lots pack a punch with their outstanding new release, Fracture.
The Brooklyn duo, comprised of Jared Artaud and Brian MacFadyen, opens the track with a futuristic robotic chirp and launches into a familiar psychedelic drone, leading into a hook that manages to be both chill and intense. This is explosive psych mixed with the experimental spirit of proto-punk; a fuzzy memory trying desperately to resurface. The Vacant Lots create a soundscape of icy synths, detached vox and hard-hitting guitars.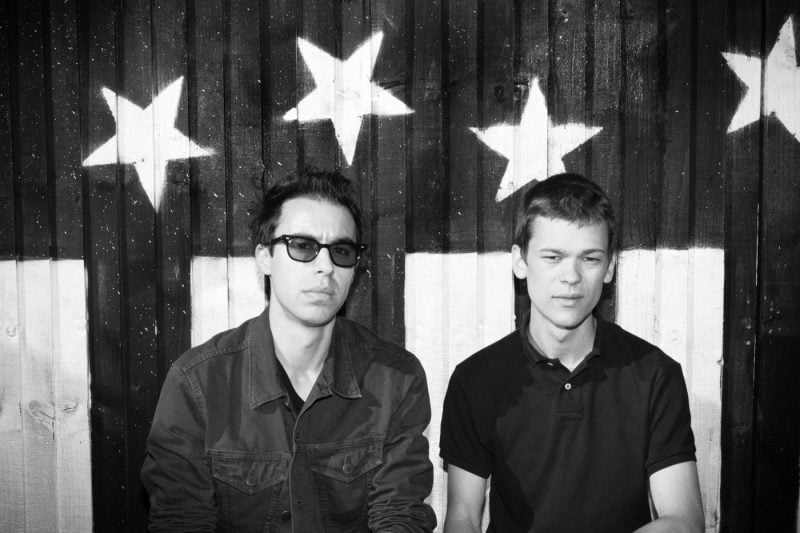 With a mission of "minimal means maximum effort," The Vacant Lots explore the theme of duality in all their music (also reflected beautifully in their minimalist black and white art). Taking cues from Television and Suicide, Fracture takes the poetic dissection to conflict one might experience within a relationship. "I see in the lyrics a film that deals with the initial feelings of love and attraction…and the inevitable fall and deterioration of those feelings," says Artaud. "What once was liberating and free, is now trapped and imprisoned."
The group has collaborated in the past with Alan Vega of Suicide, Sonic Boom, and Anton Newcombe of The Brian Jonestown Massacre. Brian MacFadyen channels the spirit of Vega with his breathy delivery over an insistent synth drone on this track. In fact, that Arp synth you hear was indeed Vega's own instrument, and the elements of the lead guitar riff were inspired by Television. "I lifted the ending of Marquee Moon and played it backwards," Artaud says.
In addition to touring with Suicide and The Brian Jonestown Massacre, The Vacant Lots has shared the stage with Black Rebel Motorcycle Club, The Growlers, Dean Wareham, The Dandy Warhols, and Spectrum.
Fracture is off The Vacant Lots' upcoming third full-length album Interzone, due out June 26, 2020 via Fuzz Club. The term, a nod to William S. Burroughs and Joy Division, is described by the band as "an industrial amalgram of delving into escapism, isolation, relationship conflicts, and decay."
"Interzone doesn't mean one thing," Artaud says. "It can mean different things to different people, depending on their interpretation. Working on this album was a constant struggle, reconciling internal conflicts with all that's going on externally in the world. Interzone, in one word, is duality."
Preorder the album from Fuzz Club here