The Bay-area's own formidable Dark Anarcho post-punk act Ötzi are riding out these tenebrous times with a whirling tempest of their own, in their new album aptly titled Storm.
This, the band's sophomore album, is unrelenting in its sonic deluge of captivating melodies led by K. Dylan Edrich"s guitars cutting the air with her punk driven riffs like the cold fingers of the band's titular mummified human, coupled with the flawless efforts of drummer Gina Marie, and bassist Akiko Sampson, whose rhythm section marches forward against the elements, driven by fervent emotions of anger and sorrow that are channel Sampson's stalwart vocals.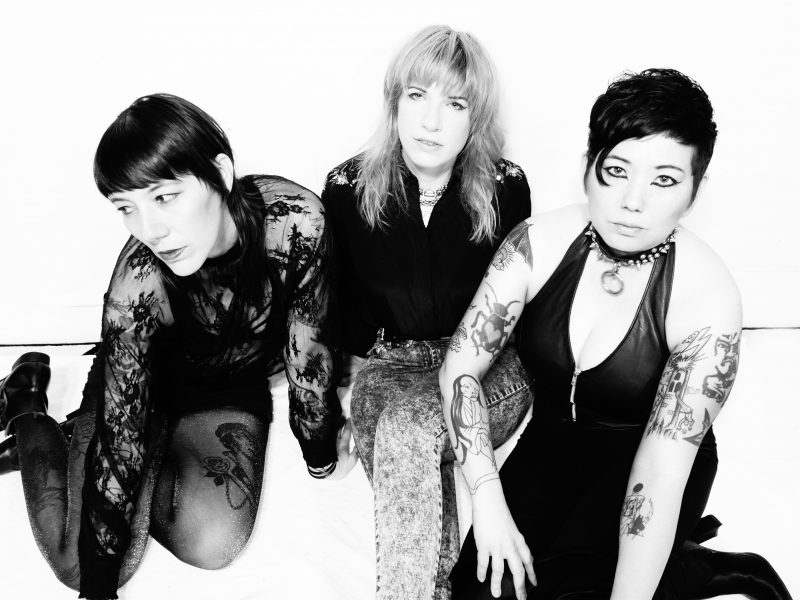 Not to be stifled by tour cancellations in wake of the current global pandemic, Otzi have been undaunted in promotion of their new record, unleashed a series of song premieres for the tracks such "Moths", "Ballad of Oiwa", and "Eight Cups" that have aptly taken the worldwide dark post-punk scene by storm.
One of these premieres was for a music video for the album track "Hold Still", which features footage of the band right before lockdown having fun at the boardwalk—an activity steeped in childlike joy spun in a wonderful reverie of cotton candy, Ferris wheels, and merry-go-rounds.
"We're so overwhelmed by the awful things happening in the world, that sometimes it's hard to see the good that exists right in front of us," says drummer and vocalist Gina Marie. "The song was written to express love and appreciation for that one person who gets you through the day."
Watch the video for "Hold Still", which features new member, and multi-instrumentalist Winter Zora on keys,  below:
On the records ardent resolve, that pushes ever onward with defiant optimism, Bassist/vocalist Akiko Sampson explains further:
"The darkness of our sound doesn't come from existential dread or moroseness, it's a reflection of the lives we've lived as femmes in an often hostile world. We express all this mourning and anger through our music, so playing is always cathartic for us. But afterwards, what we're left with is a sense of hope and a vision for what can be. So in this album, we wanted to incorporate all of those dimensions. Because that's what 'Storm' is about – huge, violent life changes that leave you transformed forever."
Listen to the Ötzi's brilliant new album Storm below:
Ötzi's Tempestuous new album Storm is out on May 22nd through Artoffact Records).