Seattle dark synth artist Profit Prison has released today his highly anticipated Dreams of a Dark Building EP,  This, his second mini-album, seemed promising from go, led in with dreamlike synthpop fever-dream "120 Days", a song which in itself almost sounds like an unearthed coldwave classic circa 1981 to 1983 played on a worn-out turntable during a thunderstorm.
The anticipation grew even further with the premiere of the dark disco de facto title track "A Premonition", a sonic reverie whose dirgelike synths clammer over metallic vocals and a discordant dance beat.
As great as these two are out of all six songs from Profit Prison's Dreams of a Dark Building, they do not stand alone in their shimmering lo-fi brilliance. The entire EP is a spellbinding collection peculiar songs exploring themes of alienation and grief, and are masterful explorations into the heartrending depths of the frail human psyche.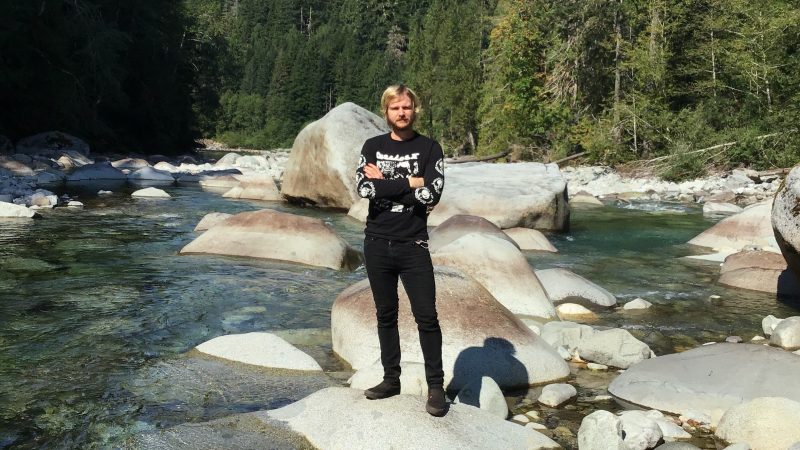 Profit Prison has been kind enough to provide us with a track by track breakdown of each of the six songs on the EP, as well as an exclusive album stream.
Read, watch, and listen below:
CLERIC
The lyrics to this song were heavily inspired by the film Diary of a Country Priest. A study of ascetic melancholy and alienation. A stinging pain and a ceaseless passion to belong to a different world. Here I am indebted to both Robert Bresson and actress Nicole Admiral, who tragically took her own life in 1958.
A PREMONITION
A grim portent of things to come born of very literal dreams of a dark building, recurring night after night for several consecutive months. Unfortunately, this song was written before the beginning of 2020 and I fear its message is far more prescient than I had intended. Our lives have been drastically altered by forces beyond our control. I truly fear what the future promises. "It's natural to assume things should not be so clear at night" is a quote from James Joyce in reference to his novel Finnegan's Wake.
120 DAYS
Ascetic solitude and a ritual indulgence in psychological flagellation. The music was written in a dream, quite literally. Circles of mania and blood. A locked room.
GHOSTS OF 20TH CENTURY FAME
A cursory study of the horrors of the previous century, and how their specters manifest. I was born in this century and am painfully aware of its atrocities. I have long studied and obsessed over the spectacular cruelty that humans are capable of. These things can happen again, and we all need to be aware of this.
HER GLANCE ALONE INVESTS US IN A ROBE OF LIGHT
This is a line from a Baudelaire poem translated by Edna St. Vincent Millay, one of the all-time great artists of the English language.
IN THIS HOUR OF LOSS
This is the first song I wrote for this record. The lyrics are inspired once more by Robert Bresson, Edna St. Vincent Millay, and a certain amount of hypnagogic automatism. A study of the profundity of grief and loss in a year marked heavily by both. As I mentioned above, the lyrics to this record were written far before the life-altering events of the past few months but they seem especially apt for the present times as we enter an uncertain Autumn. I hope this music connects with its audience and I offer empathy, sadness and compassion for those among us who are grieving the future.
Listen to the Full EP:
Dreams of a Dark Building is out now via Avant! Records.