As a somewhat "elder Goth" in his 40s, with a lifelong love for post-punk, darkwave, and gothic rock, and the many festivals celebrating these genres, I've seen many an event unfold. From attending Wave Gotik Treffen in Leipzig for 11 straight years to countless underground shows, I've become an aficionado of all things dark and moody. After this year's edition of Cruel World Festival on May 20th (and May 21st), I can confidently say this festival is among the best the world has to offer for the black-clad crowd, earning itself sanctuary in my not-so-cold and not-so-black heart.
The Rose Bowl in Pasadena has long been a hallowed ground in the goth mythos, owing to its status as the setting for the legendary Depeche Mode 101 concert back in 1988. Now, 35 years later, the second edition of the Cruel World Festival has conjured a new and magical experience at the very same location. This festival, a blend of nostalgia and innovation, manages to unite generations of sunscreen-slathered, parasol-toting goths on the not-so-flat field of southern California.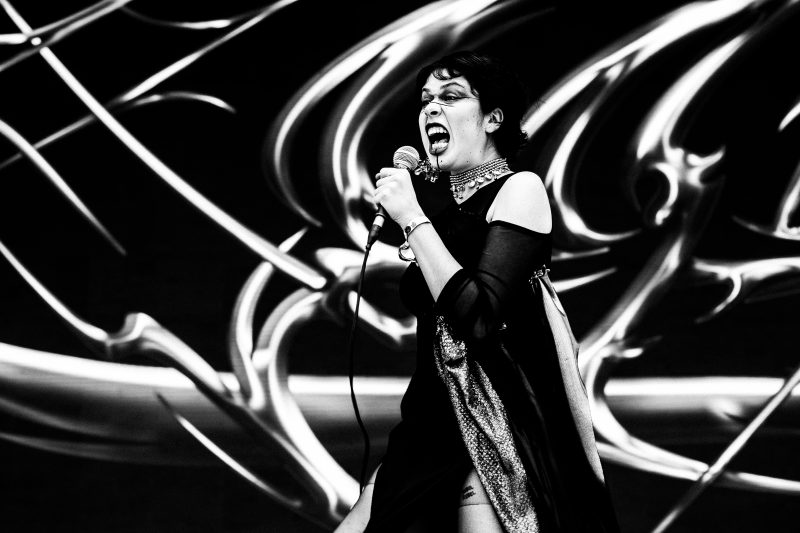 The festival kicked off with an outstanding performance by Aurat, who are perhaps one of the most unique darkwave groups in the scene internationally, blending dark post-punk, synthpunk, and EBM, with vocals sung in Urdu. Azeka's fiery, Siouxsie-esque vocals come blazing with such a mind-melting tempo, peppered with yelps, shrieks, and thrilling synthwave psychedelia. This was followed by a memorable set from Riki. The latter artist unveiled material likely from her forthcoming third studio album, accompanied by a synth player and two backing vocalists, and even picked up a guitar herself. The live performance of her single "Marigold" was a rare treat, having only been performed twice before.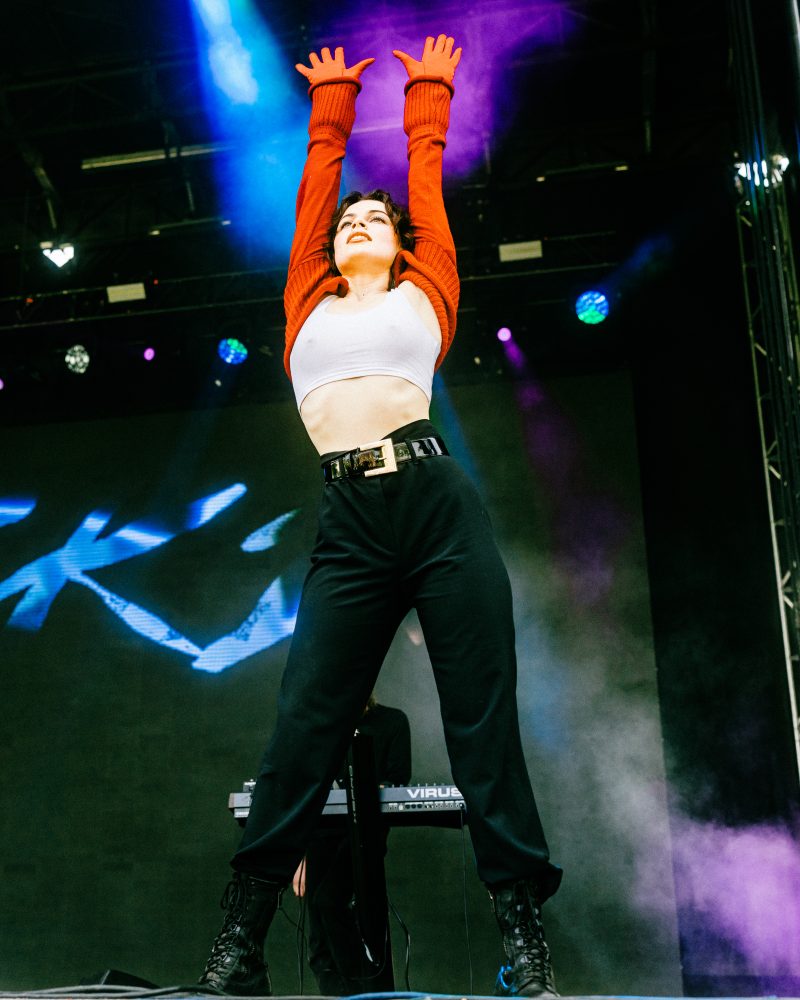 Gvllows stood out with their cover of "Deathwish," performed with Christian Death's Gitane Demone and Rikk Agnew. Modern English then demonstrated their significant musical prowess, deftly blending artistic post-punk with pop new wave, much to the delight of the dancing sea of goths before them. The anthemic guitar creep of "16 Days" and "Gathering Dust" led triumphantly into "Someone's Calling."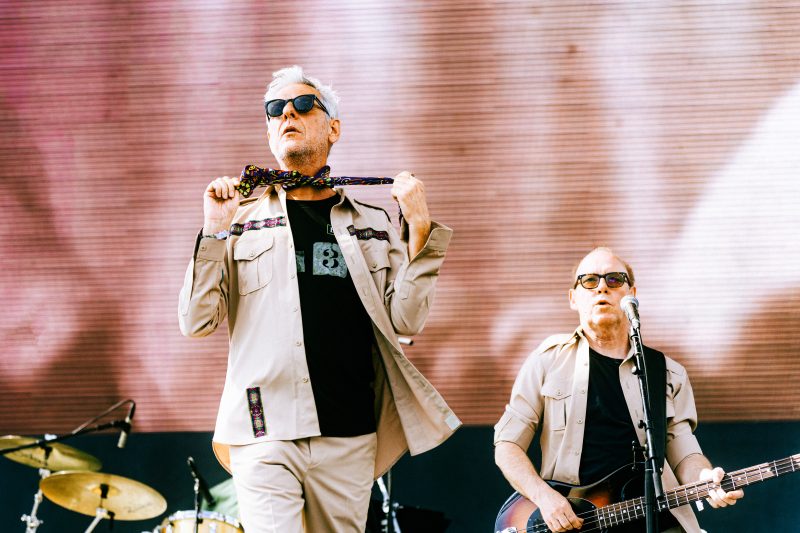 Twin Tribes, always a crowd favorite, represented the best of modern darkwave, serving as one of the standout modern acts in the genre. The band played hits like "Shadows" and "Phantasmas," as well as a cover of  La Union's "Lobo Hombre en París."
Molchat Doma, the Belarusian post-punk trio, also gave an unforgettable performance, somehow bringing to life that viral dancing bat meme with real live goths. (As I write this, they, as well as Twin Tribes, were just recognized by The Grammys for their contributions to the modern darkwave scene.)
The Soft Moon, better than ever on the live stage, gave a performance that will go down in festival history. They brilliantly demonstrated the connection between krautrock, post-punk, and industrial, with a visceral energy that was both electrifying and deeply moving with classic songs such as "Parallels" and "Die Life," as well as top-notch material from their latest Exister, such as "Become the Lies."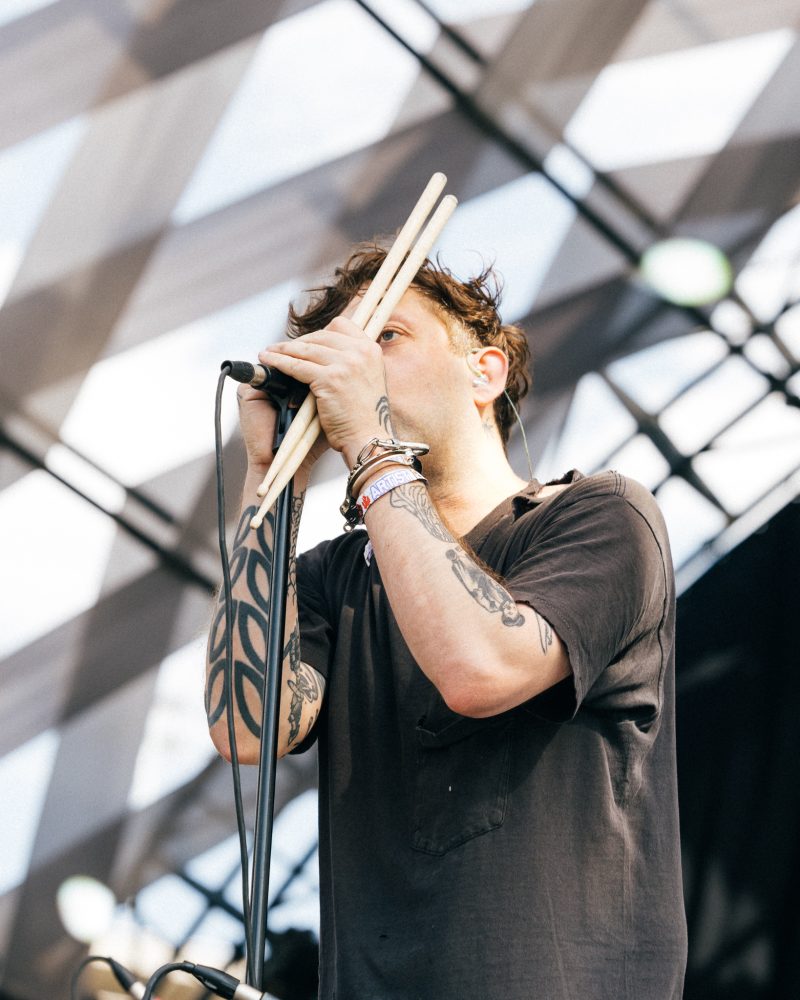 Gang of Four delivered a dream-come-true post-punk performance, with founding members Jon King and Hugo Burnham, joined by the phenomenal Sara Lee from the "Songs of the Free" era. The late Andy Gill was deeply missed, but David Pajo's heartfelt guitar playing did justice to the band's legacy. In a masterstroke of audacious performance art, frontman Jon King took to the stage, brandishing a brazen air of sardonic wit, and then for kicks, he hurled a microwave into the pit. Occasionally he'd rest, gathering the panther-like strength to prowl around the stage during "I Love a Man in a Uniform," "Anthrax," "To Hell With Poverty," and a particularly passionate delivery of "At Home He's a Tourist" kept the audience's adrenaline in full tilt. Imbuing the performance with powerful visuals, a large backdrop of various political flags made a resounding declaration of unity, emblazoned with the phrases "Woman Life Freedom" and "Black Lives Matter."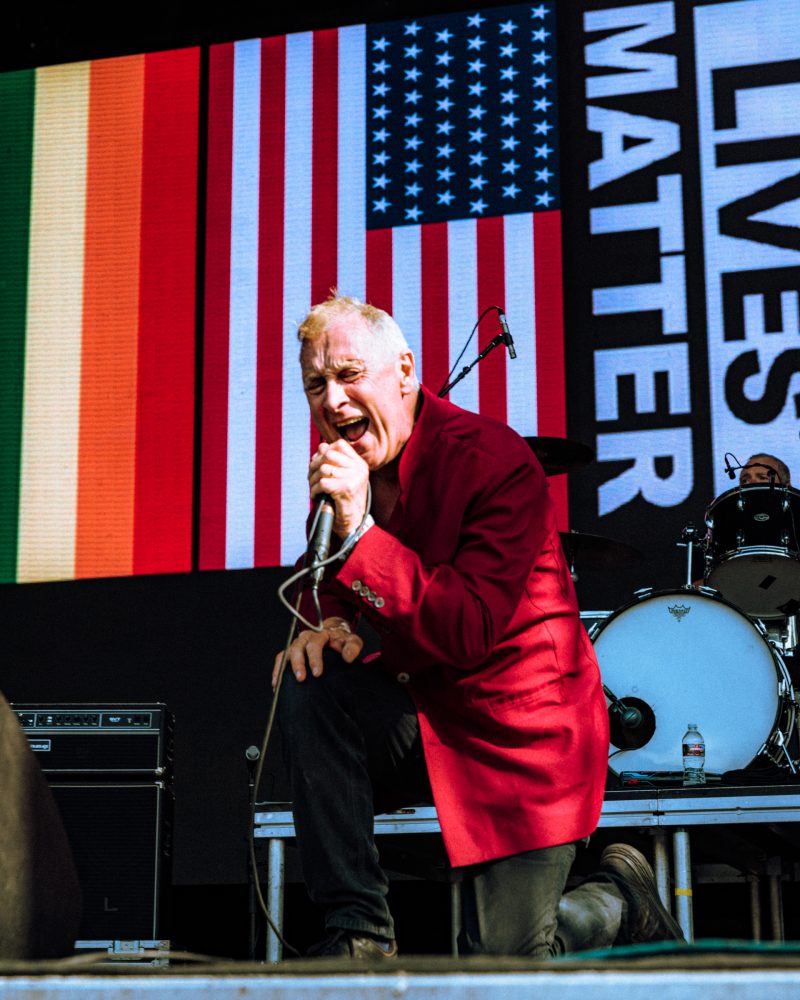 Squeeze also delivered a dazzling 55-minute spectacle, igniting their set with the classic "Take Me I'm Yours." Stepping into the shoes of Adam Ant, who made a sudden exit mere days before the 2023 edition of the Cruel World Festival due to unspecified predicaments.
Boy Harsher, as well, delivered an impeccable performance. The dynamic duo of Gus Muller and Jae Matthews once again proved the undeniable bond between dance music and goth, giving the crowd a set that was as rhythmically engaging as it was darkly mesmerizing, capped off with a brilliant rendition of a "Modulations" from Lesser Man EP.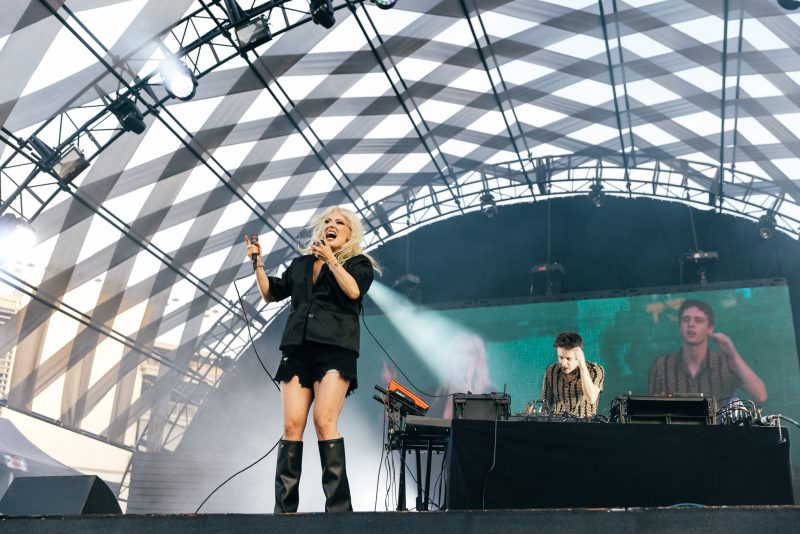 I've seen Echo and the Bunnymen quite a few times, and this was one of their best performances in recent years. After last year's cancellation, I was glad to see them on the lineup again. Hopefully, this will be the case next year with Adam Ant, who, like the Bunnymen, had to cancel last minute. It is a shame that the band's performance lacked the dynamic visual element of video projection, with instead, in its place, a static bunnyman on the moon. This visibility issue in such a large-capacity outdoor venue meant that the view was restricted to only those at the forefront. Nevertheless, Ian McCulloch beautifully delivered the heavy hitters: "Bring on the Dancing Horses," The Killing Moon, and "Lips Like Sugar."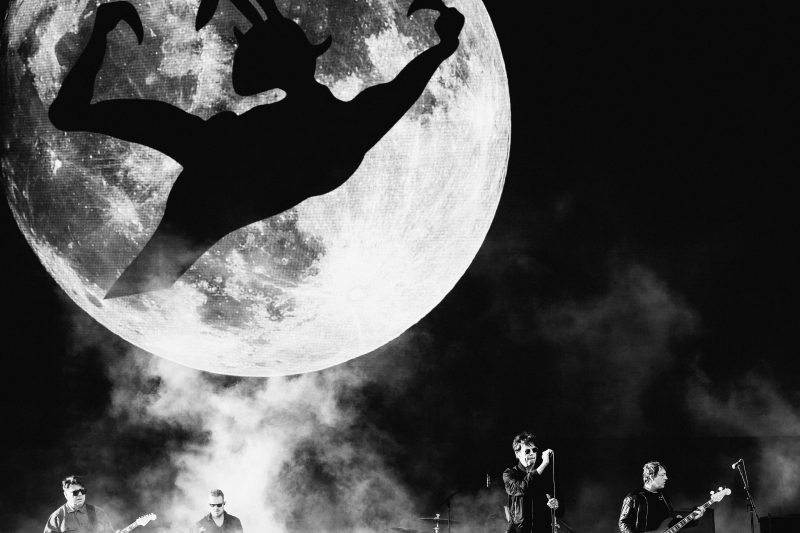 Billy Idol was undoubtedly a festival highlight, celebrating his granddaughter's birthday on stage and assuring the crowd during "Rebel Yell" that he was feeling "all right." Steve Stevens' guitar playing was as flawless as ever, even playing the Top Gun theme to roaring applause. It was heartwarming to see Billy Idol's fandom's effusive affection spiking. While a lengthier set would have paved the way for more of his Generation X-era music, Idol's exuberant performance of "100 Punks Rule" emerged as a triumphant high point in the day's lineup. "White Wedding" and "Eyes Without a Face" also resonated powerfully. In a poignant moment, Idol expressed his gratitude to the sea of faces before him, exclaiming, "I just want to thank you for making my life so f***ing great." The profundity of these words was moving, demonstrating the depth of love accumulated over the years for his music.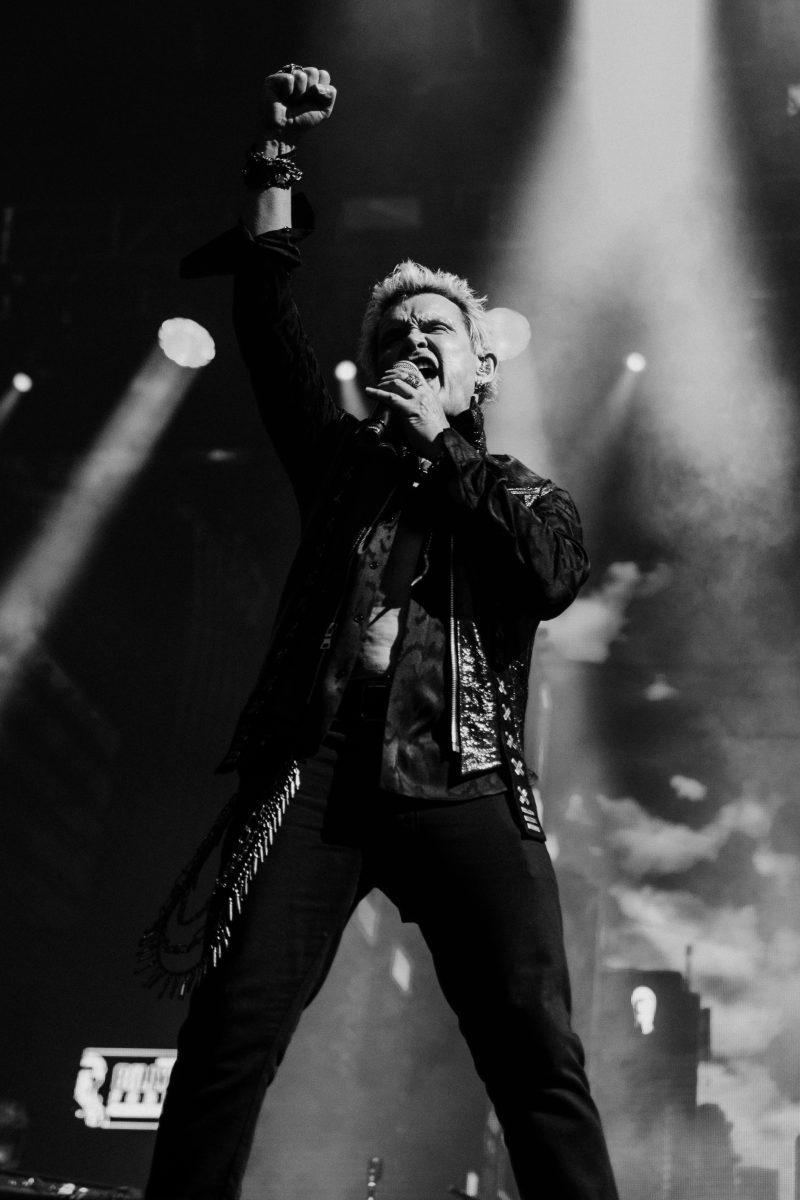 Love and Rockets delivered a trippy set of alternative rock classics, their psychedelic visuals and shimmering red suits, underscored a stark contrast to Bauhaus' Blood Moon swan song performance at last year's festival. They kick-started the show with the melancholic echoes of "I Feel Speed," followed by the raw, unyielding pulse of "No Big Deal," from their seminal self-titled record of 1989. However, their adrenaline-fueled rendition of "Kundalini Express" was mind-blowing, as the stage was bathed in intricate designs and patterns.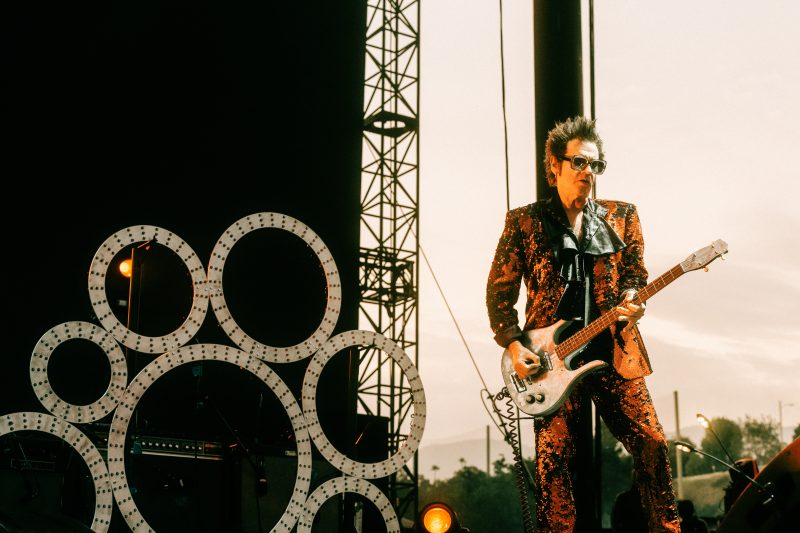 Iggy Pop's Saturday set was abruptly cut short by a little boy's rain dance during "The Passenger," as a lightning strike led to a festival-wide evacuation. Rumors swirled that Siouxsie had failed to show up, but as it turned out, she was merely in her trailer, catching up with old friends and waiting for her moment to make a regal entrance. All in all, the festival handled the situation admirably, and by 2 am, following the evacuation, the makeup performances were already set up for Sunday evening.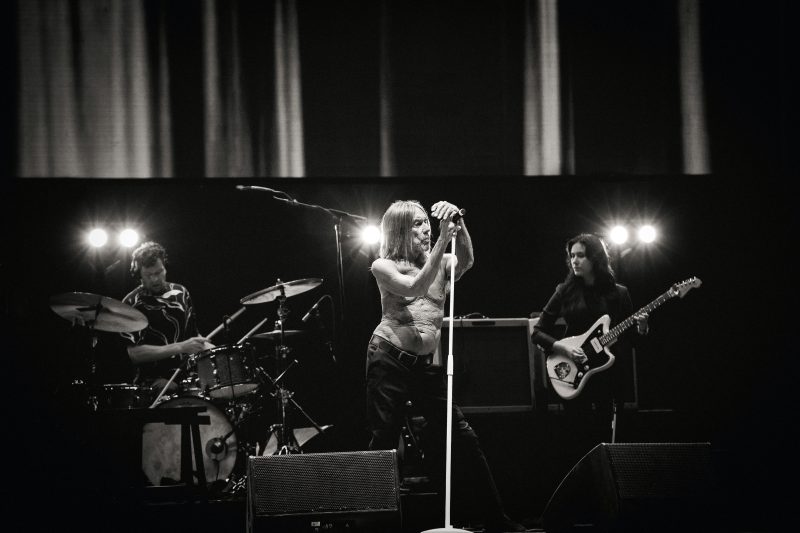 The Human League's set was also, unfortunately, cut short due to the evacuation, and they were unable to return for the makeup performances the following night. On the bright side, Gary Numan gave an incredible encore performance, followed by Iggy completing his set, with Noveller's shredding guitar complementing the shirtless stooge's proto-punk classics.
On Sunday, May 21st, over 20,000 people returned to see Siouxsie perform. For those unable to return, partial refunds were offered. Siouxsie took to the stage and jokingly commented that she had wanted to tell the fire department not to shut down the festival the night before, as the lightning was simply part of her light show. With her signature charisma, Siouxsie reminded the audience that after a hiatus of 15 years stateside, she wouldn't make them wait another year for her return, "Nah ah." This was a performance that could not wait.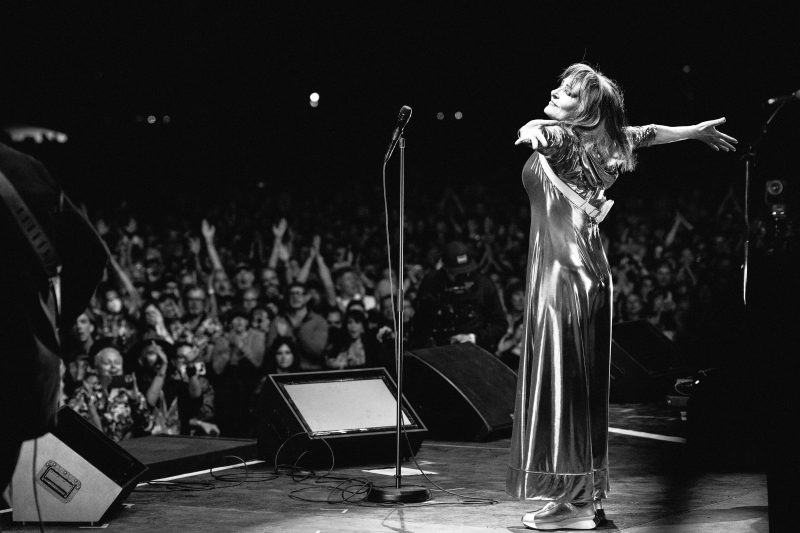 Cloaked in a silvery shroud and shadows, Siouxsie emerged, opening her extended set with "Night Shift," a standout track from her 1981 Banshees album, Juju. Her selection of songs was a tapestry spanning her illustrious career, weaving in deep cuts such as "Lands End" from Tinderbox, alongside iconic classics like "Christine" and "Happy House" from Kaleidoscope. Fans were also treated to a sultry selection of songs from her sole solo album Manta Ray. One of the most touching moments of the evening came when Siouxsie dedicated both "Kiss Them For Me" and "Israel" to Joseph Brooks of the legendary Los Angeles record store Vinyl Fetish. In fact, when her set concluded with the surprise performance of "Israel," she noted that the song was not originally part of the intended setlist but added in as per the suggestion of her long-time friend Joseph, who reminded her of the song.
View this post on Instagram
As the dust settled on this year's Cruel World Festival, the joy and thrill of the event lingered on. I, for one, am eagerly looking forward to seeing Siouxsie again and am already dreaming about the lineup for next year's festival. This year's festival was a testament to the enduring appeal and vitality of goth and darkwave music, uniting generations of fans in a celebration of the genre's past, present, and future. The Cruel World Festival has now firmly established itself as a major player in the global goth scene, and I can't wait to see what they have in store for us next year.