Back in my early college years, I fell head over heels for Projekt Records. I was ripe for the discovery – an angry young goth finding solace in the more esoteric and dreamier side of the spectrum. In May of 2002, I was driven to Philadelphia to meet up with a few internet friends for the much-anticipated Projektfest at the sadly defunct Trocadero. I was only really familiar with Black Tape for a Blue Girl, Mira, and a handful of other bands on the label, but as I shuffled into the venue for the first night of the festival, I remember being blown away by Audra, a band that perhaps implied shoegaze and dream pop tendencies in their name, but instead were loud, powerful, and dynamic rock and roll – a blend of Bowie's dark glam sensibilities, The Cult's big hooks, and Bauhaus' lithe theatrics. I was an instant fan, and made a point to catch brothers Bret and Bart Helm in the front row for their acoustic set the next morning, showcasing a more reflective side of the band.
This was just under 20 years ago. The latest Audra record at the time was their powerful sophomore record Going to the Theatre, which we're pleased to report is receiving a deluxe reissue treatment with a slew of perks and bonuses, all taking place on Kickstarter. The record, for those unfamiliar, is ten tracks of vital post-punk, all instant classics from the opening onslaught of thick drum machine beats and scraping guitar lines of "Midnight Moon Swing" to the tender, acoustic closing number "Don't End This Time."
The record spawned a hit by way of "Cabaret Fortune Teller," a poppy, yet delightfully disorienting romp that took prominence on many a compilation and DJ set in the years since its release. We're also excited to premiere one of the record's CD and digital bonus tracks, a fully acoustic rendition of "Cabaret Fortune Teller" performed by vocalist Bret Helm and mixed by Michael Laird of Unto Ashes. The recording ties into Bret's pandemic livestreams, an epic series of live acoustic performances that the singer has been hosting on Facebook since early 2020. Throughout these livestreams, Helm has performed the entire Audra catalogue, as well as a slew of spirited covers that tap into the band's influences over the years, including James, U2, The Sound, The Cure, and more. Often these streams run for hours, a delightfully endless source of great music and reflective storytelling that have been much appreciated and cherished by the band's devoted followers. With all of that in mind, have a listen to the acoustic version of "Cabaret Fortune Teller" here:
The 20th anniversary reissue of Going to the Theatre will feature a newly remastered version of the album and will be pressed on three varying colored vinyl editions, each one tapping into a lyric or song title from the album. The CD and digital editions will come complete with a series of demos, acoustic re-recordings, compilation tracks, and more, which should be a treat through and through given the band's love of deep cuts and meaningful bonus content. Lastly, the Kickstarter campaign also features a handful of additional perks, such as a mug or a 110-piece puzzle, both featuring the iconic album cover, or a hand-written lyric sheet, to name a few. The Kickstarter campaign is an all-or-nothing affair, and with just eight days to go, is well over the halfway mark.
We also had the chance to catch up with Bret Helm about the reissue, including a sneak peak of some of the bonus content and some hints as to what's to come from the band in 2022. Enjoy!
20 years! Can't believe it's been that long! Going to the Theatre was the first Audra album I heard, personally, so I have quite a bit of attachment to the record as a whole. It also seems to be a fan favorite in general. How has time treated the record, in your opinion?
I hear you. I can't believe it either – I was still in my 20s! As I've been working on this reissue, I've had a lot of time to reflect on this time period. I am incredibly proud of Theatre and the job that Bart did capturing it all on tape. It's been really cool to learn about the love that people have for some of the deeper album cuts like "Fearless Peaches," "A Walk in the Woods" and "Don't End This Time." It's an important record in the band's history and I'm happy to take a victory lap for it now twenty years later!
How many tracks were recorded for the album in the end? Can you shine any light on the extra tracks that will be included with the reissue? 
I'm a total music nerd when it comes to this kind of stuff. As I've been going through the archives, I found mixes for songs recorded for Theatre that would end up being re-recorded / re-imagined on future albums: "Jason and The Doors," "Silver Music," "Falling" and "Fireflies." A couple of those "Theatre versions" should make it onto the second disc. There's also a demo for a song called "Loneliness" that I re-recorded a new acoustic version, as well as a song called "Puppets." Both penned by Bart and both quite touching.
The Theatre Sessions also produced "Let the Reindeer Live on My Roof," which we wrote for a holiday compilation that our label at the time was releasing. We were originally going to record a cover song but it just wasn't happening, so on the day of the submission deadline as we were about to throw in the towel, I started playing that chord progression. Bart hit record and I opened my lyric book and sang. Added a few overdubs and it was done in a couple hours. Every year people play that song around the holidays and it's one of my favorite things we've ever done.
We also recorded a cover of "This Glass House" during those sessions for a Rozz Williams tribute album. I listened to it a few weeks ago for the first time in probably 15 years. A couple years later, we released a version of Joy Division's "Walked in Line" for a JD / New Order compilation. It was Jason's first officially released recording with us. I'm hoping to include both of those. Probably won't be including it, but there's also a final mix of a version of "In The Ghetto" that we recorded for a compilation that ended up getting shelved.
There are lots of early and alternate mixes for songs that made the album. It's quite difficult to whittle them down and see what would be different enough to make them interesting for fans of the album. But definitely the 10 acoustic re-recordings of each song from the album plus re-recordings of 2 unreleased songs, a couple album outtakes, cover songs and the rest we shall see! Oh yeah, and we're printing up 100 Kickstarter Exclusive CDs, for those that grab a vinyl or the 2-CD edition, of a live show that we played in Phoenix at the legendary Mason Jar. That was quite a treat to uncover – for the full-band version of "Fearless Peaches" alone.
What was your writing process like at the time? Has it changed over the years? 
Back then a lot of songs began their life with Bart and I sitting around with acoustic guitars. We wrote a lot of songs in those early years. I've always loved going and seeing bands that would play songs live that hadn't been released yet. We've done that for years. Put the new songs on stage, test them out and refine live. We'd usually reserve one or two places on each album to experiment and write / construct in the studio. That happened on Theatre with "All Ghosts Spend Their Time Alone" and "Cabaret Fortune Teller." In more recent years that would've been "Life on this Planet" from Everything Changes and a complete reworking / rewrite of "Fireflies" for Dear Tired Friends. For Dear Tired Friends, we had several songs that had been sitting around for years – "Tired Friends," "Sliding Under Cars," "1987," etc. that had been played live. With those I took the original demos and arranged them into full working demos. I constructed others from scratch like "Planet of Me" and "Sunglass." I would send Bart the demo, he would give me some feedback and I'd make adjustments until we got them finished. Then we went in and bashed them out in the studio. A little different, but more or less the same process.
Jason, your drummer, joined the band shortly after Going to the Theatre's release. What drove the decision to make Audra a trio at the time?
The band started out as a trio, all the way back to our very first shows in the early 90s. There were times we brought in other musicians so that I'd be free to just sing or play additional guitar parts, but I've always been the bass player on record and for the majority of live shows. Jason and I are an incredibly tight rhythm section, so after going through some live members, it made total sense to just keep it the three of us.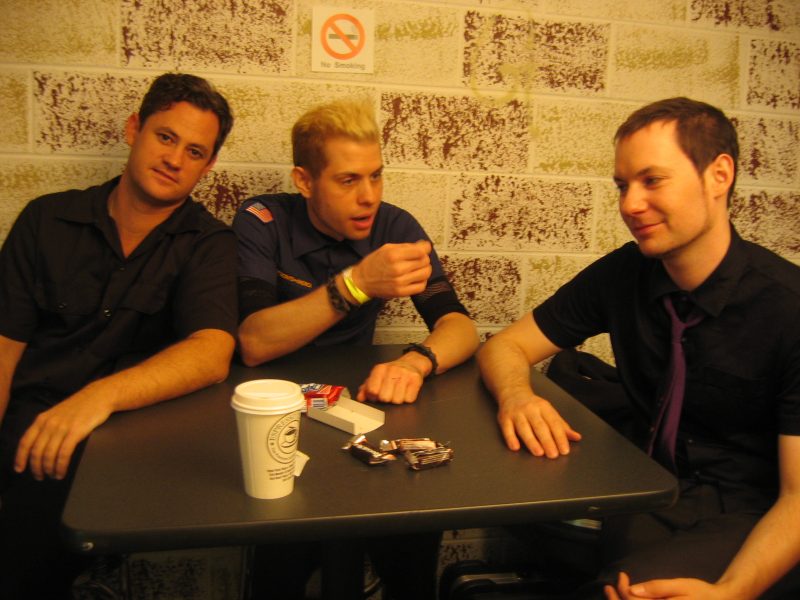 Can you tell us any fun stories from making or touring for the record? 
Chicago. December 2002. It was Jason's first show with us and Bart is known to, when the feeling is right, perform a jumping karate kick. It was the first song of the set, my eyes were closed and when I opened them Bart was no longer on stage. The venue looked like a high school gym with a stage on one end and stairs leading up to it on both sides. I'm singing and thinking "where the hell did he go?!" Then all of a sudden I see Bart walking up those stairs from the crowd with his guitar in hand. Apparently he kicked himself off stage! Struggling from trying not to laugh into the microphone, I had to keep my eyes closed while he plugged back in and we finished the song. Good times.
I also remember a show we did in Tucson shortly after Theatre came out. Part One: There was some issue with the sound guy, so our friend and label mate at the time, Steve Roach stepped in and ran the board. Part Two: After the show was over, we were all hanging out in the alley behind the venue and some random, shirtless guy in orange pants runs over to us and asked if he could have a band t-shirt. He kept stressing that he was in a hurry, and as Bart was about to give him an Audra shirt, a helicopter appears overhead with the spotlight shining down on us and the loudspeaker "You without the shirt, don't move!" The shirtless, escaped fugitive then took off running! Always an exciting time on the road with Audra! Haha.
Are there any songs on the record that haven't been played live, outside of the pandemic livestreams you've been performing?
As I've been going through the archives to find bonus material, I've been uncovering a lot of live shows from that time period. It's interesting to see even as far back as shows before the first album and on tour for it, we were playing "Midnight Moon Swing," "In a Dark Room" and "A Walk in the Woods.""Midnight" has been a staple in our live sets to this day, but the other two I can't recall playing in years. After revisiting them in the live-streams and recording acoustic versions of the latter two, I can say that I shall push for those two to make a live full-band comeback. Looking over the album, I'd wager that "Face Go Red" never made an appearance outside of acoustic shows. But I could be wrong.
Despite everything that's happened in the world over the last almost two years, I'm grateful that the opportunity to perform those 20+ live-streams. It's been a wonderful experience to connect with people all over the world that never had the chance to see us live, or perhaps may never have the chance. It was also amazing for me to revisit every single song in the Audra catalog. I doubt this would've ever happened if not for the quarantine.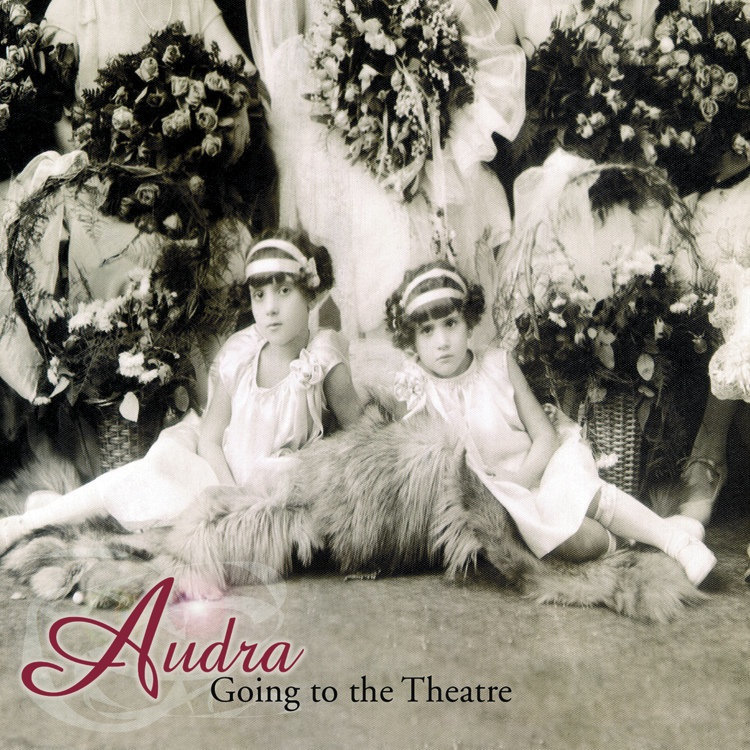 On one of your livestreams, you mentioned Going to the Theatre's cover is an old family photo. Family seems like such an important component to you and Bart over the years. Can you tell us more about that photo and how it connects to the album?
Definitely. Over the years my cousin Karen in Chicago has sent me discs of old family photos. When we were putting the artwork for Theatre together back in early 2002, I was intrigued by an old family wedding photo that my grandmother was in. I did some cropping for the cover, but the original photo is of a huge wedding party. I think it turned out beautifully as a gateway to the music contained within.
Speaking of family, I just remembered a show we did with AFI back in 2010. My parents have always been huge supporters of whatever we've done in life, including our music. Our Dad just had hip surgery and was in a wheelchair for a short while. Not wanting to miss our sold-out show with AFI, Mom and Dad showed up. I'll never forget looking out into the crowd, it was packed and there's my Dad in a wheelchair with people moshing and flying all around him. Haha. So great. I also have a fond memory of walking into the alley behind the Mason Jar in Phoenix – we've apparently spent a lot of time in alleys – anyways I walk back there after our set and there's my Dad and Johnny from Human Drama just sitting on the curb next to each other, chatting it up and probably singing Frank Sinatra songs. Actually that was the same show as the Kickstarter Live CD. That would've been February 1st, 2003. Where did the time go.
As someone who loves collectables of all sorts, what perk are you personally most excited about? 
Obviously being a total music fan and collector, to finally be able to give Theatre a spin on the turntable will be a treat. I also can't wait for Disc 2 on the CD edition. I am very pleased with the acoustic version of the album that I've recorded. My pal Michael Laird from Unto Ashes has been doing a wonderful job mixing and adding little touches that are just really cool. Songs are like people, they grow up and evolve over the years. It was a blast to strip down those songs and re-imagine the entire album in an acoustic context.
What's next for Audra in 2022?
After re-living 2001 / 2002 over the last several months, I'm looking forward to working on new music. I already have some demos that need to be finished and see where they take us. We're booked for a full-band live performance in February. If all goes well, it'll be our first show since the release party for Dear Tired Friends back in September of 2019. But mostly I'm focused on making Album #5.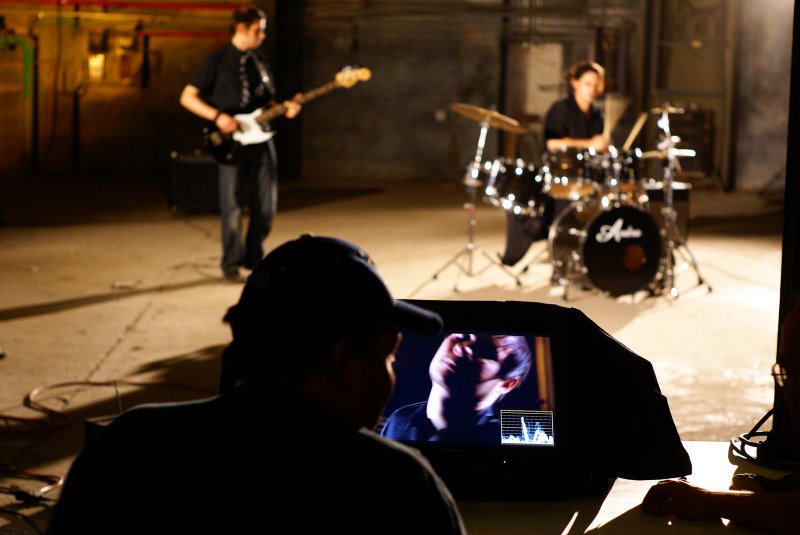 Header photo by Sam Rosenthal
Video photo outtake by William Sibick