Jeffrey Lee Pierce and The Gun Club exploded upon the LA club scene in the early 80s, with a howling, unholy mix of punk rock and the blues. His soulful, passionate voice with a quavering Elvis tremolo settled somewhere in that post-punk psychedelia no man's land with fellow travelers Echo and the Bunnymen, Nick Cave, and Cramps/Jerry Reed-style swamp rock for good measure.
The Gun Club recorded Fire of Love, their debut, for the local Slash/Ruby label…but their follow up demanded something more substantial. Chris Stein of Blondie stepped in. He signed the band to his fledging Animal imprint, awarded to him by Chrysalis Records for Blondie's huge commercial success. and passed the torch to The Gun Club.
Stein produced Miami at Blank Tape Studios in June 1982, with Deborah Harry on hand to sing backup vocals, credited under the pseudonym D.H. Laurence Jr. In a sense, it was a karmic return, because Pierce (a massive Blondie fan) had suggested they cover The Nerves' Hanging on the Telephone on 1978's breakthrough album, Parallel Lines.
The production of Miami, however, found The Gun Club in a state of flux.
"The band was really starting to split apart," Graham confirms in the documentary Ghost on the Highway: A Portrait of Jeffrey Lee Pierce and The Gun Club."It was going to Jeff's head… Chris Stein, his friend, is producing the record and somebody is telling him, 'You don't need your band, all you need is you.'" Drugs, certainly, also played a role in the animosity. Ritter split in 1982 to concentrate on his other band, 45 Graves (changing his name to Rob Graves), although he's credited on the album. Before leaving, Ritter taught the bass parts to his former Bags bandmate Patricia Morrison (also ex-Legal Weapon, later The Damned) and trained her as his replacement. Graham made his exit from the group a couple of years later and the band called it quits by the mid-80s. Kid Congo Powers drifted in and out after a dalliance with The Cramps. After suffering the aftershocks of a wildly-lived existence, Jeffrey Lee Pierce himself met his maker in 1996, when he tragically succumbed to a brain hemorrhage.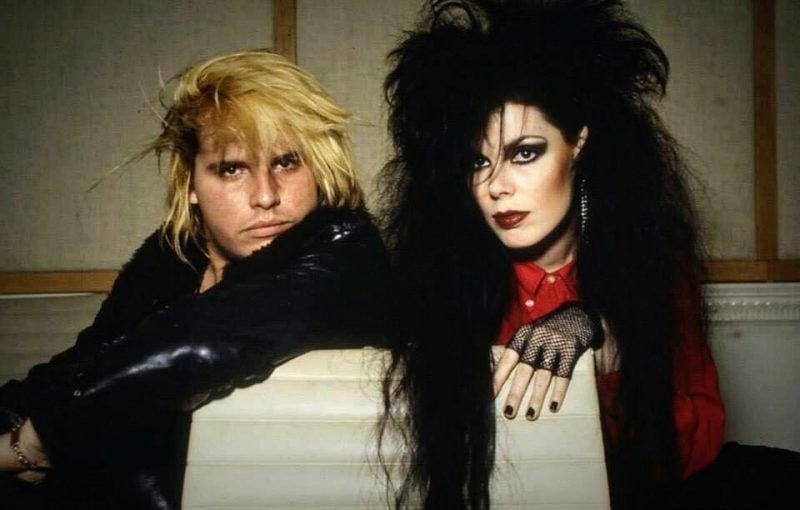 Though some have criticized Miami, Stein is still proud of the album. "I have gotten flak from Gun Club members who played on Miami for not having a 'hard rock' enough approach to the production," he says in the book From Blondie: Parallel Lives by Dick Porter and Kris Needs. "I don't recall any of them voicing concerns at the time. Jeffrey…really wanted to get away from a standard punk rock approach and reach into the world of so-called 'normal' music by making more references to country, et cetera. Jeff was the one who brought in a pedal steel guitar player. I know for sure he liked the record."
Whatever rift happened personally, Miami remains a classic, from Carry Home to Mother Earth, which Billy Idol said was key influence on his 1982 hit White Wedding. In a TV interview, Pierce said, "I didn't see how he saw it similar in his head, really. It didn't make any sense to me, but I said, 'Fine, I guess if it inspired you to make that music, it's good.'" You can hear the unbridled energetic influence of The Gun Club in their disciples Chris Isaak and The Horrors.
It's criminal how little attention the record garnered at the time, but in the crystal clear hindsight of 2020, they were simply light years ahead of their peers. You hear elements of Sisters of Mercy, Bauhaus, late 60s garage, and new wave in their indefinable sound, but sakes alive, this album is a rollicking journey.
This is an auspicious year to right the universe: Blixa Sounds will be releasing deluxe reissues in double CD and double vinyl editions on 4 December 2020. Both the double-CD and double-vinyl editions will contain a digitally remastered version of the original 12-track album, as well as demos of every track. In addition, the CD version will contain a second disc jam-packed with a total of 18 previously unreleased demos of material that would later turn up on The Las Vegas Story, including 6 tracks exclusive to the CD release. The double-vinyl version will be released as a two-LP set packaged in a gatefold cover with extensive liner notes by drummer Terry James Graham and journalist Craig Rosen, as well as rare photos and ephemera. The CD version is a two-disc set, also with liner notes, photos and ephemera.
Get yer paws on this and preorder at Amazon here. The Gun Club is one you'll immediately want to join.