"We can get influences both from genre innovators like Front 242 and from genre modernisers like Phase Fatale. And if we combine it with modern possibilities to make music, we can come up with something interesting."
Murder Tbilisi has a reputation to live up to. Since 2020, the label has consistently released compilation albums that include some of techno, industrial and EBM's most sought after producers. From Silent Servant, JK Flesh, Soft Crash (Phase Fatale & Pablo Bozzi), Zanias, and now, Terrence Fixmer, each of the Murder series boasts some of the most recognizable names in the scene. MURDER 04 is the newest installation of the series that features the blistering EBM track, "Quod Servus" by Fixmer with Reka's vocals, the dizzying "Whatever It Takes to Survive" by L.I.E.S. label boss, Ron Morelli,  and a noisy techno offering by Unhuman.
David Japaridze, who goes under the alias Puritan, is the curator of the various artist series and, as a DJ and producer himself, has become one of the emerging artists in the Georgia for this style of music. We spoke with Puritan about Murder—including his concepts for the V/A, his hopes for the future of the label, about the burgeoning Tbilisi techno scene, and of the world-renowned Khidi Club—as a primer for the release of MURDER 04, officially out on June 3rd.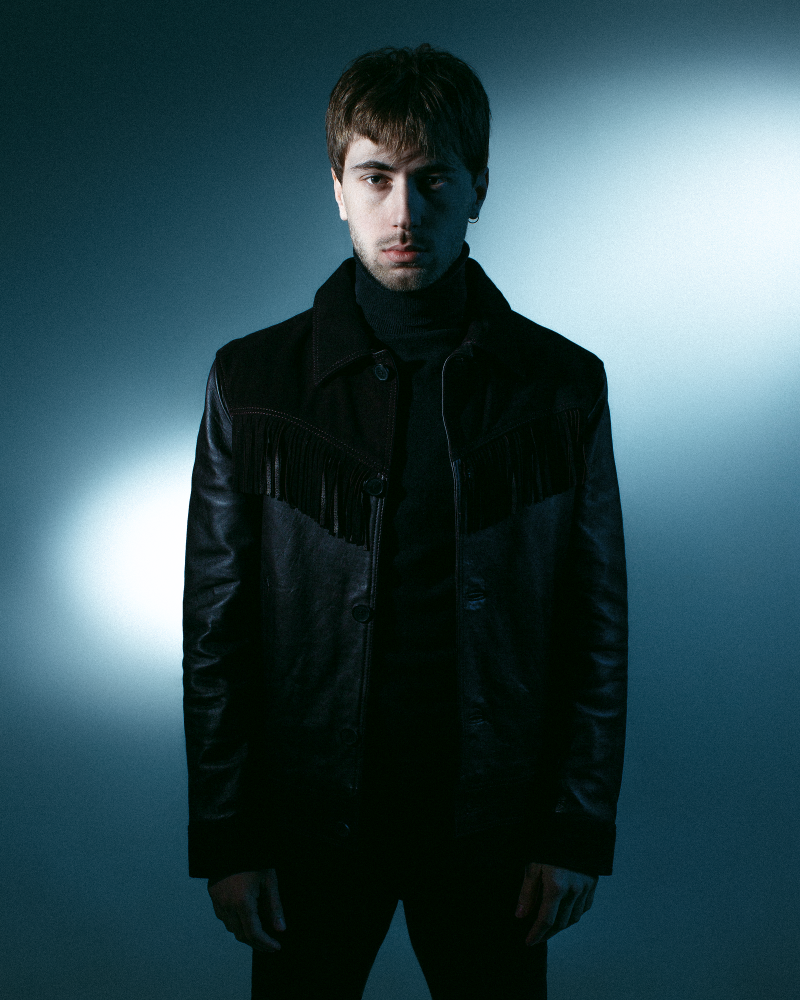 Can you give us a rundown of Murder Tbilisi's history? How did it start? 
Just the year before the pandemic started, I took a break from releasing music and playing gigs. As I was really young, I didn't know what path I wanted to take in regards with my music career. I turned off the term of being an "artist" and just sat back and analyzed myself, trying to combine my influences and finding the right niche in electronic music that would help me to express myself fully and to give me a room for a development at the same time. 
At that time, I had already worked with several labels and wasn't really fascinated by how they were operating. I always thought that in music artwork and other visual concepts were as important as music itself. So I decided to combine my musical and design influences and shape the idea of Murder Tbilisi. On the other hand, I think the main driving force for me was that I'm selector from my heart and always loved to discover and combine different music altogether. 
What's your background in music and this style of music?
Music always had a big part in my life. I listened to many different genres of music during my teenage years and everything slowly lead me to where my perception of music lies right now. Genres that influence me right now weren't in front of me during that period and I slowly found my way through it. 
How would you describe the underground "industrial techno / EBM" music scene in Tbilisi? Do you think it's the hotspot for this type of music right now?
If you would ask it to me before the pandemic I would definitely say yes, Tbilisi is definitely a hotspot for Industrial/EBM or Techno in general, but because of the pandemic and ignorant government, clubs were closed in Georgia for 2 years and it definitely pulled us back. 
I think what makes our scene one of the best is that – be it Industrial / EBM or Techno in general – with all its benefits, is new for us. As you know Georgia is post-Soviet country and we have been through a lot in our recent history. 20 years ago we barely had electricity in Tbilisi and now we have one of the best clubs like Khidi and Bassiani. During our developing years Techno became a soundtrack to social change to our people. On Friday nights, after a long week living in not so easy to live country, people would rush to a clubs to escape from reality and fully express themselves on the dancefloor. It wasn't only a way of having fun, It was like a social and political act to change something for the better. This helped us to form a movement of like-minded people what we call a scene right now. Until now we are still growing and I hope this grow will slowly turns into a strong local scene.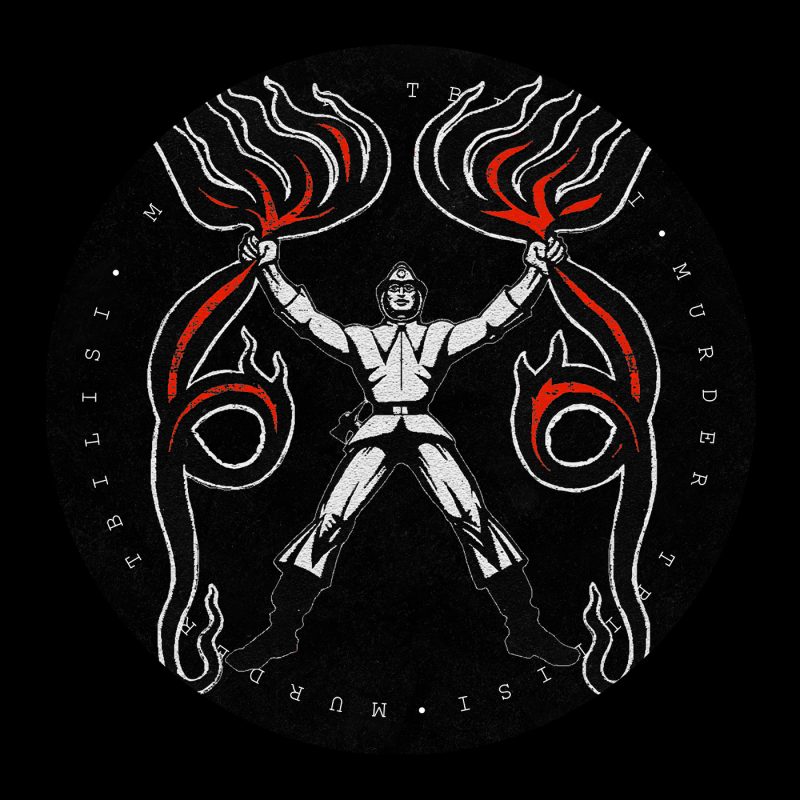 Why do you think this style is so popular at the moment? 
I will say it from a young artists perspective who got introduced to this genre 6-7 years ago and wasn't even born anytime near when this whole movement started. 
I think in recent years Industrial and EBM have evolved and became more dancefloor oriented. Rhys Fulber once said in an interview: "For anything to be important it has to keep moving." Open-minded artists like Terence Fixmer, Silent Servant, Ancient Methods and Rhys Fulber himself, played main role in modernising these genres by taking classic genre of Industrial and EBM to a new level by connecting them to a modern sound of Techno. 
If we say these artists took inspiration from Front 242, Nitzer Ebb, DAF etc. Now new wave of artists like me have more influences to draw from. We can get influences both from genre innovators like Front 242 and from genre modernisers like Phase Fatale. And if we combine it with modern possibilities to make music we can come up with something interesting. 
This being said, I think movement of a modern Industrial / EBM music is formed as a strong  genre which gives a life to many interesting acts and It's exciting for me to be a part of it. 
As a curator, how do you choose the artists and producers on each release? What are some attributes that make you pay attention to their music?
Murder Tbilisi is a reflection of my personal taste. If you look at the label catalog and to the selection of tracks I play during my sets, you can tell that it's very personal and very limited at the same time. Throughout my musical career I developed some kind of filter for the artists and tracks I play. I can't really tell exactly how this filter works, but it's saturated with many elements and aesthetics I admire in music and when I listen to a certain track or artist I immediately know if its end up in my record bag or not. It's exactly same with my label. 
It's not like I spend days listening to demos and then I just pick what I like. I have to have some sort of feeling and connection for the artists I'm putting out. Quality of the music is as important as my personal attachment or relationship with the artist. 
What's the mood of Murder 04 and how did you compile the artists featured on the compilation?
I never think about the mood or backstory of the compilation. I always try to leave it to the listener to choose what vibes they want to see in our releases. That applies to artwork as well. There always are some sort of ideas behind each releases but it never comes to the front, listener should adjust it with their own perception and see what they want to see in it. 
From the side of artists I would say the releases compile itself, It's just matter of finding the right time for certain artists. We have Terence Fixmer, Ron Morelli and Reka who are one of the main inspirations for me and ones I always thought I would work with when I started a label. We have Unhuman who is good friend of mine and amazing artist who I look up to. TV.OUT who I discovered on Ron Morelli's L.I.E.S. and was waiting right time to have them on label and Suture – a collaboration between KAOS London founder Chronzon and artist LAW334 and "Vajra" is their first official track to date.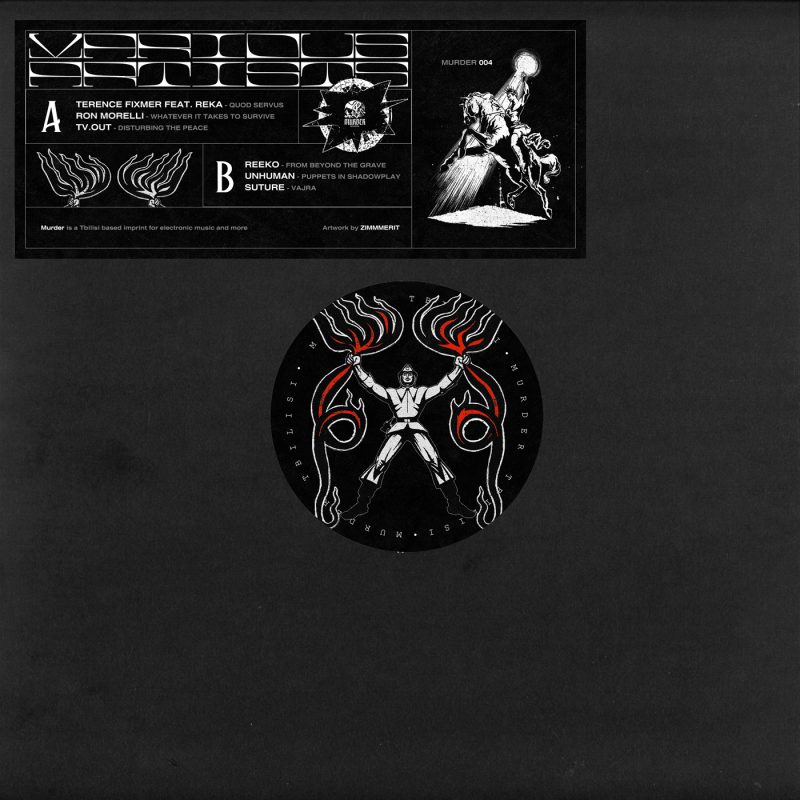 Under what scenario do you imagine Murder 04 would be played? At home, in a club, in a car?
I always tell to people that Murder Tbilisi is a club oriented label but I never give directions to artists to make necessarily dancefloor oriented track for the compilation. I personally never listen to Techno tracks at home unless I'm selecting tracks for my DJ set or compiling the releases but I guess you can listen to it anywhere you want if you feel like it. 
Some of the artists are regulars at Khidi, do you form relationships with them because they visit the city so often? 
Not necessarily, but Khidi had a big role in my musical development and continues do so for many young artists. It's great privilege for us that we have a club like Khidi who's sound can be defined as EBM or Industrial and not only that. Back in the days when this kind of music wasn't so popular they weren't afraid to push the sound forward and offer new things to the Georgian scene. 
Do you have a couple dream artists that you would like to have on the next compilation? Do you dare to tell us? 
Next compilation is already compiled and it will be the fifth and the last from the series. Then label will move to releasing solo releases like EPs, LPs or Albums. V.A. releases of course will happen in-between with different forms. To ask your question, I would love to have British Murder Boys sometime soon. 
What are some of your favorite new releases?
Silent Servant – Optimistic Decay on L.I.E.S.
Gesloten Cirkel – 185 on Solar One Music
Sarin x Scarlit Port – DAEVAS on Mechatronica
Univac – Helicon on Pinkman
What do you see happening next in this scene? Will it move to something else, will it transform? What are your predictions?
I would say that scene is constantly changing and It's important for something to evolve to stay relevant. Unless we are aware of shitty trends and don't push that sound forward, real genres that Techno music stands on will always stay. 
I think, in future more and more Virtual Reality will be involved in experiencing music. I definitely can tell that some clubs will open their "doors" in Metaverse. Do I like it? I don't – I don't think that Techno can be experienced any better with VR glasses rather in a club but I'm sure it will be big part of our future. In the end, we should be able to distinguish what is good and what's bad and we should use all possibilities to make our scene better. 
Now back in reality: I would love to see clubs to give more and more space to local artists. Authentic clubs / artists / labels to stay underground and to not follow trends to get bigger. And artists to approach to music they are playing not like the way to entertain people but to manifest themselves. 
Follow Puritan on IG. Follow Murder on Soundcloud and IG.