After reading New York City's projected death toll numbers in early March, Lina Sophie and Richey Rose fled to Richey's hometown of Lexington, Kentucky. They simply couldn't chance being in the city with Lina's rare autoimmune disease and Richey's long vape-taxed lungs. "Based on what we were reading, we were both pretty high risk," says Richey. The pair loaded up a rental car with a few guitars, amps, and their recording gear, drove twelve hours, and sunk into quarantine in an attic studio. "At first, we thought we were being alarmist…like how long are we really gonna be gone for? That was over six weeks ago."
Quarantine proved fruitful for them. Songs For Sabotage finished the remainder of their album months ahead of schedule, and created a music video on an iPhone while they took turns driving the empty streets of Lexington.
"It's been cathartic to remain creative during all of this, so I'm thankful we brought everything we needed with us," says Lina.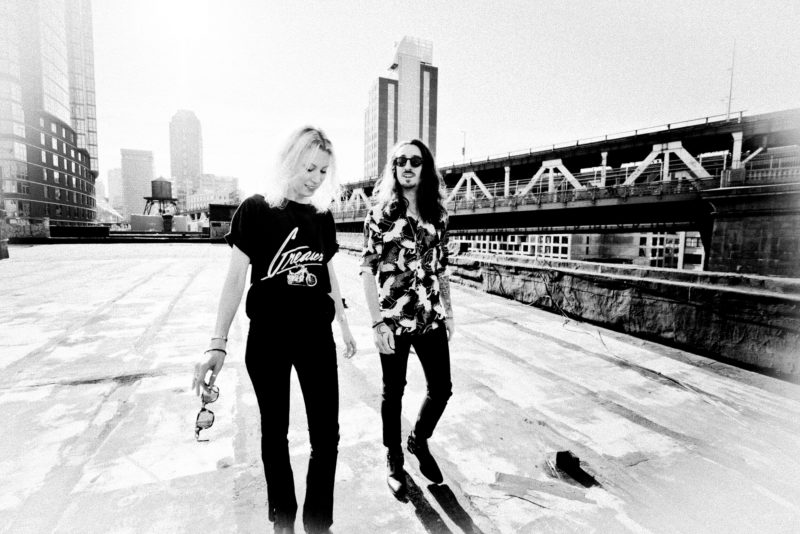 Drifting was the first track Songs For Sabotage worked on together, before they had officially formed as a duo. "We want to offer more in regards to memorable songwriting, especially when it comes to a clever, classic pop hook," explains Richey. The moody, haunting sound is reminiscent of new wave stalwarts The Motels, Pat Benatar and a smattering of Suzanne Vega.
"Lina brought the intro guitar riff and the first two lines of lyrics into an early writing session we had. That idea lingered for months and we couldn't really get anywhere with it, so we let it lie. Later we revisited it and the rest was written within a few hours," says Richey.
"The original inspiration was a feeling of aimless wandering," says the Swedish-born Lina, "like when you're afraid to take a risk or make a move in your personal life, so you just wait for something to happen, but then you just end up alone and drifting. When we revisited the song we wrote more lyrics about overcoming those feelings of doubt; we wanted the person singing the song to ultimately feel empowered. The chorus also contains lyrics about acknowledging the shortcomings of your former self ('I don't feel sorry for you; spinning faster – you're a
disaster') and moving on from being that person."
Songs for Sabotage's story began in late 2018. The two musicians met when Rose was the featured DJ at Night of Joy, A few months later, they started writing and recording music in Rose's home studio in downtown Manhattan. The duo began collaborating around the same time their respective previous bands were breaking up. A chance wander into the Strand Bookstore sparked inspiration when they saw a book of artwork titled Songs for Sabotage. The band was largely born out of Lina and Richey's mutual love for Swedish pop, '80s new wave, and '00s electro. Drifting is Songs for Sabotage's third single from their upcoming debut album, Night of Joy, and features a b-side remix by UK house producer Joe Sheriff.
Drifting is a mood; one of uncertainty and embracing the unknown.