Presenting four tracks "haunted by 19th-century hedonism," Sebastian Melmoth reveals the sound of "epitaph pop" on their debut cassette release, Mourning Glory. The Belgian duo of Olivier W. — DJ Graftak of Antwerp-based party Drag Me To Hell — and Gregory D.B., make their first darkwave offering via Russian tape label Perfect Aesthetics. If you need something to accompany your next trip to the mausoleum, this might be your new soundtrack of distorted gloom.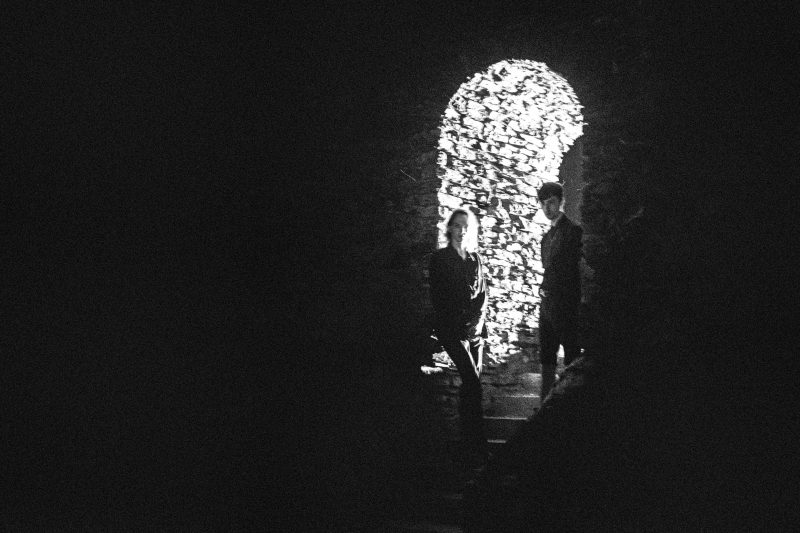 With the reliably morose production work of William Maybelline aka Qual (Lebanon Hanover) embalming the EP in a blackened glaze, only the bleakest atmospheres reign in this cemetery confessional. Minimal synths skate over a funeral procession of snares. "The Taste of India" reminds of '80s world-influenced experiments such as Dali's Car or C Cat Trance, and title track "Mourning Glory" emits the steady pulse of a ghost heartbeat. Things then edge into joyless-dance territory on Qual's closing remix of lead track, "The Sharpest Dart in Melancholy's Quiver." 
Named for the pseudonym used by Oscar Wilde after his prison sentence, Sebastian Melmoth embraces dungeon-dark solitude with a steely lo-fi sound that clanks with martial-industrial machine spasms. The duo delivers a dreary dose of classic post-punk inspiration with agitated deadpan vocals, and an omnipresent tape hiss rekindles '80s DIY synth rawness. Olivier W. says, "The music we wanted to create was an homage to a broken man, invoking images of decadence and decay: Epitaph Pop to guide you through your modern day delusion."
Enter the snake pit below:
Mourning Glory by Sebastian Melmoth is out now.