We have been following Topographies for several years now as the group, helmed by singer/songwriter/guitarist Gray Tolhurst, developed from its beginnings from a lush and tempestuous deluge of shoegaze and dream pop sounds towards a more honed and cohesive post-punk-infused project across several EPs and singles.
Still maintaining their beautiful noise, the band are preparing to release their first full-length studio album Ideal Form this winter with the debut of the fantastic new single "Rose of Sharon".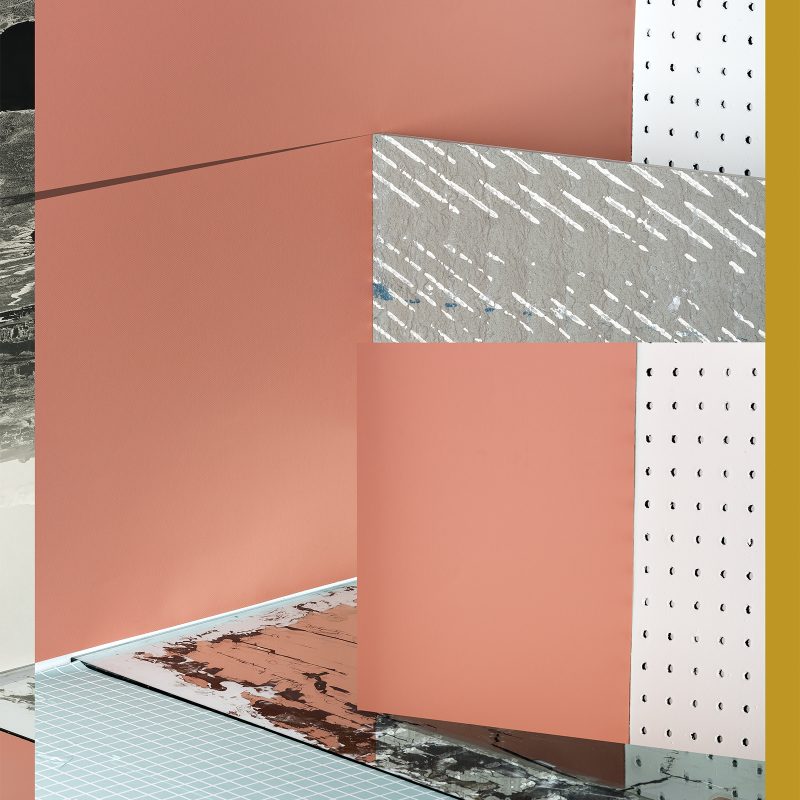 Thematically, Ideal Form "is concerned with the projections human beings place upon experience and the impossibility of a perfectly realized existence."
We spoke with Gray this week about the new album, "Rose of Sharon", life under COVID, all the great albums that came out this year, and him having a father that was a founding member of The Cure.
But we began the conversation discussing music scenes in the Bay Area, and Los Angeles, and living in both places:
Yeah, it's wild. It's wild. It's interesting, I've been in Los Angeles and I've always got people moving to Los Angeles, but I get it now, it's a cool place. Being from there it always seems different than to people who are moving there now. You know?
Yeah, it's a strange place. I like it and I hate it at the same time. It's a beautiful place, there's a lot of great creative things to do, but there's also this dark side to it. But I do love the music scene there. I used to go there all the time, back in the 2000s, but I hadn't been there for a while until this spring.
Yeah, it's really going on. I mean, it's always my favourite to go down to LA and play.
Where are you living now?
I live in San Francisco. I've lived here for the last seven years.
How is it in San Francisco?
It's a pretty wonderful place. It keeps my eyes happy because it's beautiful and pleasant all year round, and I like the people I know here. There's a great music scene in Oakland. San Francisco itself is kinda limited in music, just because it's so expensive to live here. It's hard to find people who focus on making music only.
Are you familiar with the Near Dark people?
Oh yeah I know those folks, I'm friends with Akiko. They're great. We've played with them a few times. There's definitely some interesting stuff here, it's just like, every year something closes down, somebody moves kinda thing. It's kind of always tenuous here. But if you get a foothold, it can be pretty wonderful. Less open than Los Angeles.
Really?
I mean, I guess it's harder to get established here. Finding an apartment is nearly impossible. I guess it's a lot better now because the prices are going down. People are always moving out of here. All the people who are in tech don't necessarily have to live here anymore.
A lot more remote working, huh?
Yeah, so I think without the environment, without all the accouterments, the craft beer bars, and stuff like that, people are actually like, "why are we here?" There's been kind of a mass exodus. Moving trucks every day.
There is some benefit. Apparently, New York is having that same thing going on too. I was just there two nights ago. It sucks that everything's closed for the most part. There are outdoor bars and stuff, but all the rich people are moving out. Maybe it'll become easier for artists to live there.
Yeah, that's the hope here too. That it'll be more equitable for people of working-class, or creatives. I hope that's true. To have the right space and meet the right people, I guess. I like it here a lot.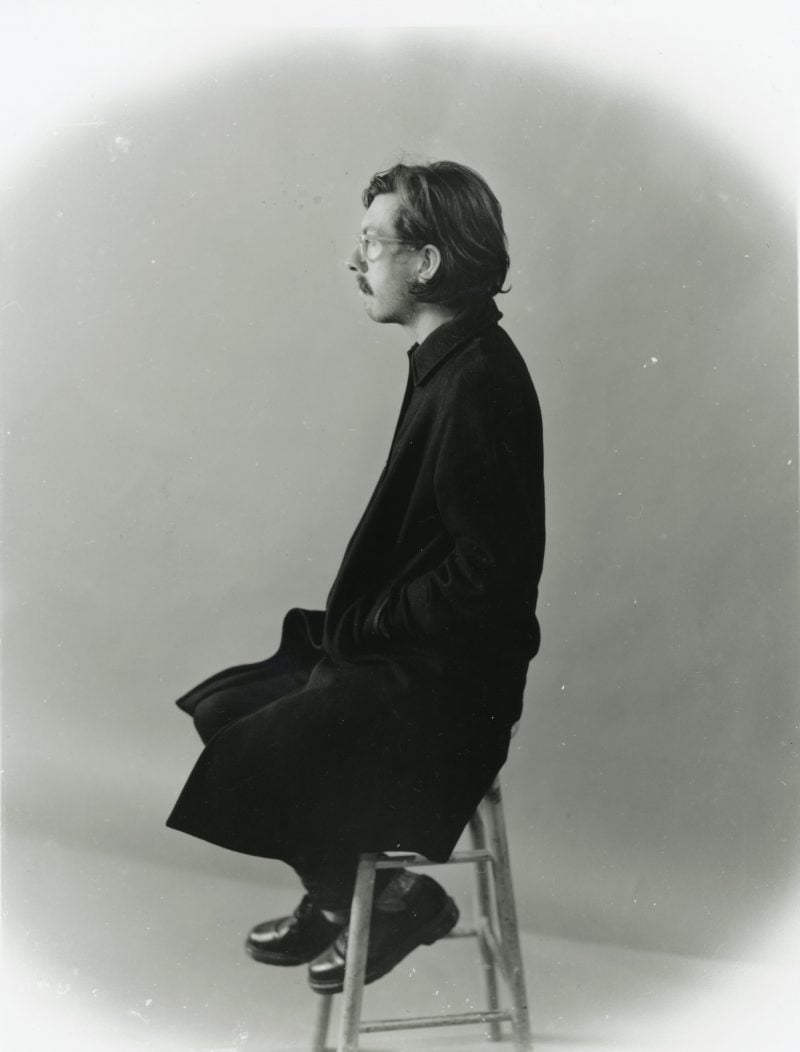 Your dad is Lol Tolhurst, one of the founding members of The Cure. Has that shaped your musical development and taste, having him as a father?
Definitely. I mean, I think from like, growing up I wasn't even aware of his own music and his fame. I was just aware that he was a musician, and he exposed me to things I probably wouldn't have been exposed to otherwise…like listening to CAN and Captain Beefheart, and Joy Division, stuff like that when I'm like 12 years old. His tastes and his openness to it was helpful, and also his love for all sorts of music, and his support of me being an artist was really integral. It's only been like in the last three years that I even sat down and listened to The Cure. It was hard to listen to it because it seemed like, I didn't know how to internalize it. What could I do with that? You know what I mean? I wanted to make my own life.
Yeah, of course!
But then once I listened to it I was like, oh my god! I should've listened to this years ago. I love this. All the things I liked before, I just kinda skirted around this idea, and once I listened to the album I thought 'this makes total sense.' I kinda switched my tune, I'm really proud of it. It's really special to me at this point, especially the first four albums. Once I heard Faith and Pornography, I was like yeah that makes sense. Other bands I like sound a certain way, and I didn't realise that connection.
I always thought that his presence was felt the most in Faith.
Definitely. Faith is my favourite album, and second is Pornography, and I think the drumming on both of those is really crucial to the general vibe of the albums.
"Hanging Garden" and "All Cats Are Grey"…?
Yeah, in a huge way he invented very simple rhythms, and in a way, I guess it does inspire my band. Like, we listened to that and they're interested in the sounds, and these simple repetitive patterns.
You mentioned CAN. I felt like there was some CAN on this record, Ideal form.
Yeah, Jeremy our guitarist, he would be the one who would be apathetic towards that. But I really like that, and I like krautrock, and stuff like Motorik, constantly moving, pulsing music. And I was looking into CAN. I was reading this biography (All Gates Open) by the keyboardist, Irmin Schmidt, and then I went back and listened to all the records. And they're kind of uneven, it gets a little crazy towards the end, but they're insane records, they're just wild to listen to.
What else do you draw influence or inspiration from? I hear these heavy dreampop and shoegaze influences and I'm thinking you must be listening to Creation records or 4AD.
Yeah, definitely. I think all those standards. We love Cocteau Twins and like (frank?) coldwave and Asylum Party, The Chameleons, that kinda stuff. We bonded over things like Gruper and dreampop, shoegaze, postpunk, cold wave, darkwave, that whole vein – we were inspired by all of that. We're also inspired by bands who are contemporaries like Softkill, Black Marble, things like that. Those are the things that are present in my world. Post-Punk is like, my classic rock almost, you know? But I didn't know how influential it was until I started playing with this band and that was the direction it was moving.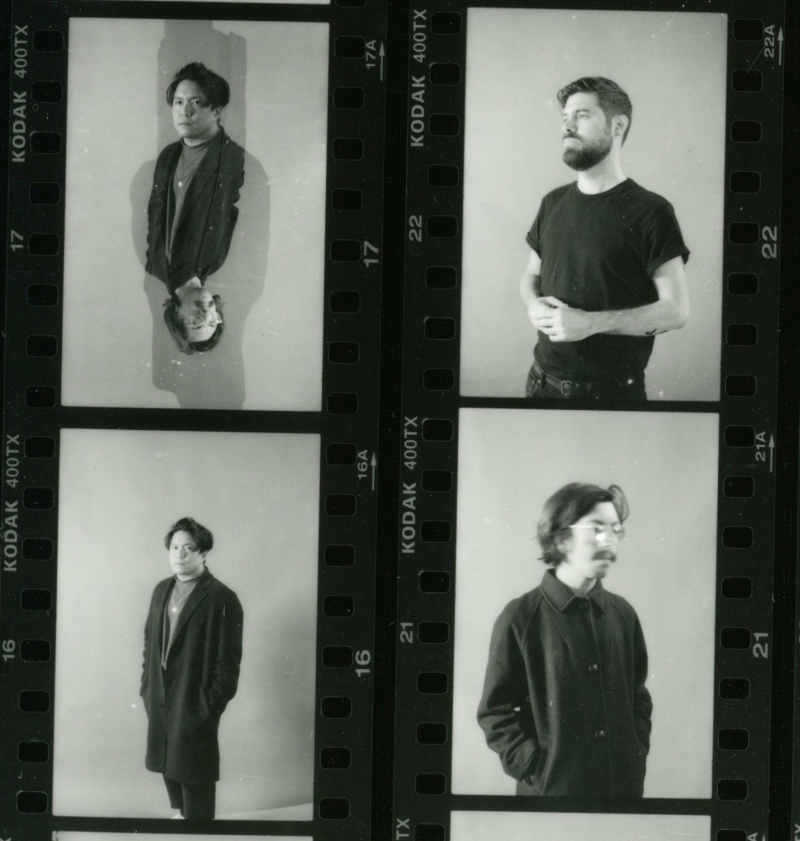 How did you get the band together and who is the complete lineup?
The complete lineup is me, Jérémie Rüest on guitar and synth, Justin Oronos on bass and synths. We used to have a drummer, but she moved to New York. Jeremy and I met playing in another local indie folk-rock San Francisco band. I just happened to be subbing on bass and we went out to (?) music festival and we played the one show we had to do out there, and we looked at our list of all the bands to see, and Jeremy and I had the same list, so we just hung out that whole weekend. By the end of it, we were like, we should probably form a group of some sort. So we came back and we did, and then I found Justin on Craigslist but he was already somebody Jérémie had been talking to. That's how we got together, just started playing at my house. All the other projects and local bands we were in kinda fell to the wayside.
Can you tell me a little about the writing and release of the first two singles and two EPs? How did that process come about? Was it difficult to start recording?
It wasn't difficult to start recording. I think for the first single we were still unsure about which direction we wanted to go in. I think it took the process of a couple of singles to figure out what sound we actually wanted. You think of something like shoegaze or post-punk, it's like this massive conglomeration of possible sounds, right? From full-on My Bloody Valentine shoegaze to like, other stuff, there's this gigantic difference. So we kinda pitched around a few things before we narrowed it down, and I guess it was like, initially I was kinda writing songs and then we were busting them out together, and now it's merged into us all working collaboratively, which is really wonderful. But because of COVID, we can't really hang out.
You did a charity release for San Francisco New Deal (sfnewdeal.org), which provides incomes for workers and services for at-risk populations in the Bay, correct?
Yeah, we actually recorded that by sharing files back and forth online, so we each came with a demo of the song and shared it back and forth until we felt like it was complete. It was kind of an interesting process. We never write songs together and we didn't think about who plays what. I played bass on one of the tracks. It didn't really matter who did what, so there was no underlying expectation. That was kind of a fun process and we raised a pretty good amount of money for charity, which is awesome. I think it was also a way for us to do something during quarantine and not feeling like evaporating into nothingness. It's kinda worn off now. I don't think anyone expected this to last this long, so now it's been kinda normalised. But at the time I think we needed to do something to keep occupied, keep moving, and not forget about the world.
How was it working with Dream Recordings on Difference and Repetition? They seem like they're very much a family, the way Mario runs that label.
Oh, totally. Yes, it's great. We met Mario playing a show a few years ago and he's always been very supportive of our music, putting on shows when we were on tour, and he just puts out great stuff, and it's very artist-centric. He just wants to get the most beautiful thing into the world. It's really easy working with him. I love it.
So An Ideal Form is on Funeral Party, right?
Yeah, it is.
How was the process different? I know with the charity release you had to share files remotely. Was that part of creating this record?
Not really, we recorded it starting last November, Chris King came down from LA, he plays in this band called Cold Showers. He's a really amazing engineer. We worked on the record with him and went back and forth to LA a few times. When COVID was starting, we were finishing mixing and mastering that. So that was more traditional. We've been talking to Brian (Cole) since we started, so we had in our minds that this was the kind of label we wanted to work with. I just met Brian out here on tour, so we kinda struck up a friendship. He's a record collector and music freak who wants to put beautiful things out in the world. It's really wonderful. It's all for the sake of art. It's great working with him.
So tell me about the first single, "Rose of Sharon". What was the process of writing this song and can you tell me what it's about?
I wrote that one kinda late in the process. I don't know why this happens, we always have this set of songs we're gonna record, and then like a week before I'm like, let's switch that one and write a totally new song. Right off the bat, that was a good song. And it was kind of like, it's less dark than the rest of the stuff on the album…more jubilant or joyous, almost? When I write lyrics I don't sit down and think 'okay, I'm gonna think or write about death or grief or whatever,' I just sing until something comes out that sounds reasonable. And then I have to go back and do the process of actually figuring what was on my mind and what I was talking about. Later on, kinda decode my own unconsciousness. Rose of Sharon is a biblical reference of a rose blooming in the desert, so that's an image I really liked. Something that takes root in a difficult situation, where there's moral or spiritual bankruptcy, and how one can get out of that and grow towards the light. That's my interpretation of my own mind.
I like it. It's a beautiful song.
Thank you.
What was the last show that you played?
The last show I remember was with Fearing, and Cold Showers in January. It was a great show. It was actually one of my favourite shows we played. It was at this tiny bar called The Knockout in San Francisco, which is always super fun…and you can't hear anything you're playing, ever. There are no monitors, so you kind of go on how people are looking in the audience…but it's always really fun. We were really looking forward to playing with those bands because we're big fans of both, and it worked out that they were on a mini-tour. That was great. That might have been our send-off? We might have had one other show after that, but for the life of me, I can't remember what it was.
When you play live again, what album tracks are you really looking forward to playing live? Have you played any of them live before?
We played most of these tracks over the latter half of 2019 and our one show in 2020, but I'm just looking forward to playing again, you know? I didn't realise how much I'd miss it at this point, that energy. I can't even imagine what it's going to be like to play. I miss working so much that I'll play in the dive-iest of dive bars with like, water on the floor or something, or doing a 35-minute rendition of The Star Spangled Banner, I have no idea. It all sounds fun.
Do you think when things open up that you'll try to tour Europe?
We'd love to. Jeremy, our guitarist, is French, and we definitely have that desire. In the US we've only toured the West Coast, Southwest, all the way to Texas, so we still have a lot of US stuff to do, but I don't know when it's going to be possible to do that, effectively. We are looking forward to hopefully getting to Europe. It seems like a lot of people there are interested in our type of music and we're always getting offered gigs. Yeah, I'd really love to.
You might be able to start playing again in April…
We all have jobs, but other bands relying on touring as their only income, I wanna see what they do first and then take it from there. It would be great if we can get on the road in a party van, we can play with Fearing or something. They have an album out earlier this year that they haven't really been able to run. This year has actually been great, there's been a ton of wonderful albums that have come out, and I haven't been able to see any of them live.
What are some of your favourites that came out this year?
The Fearing one, Shadow. House of Heaven's debut album. I really like The Private World album. I'm really looking forward to the Soft Kill one which is coming out next week.
Yeah, I just got the promo email about it!
Yeah, the promo video is so insane. Oh. And Choirboy! That was a great album.
That one is so good. I love Choirboy.
Yeah, that's another bummer too, I really wish I could've seen them on tour. But there's a ton of good albums this year. It's kinda wild!
It's been a good year for music, as far as releases are concerned. We'll be playing catchup in 2021, it seems.
Yeah, it's gonna be insane. It's gonna be really wonderful, actually.
Do you think you're gonna find yourself in Los Angeles anytime soon?
I'm always there to see my family. I used to live down there. We're kinda just trucking along up here, all kind of in like a stasis. I guess everyone is, probably. I used to get down but we have tracks that we're working on, so hopefully, at some point we'll be able to maybe work with Chris again or something.
Ideal Form is out December 4th via Funeral Party Records.
*Featured photos by Soen Settanni and album art by Phil Maisel.