'Cause when I ride your wave I get so hot that baby, I'm afraid I can never get enough
Somewhere tucked within the photographs of 1980s art deco interiors sits "Marigold," Riki's first music video for the upcoming album, Gold. Dressed for the cover of a glossy magazine, Riki—in pure glamour (think: Madonna's music video for "Material World")—dons the iconic Jean-Paul Gaultier ruched velvet cone bra dress against a pastel lo-fi synthwave aesthetic backdrop. It is luxurious and soft, much like the song itself, a duet, which also features vocals by Telefon Tel Aviv co-founder Joshua Eustis (and who is also the co-producer of Gold) and cameos by Choir Boy.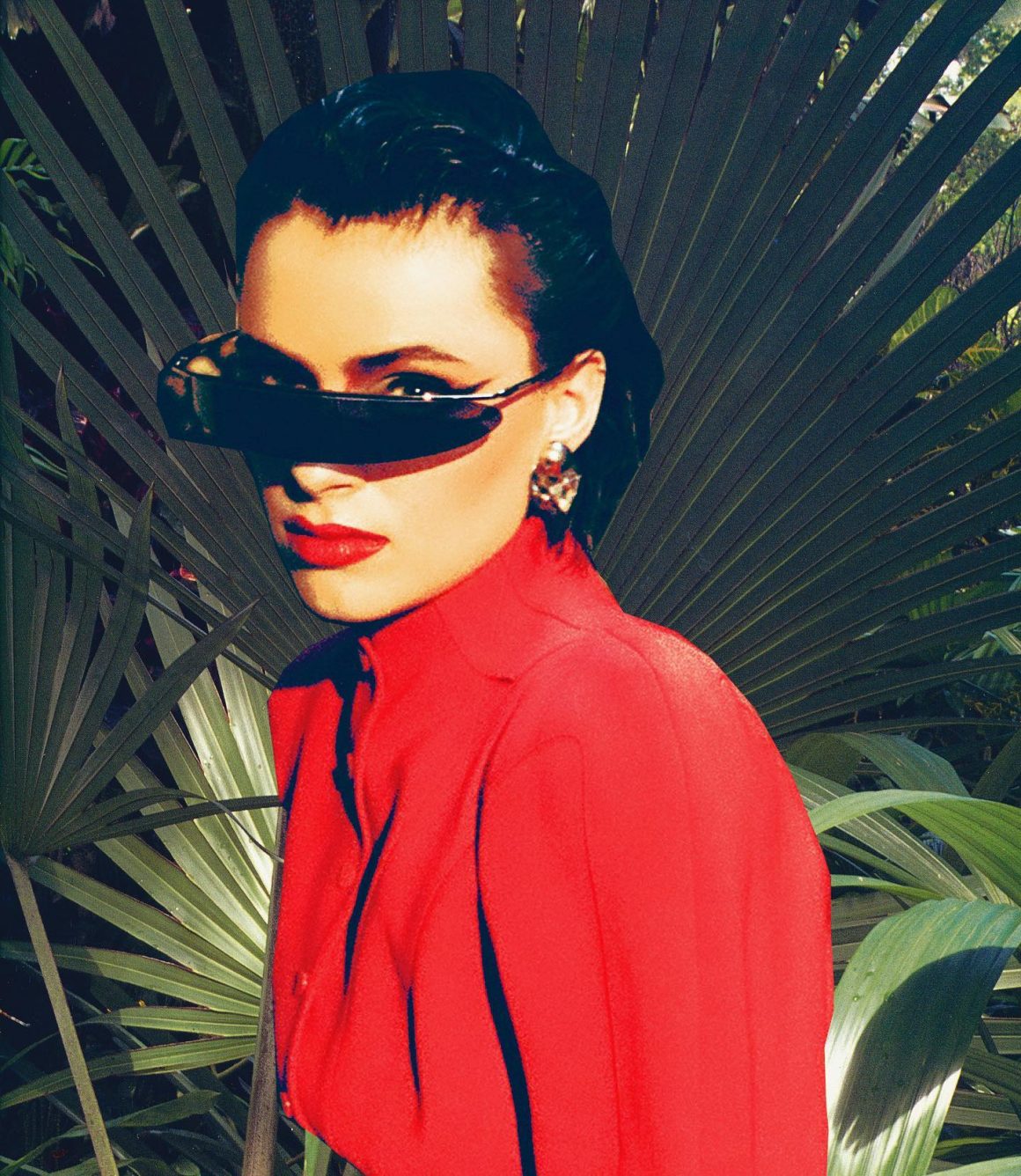 The second half of the video is a humid postmodern indoor jungle that, alongside Riki's slicked back, wet hair, vintage Pierre Cardin sunglasses, and cheetah-like print ensemble, emanates an animalistic magnetism as she sings, You say / Honey you're a flower you don't need to be shy / shaking hot and cold, no shame do you, you like your colors bold. Created by Muted Widows and art directed by Nedda Afsari, the video for "Marigold" places Riki front and center, as her jewels sparkle and lipgloss shimmers under the spotlight.
Watch below:
Riki, who released her self-titled album last year, returns with the sugary sweetness of  "Marigold," proving that she is still the queen of new wave-infused synthpop. The song is a continuation of her specific concoction of synthesized nostalgic daydreams which bloom with romance and contain a wistful purity that is undeniably charming. With the introduction of "Marigold,"  there's no doubt Riki has whisked away our hearts for good.
Gold will be out November 26th on CD, vinyl, and digital via Dais Records.
Preorder here.
RIKI 2021-2 TOUR DATES
Sep 30 Los Angeles, CA – Cold Waves Festival at The Mayan Theater
Oct 8 Tampa, FL – Absolution Fest at Crowbar
Nov 28 Los Angeles, CA – Substance Festival at The Belasco Theater
Mar 15 Denver, CO – Lost Lake +
Mar 17 St. Paul, MN – Turf Club +
Mar 18 Chicago, IL – Lincoln Hall +
Mar 19 Cleveland, OH – Grog Shop +
Mar 21 Detroit, MI – Sanctuary +
Mar 22 Toronto, ON – The Garrison +
Mar 24 Montreal, QC – Bar Le Ritz +
Mar 25 Boston, MA – Sonia +
Mar 26 Brooklyn, NY – Music Hall of Williamsburg +
Mar 27 Philadelphia, PA – PhilaMOCA +
Mar 28 Baltimore, MD – Metro Gallery +
Mar 29 Richmond, VA – The Camel +
Mar 30 Durham, NC – Motorco +
Apr 01 Atlanta, GA – Purgatory at The Masquerade +
Apr 02 New Orleans, LA – Gasa Gasa +
Apr 03 Houston, TX – Satellite Bar +
Apr 04 Austin, TX – The Parish +
Apr 05 Dallas, TX – Three Links Deep Ellum +
Apr 07 Phoenix, AZ – The Rebel Lounge +
Apr 08 San Diego, CA – The Casbah +
Apr 10 San Francisco, CA – Rickshaw Stop +
Apr 13 Vancouver, BC – Biltmore + Apr 14 Seattle, WA –Crocodile +
Apr 15 Portland, OR – Mississippi Studios +
Apr 16 Boise, ID – Neurolux +
+notes dates with Choir Boy