Philadelphia's own synth-pop angel Catherine Moan has released the lyric video for the title track from her forthcoming debut album, Chain Reaction, a record created in collaboration with producer Trey Frye of Korine.
"The album is a product of a year spent habitually online in my bedroom," says Angel Jefferson, the mastermind behind the project. "The music is influenced by 80s pop, indie dance, and cinematic synth scores. The songs tell a story of digital love and coping with excessive solitude with your own body in isolation."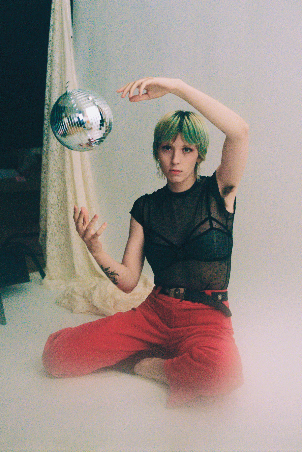 Catherine Moan is the time-bending solo electronic pop project of Angel Jefferson. Back in April, the project unveiled a bubbly and mesmerizing cover of Depeche Mode's "Fools".
With the new LP Chain Reaction, Jefferson pays tribute to the style and instrumentation of early Depeche Mode, while channeling a soft vocal delivery reminiscent of Strawberry Switchblade's Rose McDowall. Adrift in a sea of nostalgic bliss, the music goes beyond being completely a throwback act, with a production imbued with the modern glow of more contemporary synth-oriented artists such as Chromatics, CHVRCHES, and TR/ST.
The album opens with the dreamy "Drop It", sounding like a lost track from the world of the Twin Peaks Roadhouse. With its nostalgic Motown-influenced hook, the ethereal synths take it to another plane entirely. "The Ordinary" moves into more mid-80s synthpop territory, with Jefferson's bubblegum sweet vocals driving the deceptively melancholy track. "Body Work" sounds like something straight out of a film soundtrack from 1984, channeling the likes of female-led pop groups like The Go-Gos, Cyndi Lauper, and The Bangles, filtered through the ether of Chromatics.
The title track itself, "Chain Reaction", is, by contrast, a sensual slow-burn ballad—a gentle breeze through the atmosphere. It's slower-paced, but weaves a mellow yet cinematic experience with Jefferson's iridescent and emotive voice.
"Chain Reaction is a slow but swelling track I wrote about the repercussions of desiring instant gratification to solve problems." Jefferson explains, "The song starts timidly with an ethereal keyboard and builds up in intensity until by the final chorus it's an explosion of sounds alluding to cause and effect. "
Listen and watch below the song's lyric video:
And listen to the other tracks released thus far off the album below via Bandcamp:
Chain Reaction is out September 2021 via Philadelphia's Born Losers Records.
Pre-order the LP here.
Follow Catherine Moan: