Uh oh. LA snuff-pop queen Patriarchy is up to her old tricks again with another video: this time the Second Skin remix of It Goes Fast, from their remix LP Reverse Circumcision. This offering will be one of her final videos before moving on to her second forthcoming album, slated for release later this year.
Throughout the pandemic, Patriarchy's Actually Huizenga delved into creative connections with fellow artists and friends. By sharing her stems, the songs have grown into a bona fide gonzo journey. The remixes turned out so well that Actually insisted that she make videos for the singles before the full LP release.
Patriarchy's Bottom Of The Pops (presented by Dublab and Restless Nites) was a Livestream performance of four of the remix songs, plus interviews with Nitzer Ebb, Front Line Assembly, and a guest appearance by Geneva Jacuzzi. This provided much of the footage for It Goes Fast, a bizarre kaleidoscope of pure visual assault.
Directed by Actually Huizenga, and C0-directed by Gamal Sharaf El Deen—watch the spectacle of the video for the "It Goes Fast" remix below :
What else does Patriarchy have up her sleeve? In a brief interview, the performance artist, musician, and mischievous ringleader of the circus of the absurd talks about the process of working with Second Skin, the themes of the video, and her inspirations. And…has she really been tiptoeing around LA with packages for Trent Reznor and David Lynch? Post-Punk.com got to the bottom of this: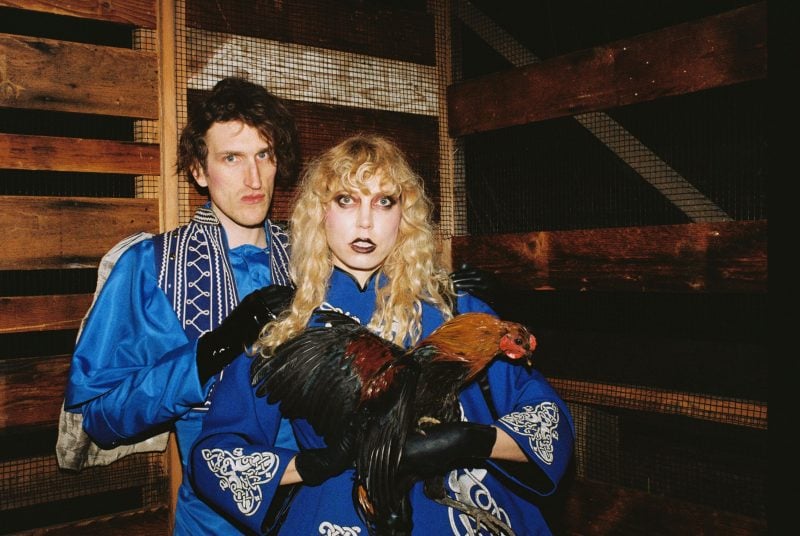 What was it is like working with Second Skin on the Remix of It Goes fast?
I sent them the stems and they sent me a gem. Totally like a 'second skin'- I didn't even know I had it on- that's how good it felt.
This is not the only collaboration you have done with the members of Second Skin?
They were my special live guest performers on my live stream of Bottom Of The Pops 2.
Can you tell us about the theme of the video, and the people involved?
The theme of the video was loosely based on my adoration of La Cicciolina and the strange "live" performances she did on those huge sets with disco-Bosch characters, neon-lit pools full of live water lilies and snakes… with her slowly walking around half-naked and kissing to the camera.
For executive production, I had my label Dero Arcade, Dublab, and Restless Nites. I did the production etc… My awesome friend Murphy Maxwell did set design with me and live VHS feed done by Shane McKenzie….I think it is hilarious that the guitar got stuck in the set and I was barely able to cover my female anatomy. That is the brilliance of LIVE!
Can you tell us about the Fellini-esque man with the striking features in your photoshoot? What is going on there?
I hired a demolition and junk removal guy off Craigslist who just goes by The Drummer. After he helped me dispose of some trash before Bottom of The Pops, I invited him to play for me and I fired all the other bandmates.
What is this about packages NIN/David Lynch? Does either of them have an impact on your music? 
NIN and David Lynch are all wrapped up in my Bowie-youth education. So all of these references are drawing upon the very mouldings of my "art-life." Also, I notice many people drawing great inspiration musically from NIN recently, so I went ahead and tried to mimic the stylings in my Xavier/3TEETH remix as a joke about that, saying "3 Inch Nails," etc. But then the joke became something magical- as things like that often do. I was very excited to create and perform this "joke," and I guess it almost became like a spell. That experience dripped into my new aesthetic. Through intense, romantic research, a different character has breathed something very delicious into an already pretty industrially-oriented Patriarchy. I just hope Trent Reznor and David Lynch will take notice- or at least contemplate a restraining order against me. I am working on that right now.
Can you tell me about playing your first post-pandemic club show (plug plug plug) for the Lash's reopening?
Yes very excited to plug my first Club Show out of Quarantine at The Lash in Downtown Los Angeles This Friday night! Someone is gonna get lashed! (Patriarchy plays at 11 pm.)
Reverse Circumcision is out now via DERO Arcade. 
Follow Patriarchy: