As above, so below.
Boundary-breaking NYC filmmaker and photographer Alice Teeple teams up with musician and activist Blake Morgan to direct the video for his new single "Down Below Or Up Above" from the forthcoming album, Violent Delights.
The video forms a solid monochrome bedrock for the track to soar: its stripped-back production glows during the harmonies of the chorus, the instrumentation recalling a kind of nocturnal post punk with musicality and instrumentation and attention to detail – not unlike Prefab Sprout or Joe Jackson. The song is an earworm with hooks that, like the video's photography, have a timeless quality.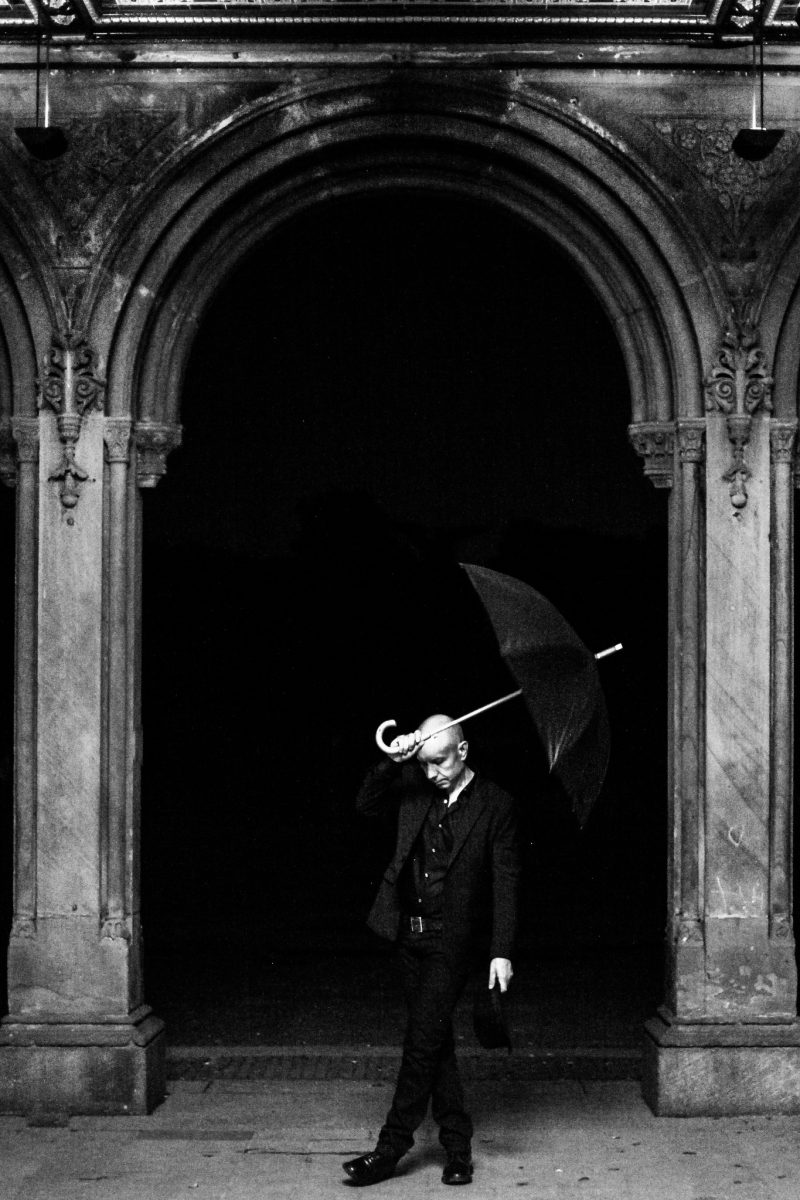 Teeple's skills as a portrait photographer and artist suggest an in-movement portrait session that straddles the line between golden age musical and Noir-like dreamscape. It brings to mind the understated surrealism of Radiohead's "lotus flower" music video and the shadowy mysteries of film noir like The Third Man. The drama of black and white as a medium and the grainy cinematography situate Morgan in a city of lights, like carbonated bubbles in a glass of cola, and bleached mausoleums.
"We shot in Central Park at night so I'm lit only by moonlight, street lamps, and a couple of flashlights when needed. Within ten minutes of shooting we were wonderfully unsure of what century we were in." Morgan recalls. "We wanted something striking, something beautiful, but also something provocative and playful," he says.
The video features a memorable lingering shot of Morgan dancing with an umbrella, silhouetted against the high contrast light of a Central Park underpass, singing in the rain, bathed in light instead of water. 
"The complete absence of people during production was astonishing," adds Teeple. "We had a crew of two, and filmed at familiar landmarks that are usually bursting with tourists. I'd never seen Bethesda Terrace empty and silent before – it felt sacred, especially surrounded by darkness. But I also had this sixth sense that our actions were being observed from the shadows. I felt unsettled and out of time, which lent itself well to the German Expressionist feel."
Watch the video below:
"Down Below Or Up Above" is the first single from Blake Morgan's forthcoming new album Violent Delights, out May 20th, 2022 on ECR Music Group.
Follow Blake Morgan: