Scottish singer-songwriter Natalie Clark recently unleashed her banger track Bombshell, off her new EP Livewire, a collection of five new tracks aimed at encouraging others to channel their own inner confidence and grit. Bombshell is a celebration of power, resilience, and the ability to take charge and thrive.
The petite, raven-haired Natalie Clark is a colorful storyteller in the vein of Dolly Parton and Loretta Lynn, liberally peppering her repertoire with joyful shrieks and fierce whoops. Her pleasant Glaswegian speaking voice belies a rock n' roll ferocity: part Eddie Cochran, part oracle. She decided to experiment with a new musical direction for this track, however, after watching the TV show Glow and finding inspiration by the ladies of the wrestling ring. "The soundtrack and feel of the show inspired me to write and produce this track with an 80s vibe. It could have gone in a more bubblegum direction, but once I went for the new wave sound I started adding the 'spooky' organ elements and synths, and it went more darkwave." Her vocals dip into intriguing sultriness with this track.
"Bombshell is a message of not giving up when you're knocked off your feet," says Clark. "I like the idea of a female power anthem with a positive message, but delivered in an unusual, unexpected way."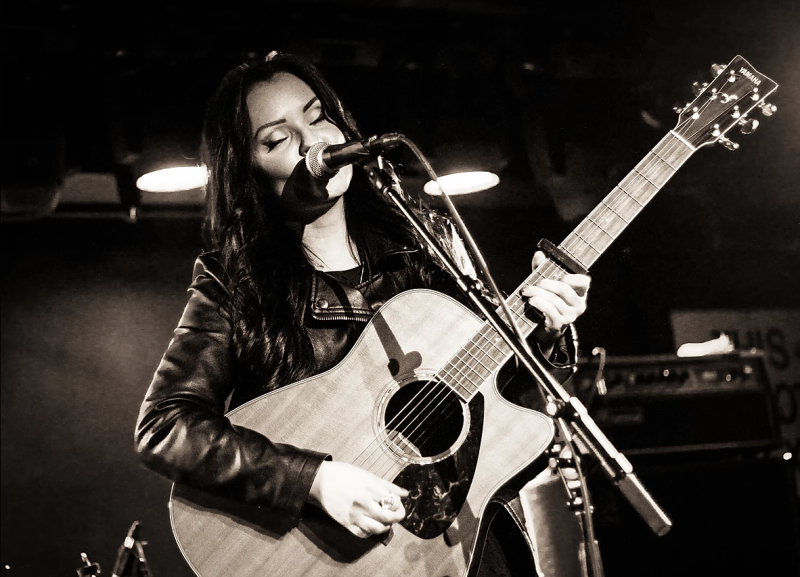 Less than a decade ago, Clark was a schoolteacher in Scotland. Coming from a musical family with a penchant for jazz and Motown, she daydreamt about a music career. For years, pragmatism proved an obstacle. Fate set her path in motion: while attending a BBC Radio One Academy session, Richard Branson invited her onstage for an impromptu performance of her song Weakness. Clark stunned the crowd and grabbed UK headlines. Despite the thriving music scene in Scotland, she hungered for a change of pace and moved to London. From there, Clark emigrated to Los Angeles. The relentless grind of odd jobs and gigging proved difficult in her new city, but Clark, ever the optimist, found inspiration.
"I feel excitement and creativity in the air! Also, being from Scotland, the sunshine helps," she adds cheekily. "It's inspiring to be surrounded by people making art in all different forms. I just followed my instinct to explore opportunities."
Clark's gamble was rewarded: Appearance on The Voice. Hand-picked opening act for the Indigo Girls. Sharing a bill with Pogues bassist Cáit O'Riordan, Ash's Tim Wheeler, and The Mighty Stef. Livewire has already received considerable attention in the sync licensing world, with some of the tracks being featured in several Netflix shows and a commercial campaign prior to this official release.
…Is Glow next? We'll have to wait and see!