Since their inception in 1988, Lycia has been one of our absolute favorite bands this side of the Atlantic. In recent years, they've released a string of stellar records, including 2015's A Line That Connects and 2018's In Flickers. While the band has been working towards a new record, they've just released a cover of Tubeway Army's seminal single "Are 'Friends' Electric?" on Bandcamp, which is available as a "name your price" download. Listen below:
Lycia's rendition of the highly influential track is both faithful to the original, yet retains the band's trademark atmosphere, the perfect formula for a successful cover. Mike VanPortfleet's vocals pick up on every nuance of Gary Numan's half-sung, half-spoken delivery, but deliver a more muted, textured take, a welcome change that stays true to Lycia's core. John Fair, who played synths both in the first incarnation of the band as well as on In Flickers, shines here, utilizing a series of warm synth pads that balance the original's futuristic tones and continue Lycia's explorations into the darkwave movement they helped cultivate in the 1990s. The track was recorded primarily by VanPortfleet and Fair, mastered by the legendary Martin Bowes of Attrition. Additionally, Lycia's own Tara Vanflower designed the cover art.
Both Mike and John have offered a few words about the cover's inception as well as Lycia's future plans:
John: My initial recording for the Gary Numan cover "Are 'Friends' Electric?" came about completely unplanned. I recorded it one night when I initially had the intention of writing original material. The main synth patch you hear in the finished song is what inspired the cover. Mike and I have always liked synth music and we incorporated a synth in early Lycia recordings. Gary Numan's music was always a big influence. These days my contributions to Lycia have been mainly synth-based, such as the material I worked on for the 2018 album In Flickers and some of the new songs Mike and I have in the works.
Mike: John and I started working together back in 1982. We played in a number of guitar based post-punk styled bands, but early on we shared a love of synth music, with Gary Numan being probably the most important to us. For me personally, "Down In The Park" from "Urgh A Music War was a massive influence. I saw that movie in the theater in 1981 and afterward it really stuck with me. The mood of that song in ways became the template for what I did later in Lycia in the early 90s. And a few years later, the song "Frozen" was completely influenced by Gary Numan. After years of not working together in 2017 John sent me a few synth based songs that became "A Failure" and "Mist" from In Flickers. That sort of reignited the feel of our collaborations back in the 80s. John initiated doing this cover song. I'm usually not a fan of doing covers but I love this song and thought it was worth a try, even though it was a bit intimidating because the original is so perfect. I think this song also hints at some new material we will be working on in 2021. A few guitar-based songs are done that might be a bit different than what people might expect style wise. And currently John and I are working on an updated version of a synth song we originally recorded (but never officially released) back in 1989. We have something in the works with Funeral Party Records that will at least be a 7″ vinyl release sometime next summer. I'm hoping we might get a few more songs and expand that to an EP.
Check out the full cover art for the cover below, and be sure to visit Bandcamp to pick up a digital copy. Otherwise, Happy New Year from those of us at Post-punk.com! Here's hoping 2021 is filled with friends galore, electric or otherwise…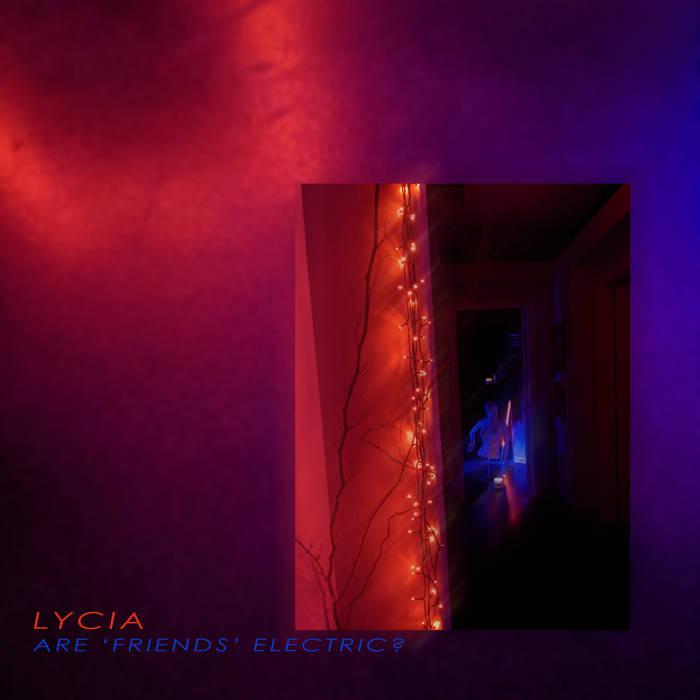 Purchase/download via Lycia's Bandcamp.