As we approach the winter solstice, Los Angeles darkwave art band Night Tongue is preparing for a ritual performance designed to facilitate personal transformation for the new year. Set the night before the solstice, they seek to share a collective experience of rebirth, inner connection, and personal transformation. 'Tis the season!
Polaris: A Solstice Ritual is all set to present a multi-sensory opera of dark music.
The band, led by film composition duo Carisa Bianca Mellado and Andrew Dalziell, have constructed a musical journey consisting of dark music, performed with a 10-piece string section, a choir, a flamenco performance by Irit Specktor, visuals…and an intermittent misting of fine perfume. "The result promises to be a  transcendent musical journey that speaks to the subconscious and the soul," they say.
Watch the trailer below:
The composition duo, often seeking to push the boundaries of music and their own capabilities, take things to a new level with this experimental opera event.  Limited seating is available.
Tickets and more info here.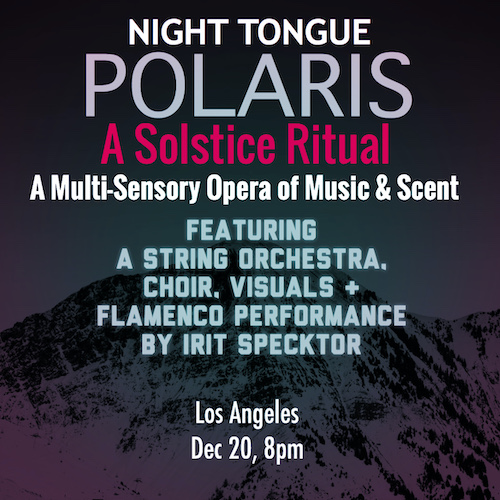 Follow Night Tongue: