London-based synthpop artist Rodney Cromwell (the nom de plume of Adam Cresswell) announces the release of a new single via Happy Robots Records, with distribution by Cargo Records.
With minimal percussion, his lyrics float over vintage synthesizers and effected guitar, bringing a touch of psychedelia and dreamscape. Fittingly, Memory Box is a song about perceptions of reality and the certainty of our memories. How do we believe anything in a world where truth and honesty are of so little worth?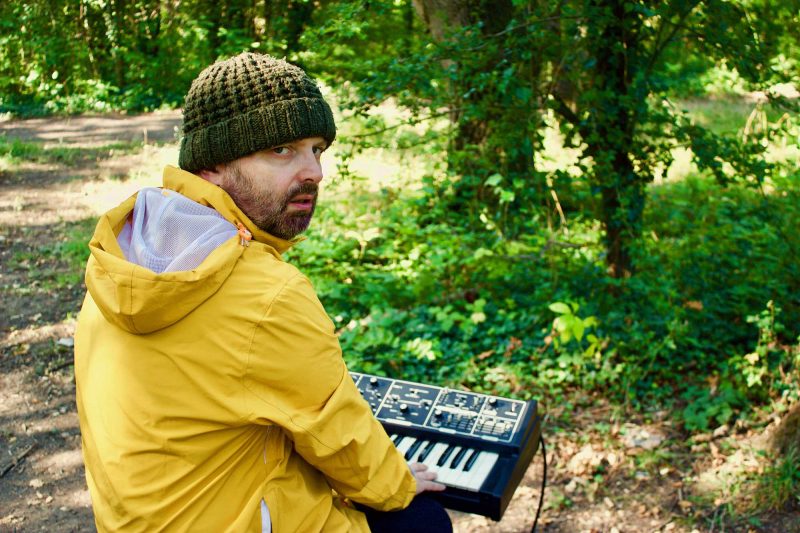 "I wanted the song to have the feel of a marching clockwork toy, so the beat is really simple and metronomic with the synths doing the talking by enveloping the song," he says. "At the time I was still disorientated from illness. I turned on the TV and there was Boris Johnson's lackey, Dominic Cummings, spinning some yarn. In my post-fever state he came across like Wormtongue from Tolkein, talking about riverbanks, woods and castles while literally sat in a perfumed rose garden like in Alice in Wonderland. I wouldn't say that influenced me directly, but certainly my own state of brain-fog sent my writing off in a more heady and fantastical direction."
The video, an atmospheric montage of heavily effected and distorted shots of rural Britain, was inspired by film auteurs such as Stan Brakhage and Chris Marker. The eerie, kaleidoscopic clip beautifully illustrates the atmosphere of the song, yanking the mundane into the sublime. Its sweeping synths transverse a sonic landscape bridging an ancient sentiment and an almost folk instrumentation with pure hertz tone glory.
Watch the video for "Memory Box" below:
This single is the title track of the forthcoming Memory Box album, scheduled for release in early 2022.  Using analogue synths, drum machines with parts played almost entirely live (with minimal computer sequencing) and vocals recorded without autotune, this record conjures up an organic, albeit dream-like, world that is inspired as much by Alice in Wonderland, Franz Kafka and Anna Kavan as it is by its sonic influences such as Advisory Circle, Kraftwerk, The Cure and Stereolab. Cresswell's gentle voice is reminiscent of Richard Hawley. It is at once nostalgic and futuristic; hitting the sweet spot that bridges styles and timelines.
Writing and recording in his home studio in Catford, South London, Cromwell employs an old-school approach using predominantly vintage hardware. Mixed and co-produced by Richard Bennett at Acme Hall Studios (New York) and mastered by Pete Maher (U2, Goldfrapp, Paul Weller, Pixies, The Alarm), Martin J Langthorne, who also designed the album artwork, contributes guitar.
As of October 27, 'Memory Box' will be available digitally everywhere, including Spotify, Apple Music, and Bandcamp, where his earlier releases can also be found. London's Hope & Anchor will host his Single Launch Party on October 28. Rodney will be playing a handful of live dates to support the album's release.
Preorder here.
Follow Rodney Cromwell:
Follow Happy Robots Records:
Photos by Alison Ahern