Collage artist Amanda Lee Stilwell of LastCraft Designs is a longtime veteran of tarot, having studied the craft for the last two decades. Several years ago, Stilwell decided to create a custom artisan tarot deck featuring lush digital collages of a vast assortment of 80s musicians, recalling the esoteric style of Pamela Colman Smith's Rider-Waite illustrations, as well as the classic Thoth deck…with a musical spin.
New Wave Tarot is deliciously clever and well-researched, both as tarot figures and as New Wave history personified. In this delightful deck, the suit of Pentacles (Disks) appears as gold LP records.  Swords appear as microphones. Cups are teacups, in honour of all the thirsty Brits in the list; Wands are represented by eyeliner. Siouxsie Sioux is, of course, the High Priestess; Kate Bush the dramatic Moon. Fad Gadget appears as…what else? The Fool. Mister Romance himself, The King of Cups, comes in the guise of Robert Smith….he appears with Mary Poole again as The Lovers. Klaus Nomi and David Bowie comprise the mighty Chariot; Gary Numan is cast as the Magician. Budgie and Siouxsie are Two of Cups. Depeche Mode's dark prince Dave Gahan leaps out of the abyss as the Devil. The most inspired of all: Genesis P-Orridge as the ultimate card of transition, Death.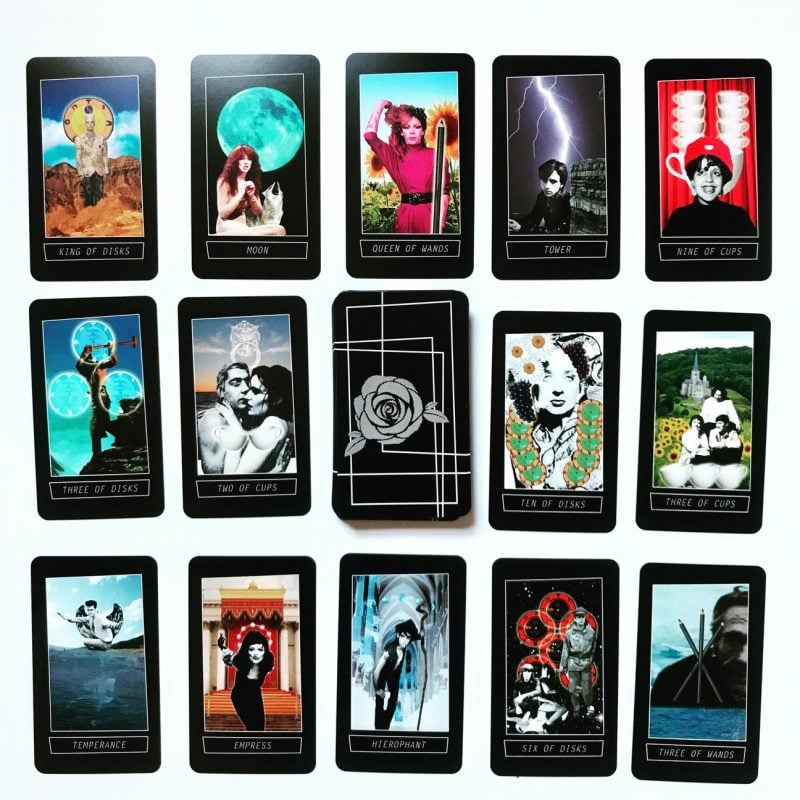 The original deck was created as a gift for her spouse Stacey, who she was dating at the time. "I wanted to gift him something really unique," she says. "I made the Major Arcana of the deck with his favorite musicians and had it printed for our anniversary…I then spent the next year crafting the rest of the cards based on other bands we both loved. We both grew up in Houston and spent every Friday night at #'s for their "Classic Numbers" night, which features all 1980s music…it was a critical part of our young adult years."
LastCraft, which started in 2013, grew out of Stilwell's desire to showcase her collage art, love of pop culture, and witchcraft. Their original offerings were an assortment of pop-culture candles, and the enterprise grew very quickly, especially after enamel pins and patches joined the roster. LastCraft is sold in over 50 shops across the US, with a focus on witchy home goods and accessories. Stilwell is currently co-creating a new tarot deck with Diana Rose, continuing Stilwell's trademark collage style using found and vintage photos.
The backs of the New Wave Tarot cards feature 80's-inspired geometry with roses. Cards are just less than 3×5 inches with rounded edges and printed on premium thick card stock, shipped in a tuck box that holds the entire deck and a fold-out description of cards and details on how to read the deck.
NOTE: This will be the final printing of the New Wave Tarot, which has been out of print for over a year and revived due to high demand. The deck is available for pre-sale ONLY at: lastcraftdesigns.com. Music fans, dabblers in the occult, you know what to do. Let the spirits move you.
Major Arcana cards include:
Gary Numan
Siouxsie Sioux
Nina Hagen
Peter Murphy
Nick Cave
Robert Smith/Mary Poole
Klaus Nomi/David Bowie
Frank Tovey
Andrew Eldritch
Devo
Grace Jones
Ian Curtis
Gen P-Orridge
Morrissey
Dave Gahan
Kate Bush
Marc Almond
Pete Burns