Be warned, you'll fast forward If you dance for a taste of glass…
Following the release of one of the best EPs of 2021, and a show-stealing performance at Substance Festival in Los Angeles, acid deathrock punks VR Sex return with their slimy and visceral video for "Victim or Vixen".
VR Sex is helmed by Andrew Clinco of Drab Majesty, who under the guise Noel Skum (a caustic anagram of Elon Musk), utilizes this heavier sonic outlet for seedy forays into the dark margins of the City of Angels, where vices and egocentricities coverage with technology, and where dreams both made and then shattered.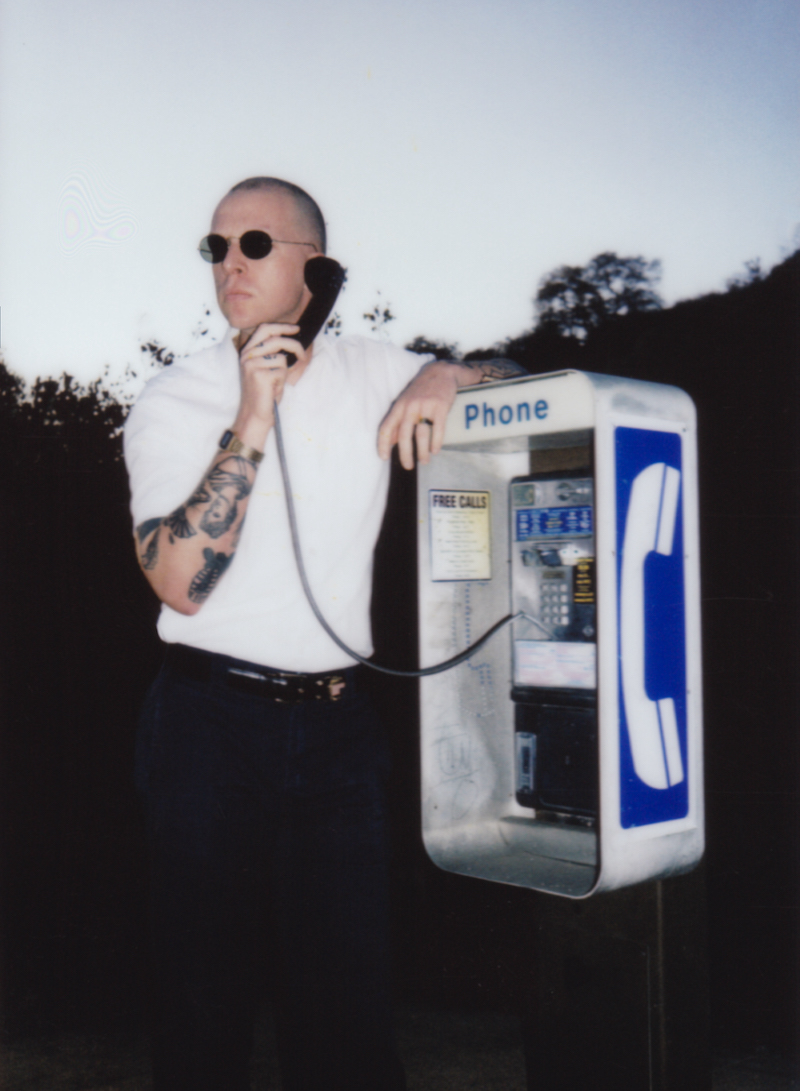 The new single "Victim or Vixen" highlights a dark late 70s sound,  with traces of gothic rock of The Sisters of Mercy vignetting the strong stylistic allusions of the kind of art-punk found in the works of Wire, Chrome, and Minimal Man,
Evoking the gritty atmosphere of the 1984 film Repo Man, the video for the song dials in the sleaze with a masked protagonist in a blonde wig and leopard print jacket desecrating themselves by ingesting various liquids until their face melts off.
Directed by Danny Perez, Skum introduces this grimy sound and vision, asking: "Ursula the slug goes out for a day on the town. What will happen next?"
Watch the video for "Victim or Vixen" below:
"Victim or Vixen" is featured on VR Sex's forthcoming new album Rough Dimension, the band's second full-length LP, which takes its title from an architectural phrase that also serves to chronicle the narrative of the more lurid aspects of Los Angeles found within the shadowy cracks in the city's sun-scorched facade.
The album was written and demoed across two weeks alone in a Marseille flat utilizing Skum's prized 1980's Gibson "Invader" and a laptop, and then recorded at Strange Weather studios in Brooklyn with Ben Greenberg (Uniform, The Men).
Rough Dimension is set for release on March 25th, 2022 via Dais Records.
VR SEX, ON TOUR:
3/24/2022 San Diego, CA The Casbah %
3/25/2022 Los Angeles, CA Zebulon %
3/26/2022 Oakland, CA Elbo Room Jack London %
3/28/2022 Seattle, WA Barboza %
3/30/2022 Vancouver, BC The Fox Cabaret %
3/31/2022 Portland, OR Mississippi Studios %
4/1/2022 Boise, ID Neurolux %
4/2/2022 Reno, NV Holland Project %
4/8/2022 Phoenix, AZ Valley Bar
4/9/2022 Tucson, AZ Club Congress
4/11/2022 Austin, TX Hotel Vegas #
4/12/2022 Dallas, TX Cheap Steaks #
4/13/2022 Houston, TX Secret Group #
4/14/2022 New Orleans, LA Santos #
4/15/2022 Atlanta, GA The Earl #
4/16/2022 Nashville, TN The End #
4/18/2022 Washington, DC DC9 $
4/20/2022 Philadelphia, PA PhilaMOCA $
4/22/2022 Brooklyn, NY Saint Vitus $
4/23/2022 Cambridge, MA Middle East (Upstairs) $
4/24/2022 Montreal, QB L'esco
4/25/2022 Toronto, ON The Monarch
4/26/2022 Detroit, MI UFO Factory $
4/27/2022 Chicago, IL The Empty Bottle $
4/29/2022 Denver, CO Hi Dive $
4/30/2022 Salt Lake City, UT Urban Lounge $
 % with Marbled Eye
# with The Serfs
$ with Lunacy
Follow VR SEX: