Out of the quicksand and into the fire…
Welcome back to the world of Jason Priest. As the post-punk alias of horror disco maestro, Antoni Maiovvi, Jason Priest reveals his most recent LP, For Your Consideration on Midnight Mannequin Records. The alter ego persona of Priest is a story that starts in New York City in 1982—a time when he scored a record deal, only to spend all his earnings on amphetamines and alcohol. But Priest's narrative takes a turn this time around: he's newly sober and clear minded. This lucidity furls him into an existential crisis in which he wonders, "Am I a figment of someone else's imagination?"
Musically, Priest interjects post-punk vocals (think Buzz Kull with less distortion) with a profound pop appeal. Parts 1980s Bowie, part The Church or Psychedelic Furs at their most accessible, For Your Consideration is Priest's attempt at the big time.
The video for "Quicksand"—directed by Sam Wisternoff—reflects the inner turmoil of Priest's character. There's an obvious sway in reality, a jumble of recognizable pieces that fit together in a odd, and at times gruesome, way. Wisternoff notes: "I was inspired by the dark strangeness of old American Public Access TV to illustrate the madness of current right-wing discourse and the brain worms which have claimed so many minds in recent years."  Watch it below.
For Your Consideration is out now on digital and several eye-catching forms of vinyl that include one inspired by Ian McEwan's novel The Comfort of Strangers. Pressed on red and blue swirl vinyl with silver, gold, and bone splatter and ncludes custom screen printed slipcase on red card stock with maroon ink. Also includes OBI strip and insert with lyrics and liner notes.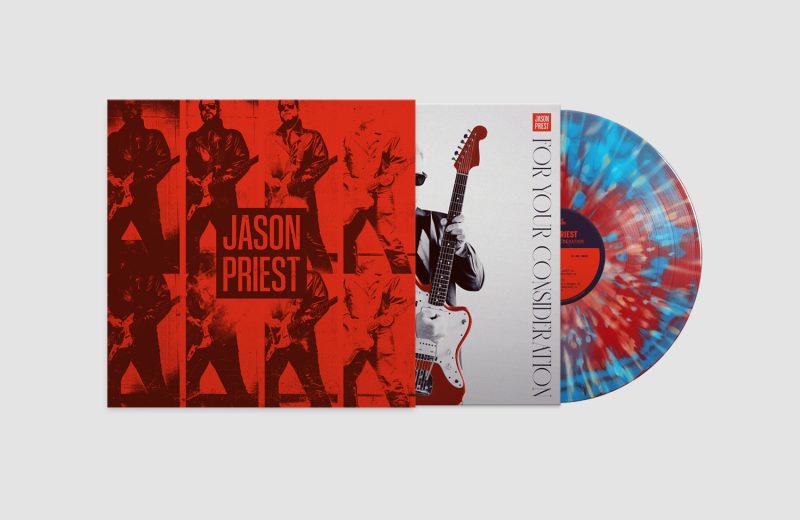 Buy it via Bandcamp. Follow Jason Priest on IG.