Picture it: the near future. A world beyond gender. A world where clothing, makeup, accessories, and toys can be more abstractly categorized. A world of open minds; a dismantled hierarchy of gender, allowing space for non-binary, trans and queer people.
Klypi pictures it. Joining forces with 3D animation artist Stacie Ant, and directors Nicholette Milhoan and Rachel Scarbrough, the team created an alternate reality-based informercial world for Klypi's "You See Me". In the video, Klypi shoecases Klypi brand makeup on a futuristic TV stage in front of a fabricated, Whoville-esque studio audience. Hims-and-hers alike are presented with a playful, colourful, gender-inclusive eyeshadow palette, which perplexes the audience at first. They grow ecstatic, and from there…they are hypnotized into buying.
Klypi, self-described as a "Dada-dream-cicle," is influenced by 80s synth pop and contemporary art history. The video for "You See Me" is pop performance art at its best: examining the duality of creating a stepping stone for wide-scale inclusivity…and mocking the absurdity (and sometimes predatory nature) of Rainbow Capitalism.
Watch the video for "You See Me" below:
A heady mix of Sparks, Devo, Sophie, Robyn, and Madonna, "You See Me" is poppy, repetitive, and…suspiciously soothing. Perhaps that is the point, because Klypi takes the concept one step further: the eyeshadow palette is an actual product that you can purchase HERE, or better: at a Klypi live show. (Confidential to Klypi: the hypnosis worked! I want one!)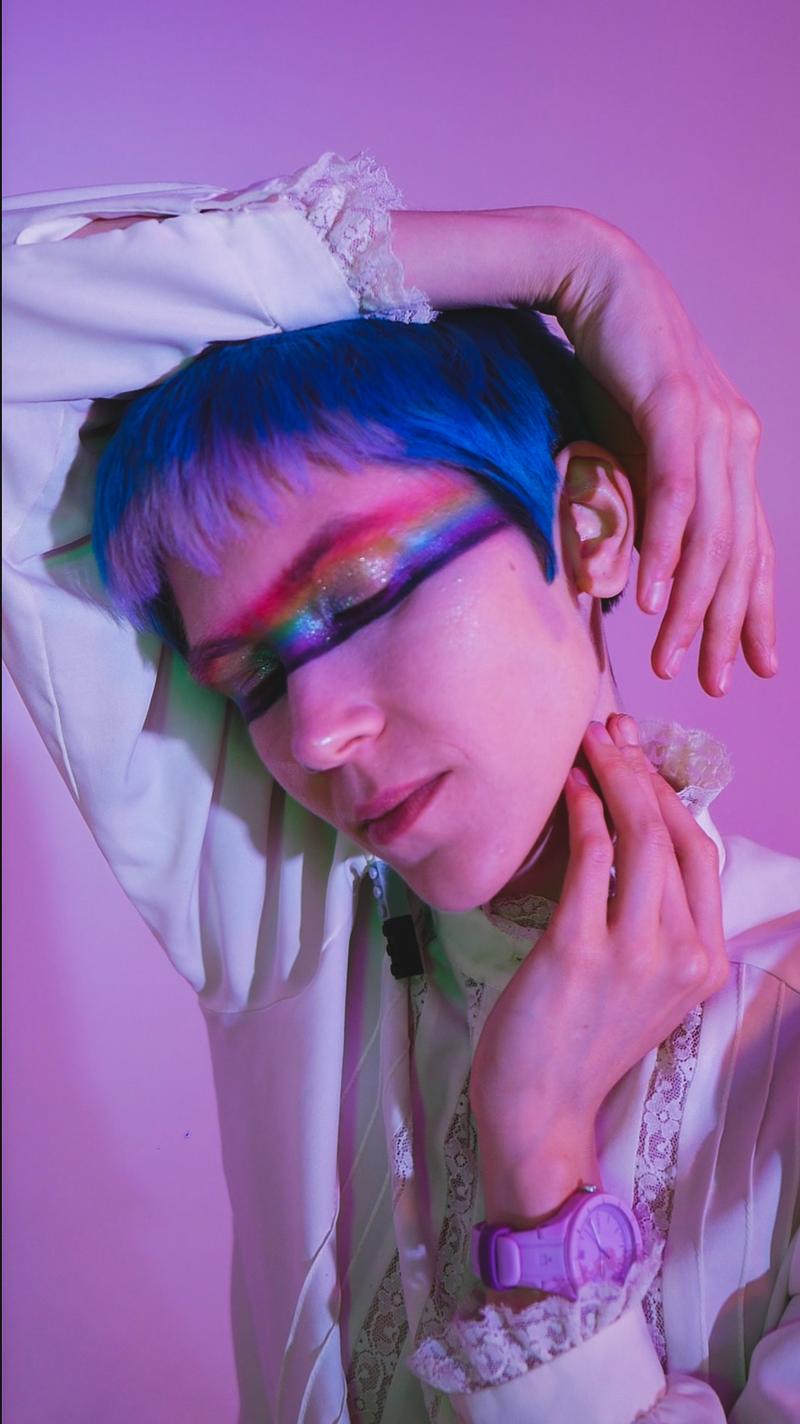 Klypi is the musical persona (and perhaps the "true" identity) of Los Angeles multi-disciplinary artist AC Carter. Not one to rest on their laurels in one genre, AC has created garments for Of Montreal's Kevin Barnes for the music video "Plateau Phase/No Careerism No Corruption", and for Jennifer Vanilla's performance at MoMA PS1. Additionally, they organize and produce Ad•verse, a festival and project series supporting up-and-coming solo and duo artists cross-genre, showcasing musicians, drag performers, performance artists, and visual artists.
Previously, AC has opened for artists such as Molly Nilsson, Girlpool, Shitkid, and Algiers, and has performed at festivals such as Big Ears, Secret Stages, and Athens Popfest. Currently, Klypi is working on musical and visual collaborations and new recordings; as well as creating a series of industrial-style sculpture bags.
Consensual Hits, is out now via Popnihil. Stream below on Bandcamp:
Follow Klypi:
*Polaroid by Alex Cheng