"THE SECRETS THAT YOU KEEP
FLIPPING TEXTS MID SCROLL
MAKES ME WONDER IF I'M READY FOR THE TOLL
YOU'RE GONNA TAKE ON ME"
A fascinating vignette of modern love through the channel of 'New Romantic for post-millennial end times,' Chicago goth-pop act Wingtips, a duo comprised of Vincent Segretario and Hannah Avalon, weave a tale of self-empowerment expressed through sensuous physicality in their video for "Run For Shelter".
The song, driven by Avalon's ardent vocals, has a distinctly 80s dark pop base, but the track transcends the trap of pure nostalgia with its emotional and earnest songwriting coming from a decidedly modern perspective. "Run For Shelter" has plenty in common with the band's fellow darkwave contemporaries, but does give a nod to the classic inner conversation narrative setup of classic synthpop acts like The Human League, Pet Shop Boys, while venturing into the contemporary sensibilities of artists such as Chvrches and FKA Twigs.
"In the past, we certainly drew inspiration from '80s artists, and still do at our core, but this time we wanted to jump out of that mould," says Segretario. "I think if anything, that's how we've matured; simply doing more of what we want as artists and staying true to ourselves in the present moment."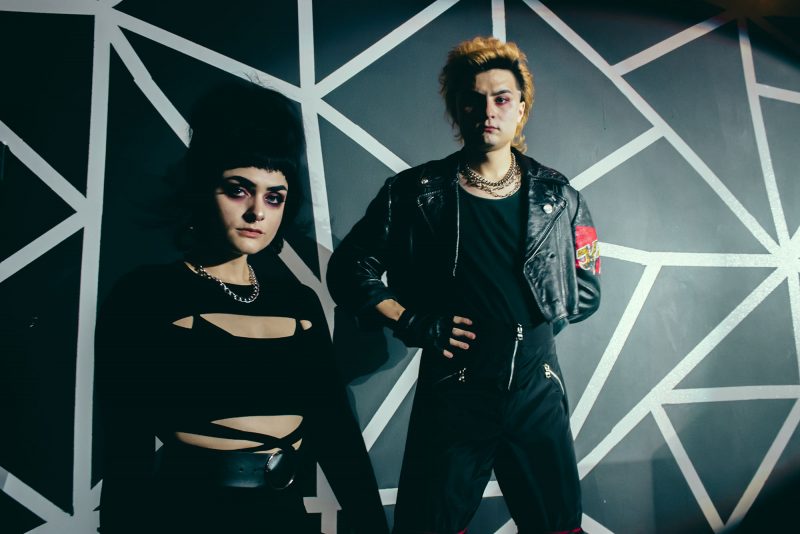 The accompanying video clip for "Run For Shelter", directed by Neil Schwartz and Jacob Hiss, is a mesmerizing study in human sensuality, and the expression of love through various channels. The dancers, Sarah Esser, Lucas Parada, and Bev Huang, beautifully emote the deep feelings through modern dance…also bringing to mind the video artistry of Kate Bush and Peter Gabriel.
"For the music video, we sought to take the story to the next level through movement and dance," Segretario explains. "Our collaborator, Neil Schwartz, a visionary choreographer based in NYC, truly captured the unique dynamics of the song. The final product is a beautiful story of how love is fluid, and how the uncertainties of life can lead you through divergent paths ultimately finding your true self."
Watch the video for Wingtips' Run For Shelter below:
Thematically, across their new album, Segretario and Avalon's lyrics address the idea of personal growth. "In cinema, the 'cutting room floor' is essentially the stage where they decide which footage stays, and which footage gets canned," explains Segretario. "Many of the album's themes are rooted in this idea of editing your own life to become the best version of yourself. We wanted to talk about how progress in life isn't linear, and we sometimes have to go through trial and error to find ourselves on the other end. We realize who we are in times of crisis, and let the lessons we learn define our character as a result."
Cutting Room Floor is out now via Artoffact Records.
Wingtips continue their touring in support of Cutting Room Floor in late November 2021. See dates below:
Follow Wingtips:
Follow Neil Schwartz:
Tour Dates:
Nov 26 – Tampa, FL @ Crowbar (w/ Vision Video)
Nov 27 – Orlando, FL @ Will's Pub (w/ Vision Video)
Nov 28 – Miami, FL @ Gramps
Dec 2 – Indianapolis, IN @ Black Circle
Dec 4 – Louisville, KY @ Art Sanctuary
Dec 7 – Richmond, VA @ Fallout
Dec 8 – Baltimore, MD @ Metro Gallery
Dec 9 – Philadelphia, PA @ Warehouse on Watts
Dec 11 – New York, NY @ Mercury Lounge
Dec 12 – Providence, RI @ Dusk
Feb 11 – Toronto, ON @ Lee's Palace (w/ Lebanon Hanover)
Feb 12 – Montreal, QC @ Theatre Fairmount (w/ Lebanon Hanover)