In today's world, where people vie for viral fame through social media platforms and tired gimmicks, Diane Luckey's brief but meaningful ascent to cinematic history was a true Cinderella story. Throughout the 80s, New York City cabbie Diane Luckey, helmed Q Lazzarus and the Resurrection, comprised of herself as Q, songwriter William Garvey, backup singer Gloriana Galicia, Janice Bernstein, and Mark Barrett. Luckey worked in Chelsea as a live-in housekeeper and au pair for an English businessman named Swan, and in her off-hours, the band would record vocal harmonies on cassette at Swan's house. She also worked for Sigma Sounds Studio as a backup singer, and wrote jingles for commercials.
After years of rejection, racism, and sexism from record labels, Luckey (true to her name) took a chance on an unknown passenger, asking him if he was in the music business. She played him her demo tape, to which he replied, "Oh my God, what is this and who are you?"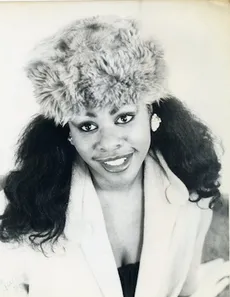 The passenger, as it turned out, was filmmaker Jonathan Demme, and the rest is history. Q's deep androgynous contralto made appearances in subsequent films: "Candle Goes Away" in Something Wild, 1988's Married To The Mob, and her cover of Talking Heads' "Heaven" in 1993's Philadelphia. But by far, she was best known for Silence of the Lambs, in the infamous, haunting scene where Buffalo Bill seduces himself in the mirror to her song "Goodbye Horses." The juxtaposition of her rich, honeyed voice and the horrors of his sewing room burned in the minds of millions.
"Goodbye Horses" gained in reputation as much as Diane Luckey disappeared from the spotlight. After a stint in the UK touring with the band, where she wrote dozens of songs and hosted parties, she then returned to NYC and collaborated with her friend Danny Z on house music tracks. Q Lazzarus disbanded in the late 90s. Luckey later sought other pursuits, including a travel stint throughout South America and six months on a fishing boat in Alaska.
While other artists like MGMT, Bloc Party, Deftones, and Jon Hopkins covered "Goodbye Horses," and it took on new life with Gen Z in TikTok sounds, Luckey kept on driving. For many years, she worked as a bus driver in Staten Island, long tired of the music industry and content to live a life of privacy. At the time of her death, however, it was revealed that Luckey had been working with filmmaker Eva Aridjis on a feature documentary about her life – and it sounds like while everyone was wondering who she was, she lived an interesting one. The film will be released in 2023, along with a retrospective album.
Although Goodbye Horses will forever be associated with Ted Levine's chilling villain, the original video for the song, shot on Super-8 at Coney Island, is more spiritual in nature, rife with symbolism and dreamlike vision. Much like the commanding voice of Diane Luckey aka Q, the video clip is a beautiful work of art in itself.
Diane Luckey died on July 19, 2022, aged 56, after a short illness.