The 2022 edition of Substance Festival is shaping up not only to be a spectacular celebration of underground music in Los Angeles, but also of the greater scene worldwide, boasting an international roster of classic post-punk acts and newcomers alike on the bill. The Jesus and Mary Chain, The Chameleons, and Cabaret Voltaire's Stephen Mallinder will all be making appearances, as well as Synth legends Das Ding and Absolute Body Control.
In addition to the dashing pioneers of the synth world, the festival will also feature Linea Aspera, Youth Code, Kaelan Mikla, Kontravoid, MVTANT, Kanga, Light Asylum, and Boy Harsher—who will close out the event with a dance party in the Ballroom.
Here's a glimpse at some of the classic headlining acts on board for this year's festival:
The Jesus and Mary Chain
Scottish legends The Jesus and Mary Chain, revolving around songwriters and brothers Jim and William Reid, formed in East Kilbride in 1983. They released their first single, "Upside Down," in 1984. Their debut album Psychocandy was released to critical acclaim in 1985 and went on to release five more studio albums (including Darklands and Automatic) before disbanding in 1999.
Although chart success eluded them, the band made a massive impact on other bands, including My Bloody Valentine and Dinosaur Jr, and the band is often credited with spearheading the emerging shoegaze genre. Bassist Douglas Hart and drummer Murray Dalglish (later replaced by Bobby Gillespie of Primal Scream) joined the Reids, rounding out their sound. In late 1984, the band debuted with "Upside Down," followed by "You Trip Me Up." Over the years, tensions flared between the brothers, and they eventually disbanded in 2007. In 2015 they began recording once again, culminating in Damage and Joy two years later.
Their biggest hit from Psychocandy, Just Like Honey, has become a cult classic.
The Chameleons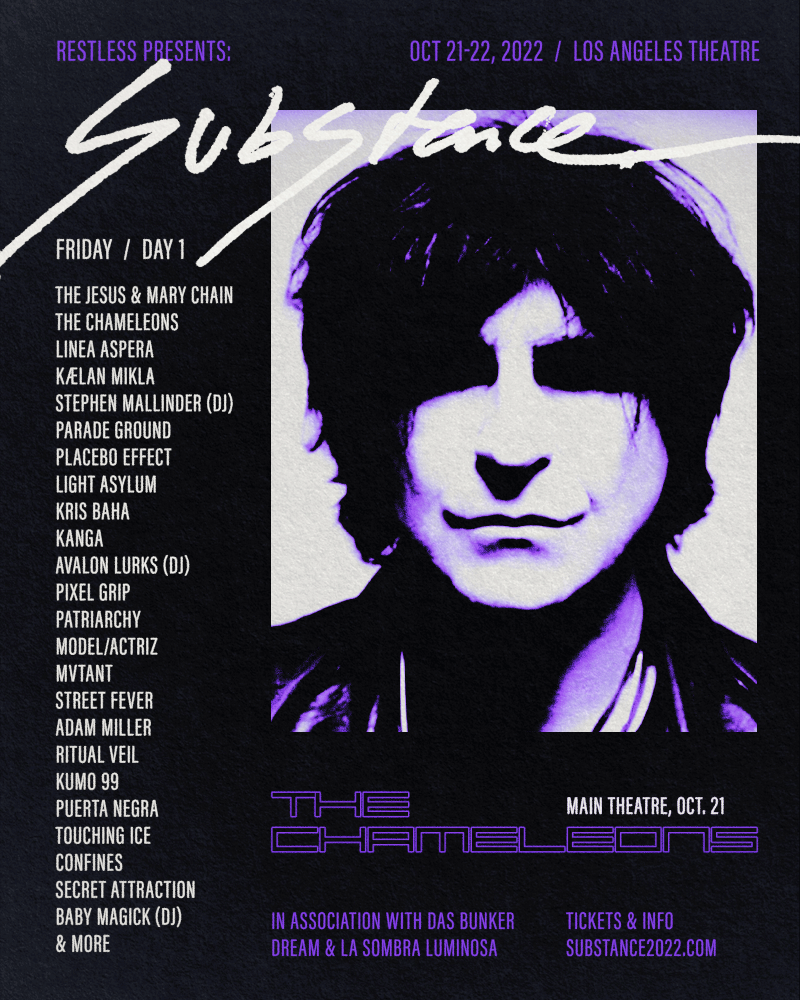 The Chameleons are regarded as one of the most underrated Manchester bands of the 1980s. For the first time in 20 years, The Chameleons' Mark Burgess has reunited with original guitarist Reg Smithies. The Chameleons formed in 1981 by singer and bassist Mark Burgess, guitarists Reg Smithies and Dave Fielding, and drummer John Lever.
The band released their debut album in 1983, Script of the Bridge, followed by What Does Anything Mean? Basically and Strange Times in 1985 and 1986, respectively. In 1987 they disbanded due to the tragic death of their manager.
They later reformed in 2000, releasing a few new albums, but sparked tensions that caused the group to call it quits again in 2003. Burgess and Lever continued to play Chameleons' songs live with their new project ChameleonsVox, although Lever later left that group and passed away in 2017. Burgess and Smithies reformed The Chameleons in 2021 with two members of Burgess' ChameleonsVox group.
Das Ding
Dutch music producer and modular synth manufacturer Das Ding, aka Danny Bosten, got his start in the early 80s self-releasing on his own cassette label, Tear Apart Tapes. Das Ding unleashed powerful dark electro in the vein of Fad Gadget, Kraftwerk and New Order. Bosten also utilized his graphic design background by creating all the tape covers himself. Das Ding tapes gained a cult following and were often featured in zines of the Dutch DIY synth scene, but he remained relatively obscure for a couple of decades until Minimal Wave Records' Veronica Vasicka unearthed his work after coming across a blog about unknown synth music.
H.S.T.A., Bosten's first self-released cassette from 1982, was remastered. Das Ding was also included in the 2010 compilation album The Minimal Wave Tapes. Additional re-releases followed.
The name Das Ding was inspired by The Thing from Another World, as well as Kant's concept of the thing-in-itself ("Das Ding an sich").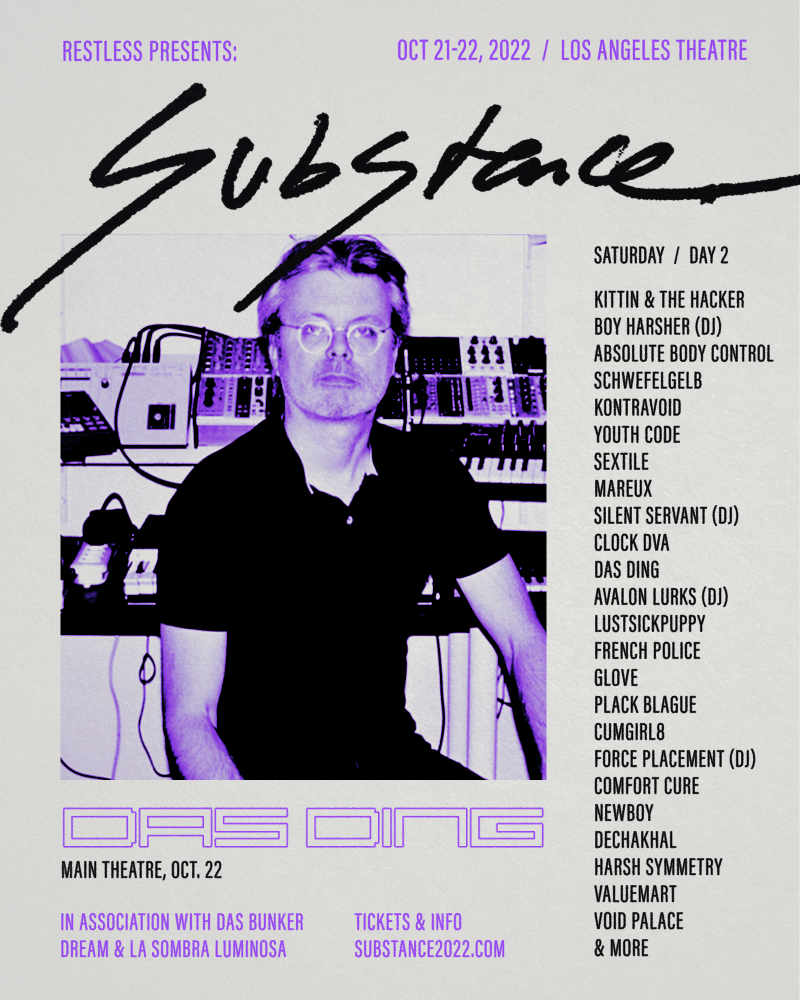 Das Ding is
Clock DVA
Clock DVA formed in 1978 by Adolphus "Adi" Newton and Steven "Judd" Turner. Along with contemporaries Heaven 17, Clock DVA's name was inspired by Anthony Burgess's novel A Clockwork Orange. (Dva is Russian for "two.") Their beginnings explored post-punk, and later they morphed into a key electronica band. Guitarist John Valentine Carruthers went on to join Siouxsie and The Banshees in 1985 after an acrimonious split and various reformations. Clock DVA has appeared in many guises, most recently an electronica-focused formation with his creative partner Jane Radion Newton. Since 2011, Clock DVA has performed at several electronic music festivals and venues throughout Europe with a lineup including Maurizio "TeZ" Martinucci and Shara Vasilenko. 
Absolute Body Control
Like their fellow countrymen Front 242, Belgium's Absolute Body Control (Dirk Ivens and Eric Van Wonterghem) pioneered minimal synth in the vein of Fad Gadget, early Depeche Mode, The Normal, Cabaret Voltaire and Suicide.  The project released a number of cassettes, but only one 7″ (Is There An Exit?) and no studio albums during its brief initial run.
A compilation of Absolute Body Control tracks entitled Eat This was eventually released in 1993. A more comprehensive 2CD compilation, Lost/Found was issued in 2005. A 5-LP box set of all their cassette releases followed in 2007.
Two decades after splitting up, Absolute Body Control re-formed and released Wind[Re]Wind, which contains newly recorded versions of select older tracks alongside the new EP Never Seen.
Substance Festival 2022 begins next week, running through October 21st and 22nd at the Los Angeles Theatre! Tickets and passes for this historic edition of Los Angeles' premiere post-punk event are available now here.
We have also curated a playlist of tracks from this year's lineup. Listen below: