Tiptoe backwards
Running out of time
Those lips caught my eye
Under the dark sky…
Angie King is the caretaker and curator of a bizarre garden of earthly delights in her gorgeous video and single "Love Spell", a euphoric offering from her forthcoming album, Head on a Pillar.
King's dreamy vocal dynamics, an ethereal blend of haunting choir and darkwave, were heavily influenced by her time in the church choir, as well as her beloved late father's profession as an operatic singer. The LA-based singer-songwriter alchemizes these base elements into mysterious, soaring dreampop. Dreamscape blends with heavy tones, spanning genres and human experience alike. With elements of Kate Bush, Depeche Mode, Cocteau Twins, and a light sprinkle of Tori Amos, this unique chanteuse sounds as if she's been sent down on a cloud to bring us a message from beyond the veil.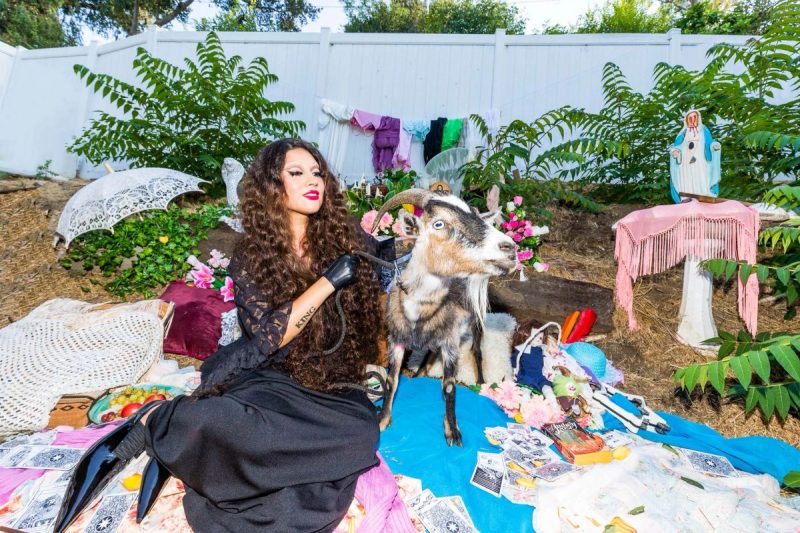 The video is a vertitable psychotropic tea party, informed by Cameron, Anger, Chytilová, and 70s soft-focus cult horror. Nestled throughout the lush vegetation of King's self-created Eden, we find delicately composed altars overflowing with candy-colored offerings; a plea to the Hand of Fate to reveal the secret liminal space between darkness and light. Appeased, the golden talons unveil realms of enchanted, ecstatic possession; it is a celebration of the Divine Feminine.
Borne of King's imagination, the video was a labour of love created by a team of creative visionaries: Rony Alwin, Maritza Garcia, Alondra Excene, Abigail Smith, and Maira Gomez. "The best part about making this video," says King, "is being able to work with all my talented friends to bring the concept to life."
Watch the video for "Love Spell" below:
Growing up, Angie lived in a vibrant world of music that helped her understand the beauty of sound's power to express emotion, spirituality, and that which transcends language. Her mother's spiritual healing teachings helped her to develop a sound that transcends and helps others to heal through the power of music. After her father's passing, King dedicated herself to writing music and creating her legacy of art in her family's name for generations to come.
Follow Angie King: