Los Angeles-based songstress Kid Moxie, the musical moniker Greek-born artist Elena Charbila, is a formidable force in cinematic pop, making a name for herself by collaborating with the likes of Gaslamp Killer and most famously with Angelo Badalamenti for a rerecorded orchestrated version of the song "Mysteries of Love" from David Lynch's Blue Velvet.
Following the unveiling of her dreamy neon-tinged love song "Better than Electric", the title track from her forthcoming new album, Kid Moxie has dropped something a bit darker from the new LP.
The new single "Shine" is a sordid and evocative club banger. With clear allusions to Depeche Mode's classic Music for the Masses album track "Never Let Me Down Again", the song was co-written and produced by electro artist Faderhead during a quick two-day session the two had last summer in Hamburg.
The video is a glossy nod to Robert Palmer's "Addicted To Love" with a queer twist".
On both the song and the video, Kid Moxie explains:
"When Faderhead and I started writing the song I was definitely channeling some Depeche Mode vibes and I even made a joke that Dave Gahan should be singing this. The line "I m taking a ride with my best friend" kept coming up for me and then I decided that this song is indeed about a drive, only a bit more sinister cause it ends up with the driver and the passenger having sex in the back seat of the car. Night drives and power play are both pretty fascinating ideas and lend themselves to a plethora of both lyrical and visual exploration.
The overall feeling and lyrics of the song are obviously sexually suggestive and the video (directed by Joe Rubinstein) was going to have to reflect that. I have assumed a sort of "ring leader" persona in this video but what was important for me to show is that although we are dominating one another, we are all equally powerful each in our respective roles. There is really no submissive or dominant one if you think about it that way.
I like shooting with a black backdrop, there is no sense of time or place so you tend to lose yourself in a type of vortex which is a pretty alluring idea to me.
I have always been so drawn to Caravaggio's paintings and the way he uses light so much, I think the way you light something can really make or break it. I also love the concept that me and the girls look like a (pretty raunchy) painting coming to life!"
Watch the video for "Shine" below:
Originally from Greece,  Kid Moxie's musical CV is impressive: from accompanying superstar crooner Michael Bublé to collaborating with David Lynch's right-hand composer Angelo Badalamenti, as well as writing music for countless soundtracks, TV commercials, and video games.
A fateful encounter with a can of Moxie Cola revved up her impetus in creating her musical alter-ego, and with this, Kid Moxie was auspiciously born. "I like to call my music cinematic pop," she explains, and the cinematic elements found in the enchanting aurae she infuses in her music can't be overstated.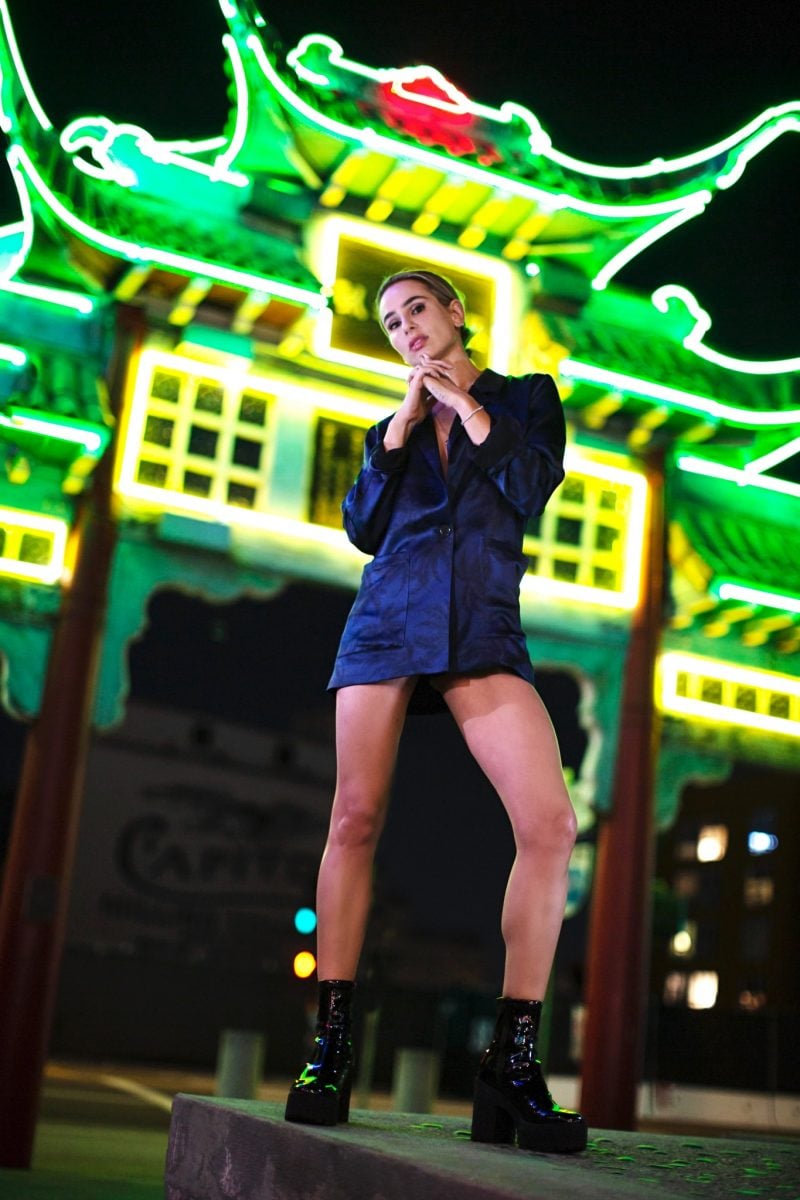 Kid Moxie's new album Better Than Electric is due out in June of 2022.
Meanwhile, find "Shine" in the streaming platform of your choice here
Follow Kid Moxie: