Detroit synth-punk duo Adult. contort in the distorted dance nightmare of "Our Bodies Weren't Wrong", their latest video from their ninth official full-length album Becoming Undone.
The formidable pair of Nicola Kuperus and Adam Lee Miller have for a quarter of a century honed their stylistic Soundcraft into one of their most caustic and cohesive records yet. This is evident on this latest single from the album, "Our Bodies Weren't Wrong", where Nicola Kuperus' possessed like vocals loop around frenetic synth beats, evoking the sound of some sort of techno punk frenzy that dissolves into a theurgic fever-dream.
Here, the aural imagery is fused perfectly with the visuals, as Adult. have brought Becoming Undone's artwork to life in their mesmerizing self-directed video for the single which features dancer Shannon White.
"Askew interior architectures merge with estranged domesticity," ADULT. describe. "The body moves rightside up / upside down / in the doorway / out of the doorway in this suburban void filled with too many doors to realms of the unknown. Feelings of disorientation and liminality interlace with elements of 'Nightmare on Elm Street' and the dance meets horror of 'Suspiria'."
Watch the video for 'Our Bodies Weren't Wrong" below:
Using her vocals to decry and grieve faults, fears, and failings of a deluded world, Nicola Kuperus's vocals crack with a resonance that flickers and shudders with indignant denunciation. "Humans have always been pretty terrible," Kuperus explains. "But every year the compromises of culture just accelerate."
Becoming Undone also saw Kuperus and Adam Lee Miller reconnecting with their legacy influences, such as the politicized industrial percussion of Test Department and the queasy miscreant synthetics of TG's 20 Jazz Funk Greats. From this, the duo ignited a series of sonic ideas centered on the themes of impermanence and dissonance. "We weren't interested in melody or harmony since we didn't see the world having that," Miller states.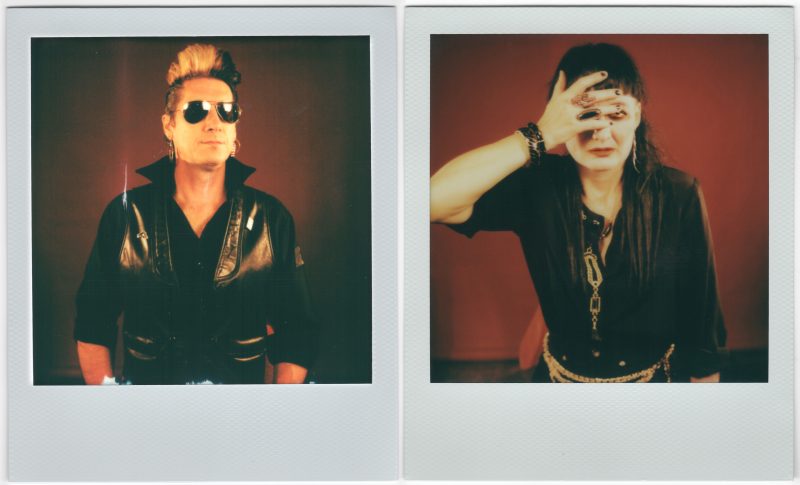 Becoming Undone is also an album fraught with deep personal pain, as Kuperus' father passed away during the height of the pandemic, just before the album took root. As his hospice caretakers, she and Miller faced the banality of finality, surrounded by objects drained of meaning, "the joy of having a body, but also the drudgery of having one."
Becoming Undone is out on February 25th via Dais Records across all digital platforms. Vinyl and CD formats will be available in stores worldwide on March 11th.
Order the album here.
ADULT. Kick-off their Spring tour March 7th in the UK and EU, followed by an extensive North American run with Kontravoid and Spike Hellis.
ADULT. LIVE DATES:
UK/EU:
07/03/2022 UK Bristol – Thekla
08/03/2022 UK Glasgow – Slay
09/03/2022 UK Manchester – White Hotel
10/03/2022 UK London – Electrowerkz
11/03/2022 FRA Lille – Black Lab
12/03/2022 BE Brussels – Magasin 4
14/03/2022 DE Hamburg – Hafenklang
15/03/2022 SWE Malmo – Plan B
16/03/2022 SWE Gothenburg – Musikens Hus
17/03/2022 SWE Stockholm – HUS 7
18/03/2022 DK Copenhagen – Stengade
19/03/2022 DE Berlin – Urban Spree
22/03/2022 PL Lodz – DOM
23/03/2022 PL Wroclaw – Akademia
24/03/2022 AT Linz – KAPU
25/03/2022 AT Wien – Chelsea
26/03/2022 HUN Budapest – Dürer Kert
27/03/2022 CZ Prague – Chapeau Rouge
28/03/2022 DE Munich – Rote Sonne
30/03/2022 CH Yverdon-les-Bains – L'Amalgame
31/03/2022 FRA Lyon – Sonic
01/04/2022 FRA Paris – La Boule Noire
02/04/2022 NL – Nijmegen Merleyn
North America:
04/13: Cleveland, OH – Grog Shop ~
04/14: Pittsburgh, PA – Spirit Hall ~
04/15: Philadelphia, PA – Underground Arts (Black Box) ~
04/16: Brooklyn, NY – Market Hotel ~
04/18: Baltimore, MD – Metro Gallery ~
04/19: Richmond, VA – Richmond Music Hall ~
04/20: Carrboro, NC – Cat's Cradle (Back Room) ~
04/21: Atlanta, GA – The Earl ~
04/22: Orlando, FL – Will's Pub ~
04/23: Miami, FL – Gramps ~
04/25: Tampa, FL – The Crowbar ~
04/27: New Orleans, LA – Santos ~
04/28: Houston, TX – White Oak Music Hall ~
04/29: Austin, TX – The Parish ~
04/30: Dallas, TX – Ruins ~
05/02: Albuquerque, NM – Sister ~
05/03: Phoenix, AZ – The Rebel Lounge ~
05/05: San Diego, CA – Casbah ~
05/06: Los Angeles, CA – Lodge Room ~
05/07: San Francisco, CA – Rickshaw Stop ~
05/10: Seattle, WA – Madame Lou's ~
05/11: Vancouver, BC – Rickshaw Theatre (Verboden Festival) ~
05/12: Portland, OR – Doug Fir Lounge ~
05/14: Denver, CO – Hi-Dive ~
05/17: Omaha, NE – Reverb Lounge ~
05/18: Minneapolis, MN – 7th Street Entry ~
05/19: Milwaukee, WI – Cactus Club ~
05/20: Chicago, IL – Empty Bottle ~
05/21: Detroit, MI – City Club ~
~ w/ Kontravoid and Spike Hellis
All UK/EU Dates w/ Plack Blague
Follow Adult.