On March 22nd, 1993, Depeche Mode released their masterpiece Songs of Faith and Devotion. This is the album that almost broke up the band. The intense one-and-a-half-hour journey into the depths of the human condition explores deep suffering, longing, and the golden persistence of unconditional love could serve as the metaphorical soundtrack to humanity's dark night of the soul.
Songs Of Faith and Devotion deviated from their former synthpop/darkwave guise by incorporating a more aggressive, grunge-tinted sound. The recording of the album and subsequent 14-month Devotional tour proved excruciating for all involved. The band lived and worked together in the same house, which Andy Fletcher described as "claustrophobic." Martin Gore felt massive creative pressure to top his writing for Violator. Lead singer Dave Gahan had picked up a heroin addiction in Los Angeles, which only complicated matters all around, as well as threatened his life.
The mounting stress and creative frustration finally wore out Alan Wilder's patience, prompting him to quit Depeche Mode for good.  Fletcher reminisced about the nightmarish scene: "We were in the worst possible state as members but we were creating some of our best work… at the time, it was a living hell…I remember thinking 'I'm never going to make another record under these circumstances again, because it's so much not fun'. And music should be fun – there should be some sort of enjoyment there."
It was a difficult labour and regrettable loss, but Depeche Mode would eventually bounce back. Despite Martin Gore's anxiety, Andy Fletcher was correct: the extreme pressure of recording the album led to truly masterful songwriting – some of Gore's strongest. It is raw and real; a collective exorcism borne of deep anguish and compassion. Upon its release, Songs of Faith and Devotion reached number one in several countries, becoming the first Depeche Mode album to debut atop the charts in both the UK and the US. By 1997, the album would sell 4.5 million copies.
Perhaps the lessons the band learned can benefit you, too.
In 2020, Mute Records announced via Instagram that Songs Of Faith And Devotion – 12″ Singles Collection on audiophile-quality 12″ vinyl. The collection was remastered from the original tapes and cut at the legendary Abbey Road Studios.  The artwork for the exterior of each of the new box sets draws on street art iconography inspired by the original releases, while the vinyl sleeves themselves feature the original vinyl single artwork.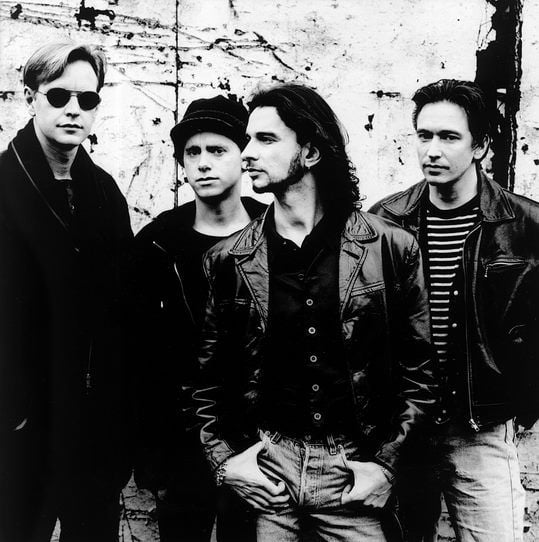 Americans, you can order the album here via Rhino.