Irish songwriter and composer Jules Maxwell has been lining up a string of enticing recordings and collaborations over the last few months. As a touring member of Dead Can Dance, his partnership with Lisa Gerrard has taken flight, culminating in the upcoming Burn LP due out on May 7th of this year. In the interim, he's also been crafting out his own sonic space, and has just released his second solo LP Nocturnes today via the newly-formed Archangelo Recordings label.
The aptly named Nocturnes collects eight instrumentals originally commissioned by the Vincent Dance Theatre. The music is sparse, delicate, and tender, primarily driven by minimal piano circlets and soft string passages. Opening track "In Loco Parentis" is both somber and playful, matching carefully chosen piano notes with gently plucked cello. The album expands in full with "Virgin Territory 1," the track Maxwell teased over time leading up to the album's release. The track is a standout, with a slight electronic current taking root underneath a dense layer of strings and piano treatments that both call the works of Harold Budd and Arvö Part to mind.
Track five "Art of Attachment" is both Nocturnes' centerpiece and by far the most stunning composition on the record, building on a low dose of repetitive piano notes and cutting deep with deeply drawn out cello. As the track continues, high strings and reverb-drenched pianos add a gentle, but welcome glimmer of hope. Each note is carefully considered, conveying so much with a very limited palate. Closing track "Honeydew" is the calm after the storm, a bright and beautiful piece that clears away the dense fog that came before and all but begs to begin the album's journey over again.
Throughout the entire record, Maxwell succeeds in striking the perfect balance between minimalist structure and engaging songcraft. Nocturnes is quite simply an album to lose yourself in – a perfect point of focus on a grey day, and a welcome addition to what will hopefully be a continuously evolving and engaging body of work.
Check below for the full album artwork and tracklisting, and streaming/purchasing information: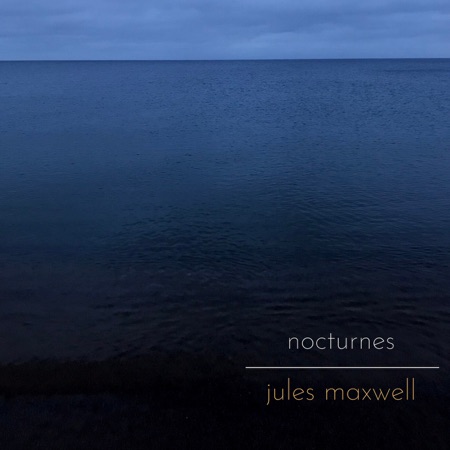 Jules Maxwell- Nocturnes
1. In Loco Parentis
2. Virgin Territory 1
3. Virgin Territory 2
4. April 1964
5. Art Of Attachment
6. Tumbledown
7. Virgin Territory 3
8. Honeydew
Click here to purchase/save/stream