Get ready, Rudimentary Peni fans: for the first time in twenty-six years, the UK anarcho-punk stalwarts announce a new full-length album, entitled Great War (via Sealed Records). This is the first we've heard at all from the band since their 2009 single, Wilfred Owen the Chance. Thankfully, their raw power has not subsided over the years.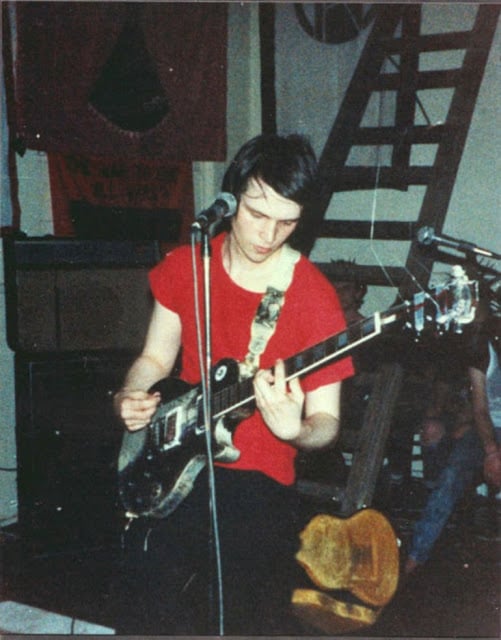 Two songs are currently streaming: Anthem For Doomed Youth and Path of Glory.
The UK band Rudimentary Peni formed in June 1980. Bassist Grant Matthews explained the origin of the band name in a 2003 issue of Maximum RocknRoll: "When I was at school studying biology, we were told that in the fetal stage the clitoris is a rudimentary penis." The band released several albums in the 1980s, eschewing punk fashion and spitting out music described by contemporaries as "fast, loud and demented."
Since then, they have appeared and disappeared for various lengths of hiatus. Rudimentary Peni's songs explore everything from sociopolitical themes to HP Lovecraft. With this new release, Rudimentary Peni strips their sound of all humanizing, concentrating instead on mechanization, to "deliver ten painful…shards fraught with brittle anxiety and anguished simplicity," writes Jensen Ward.
Lead singer/guitarist Nick Blinko retains his signature macabre lyrics and the new album features new pen-and-ink artwork, in keeping with the rest of Rudimentary Peni's records. Power Trip collaborator Arthur Rizk mastered the album.
Here is the album's full description, penned by Jensen Ward:
"Recorded several years ago before Rudimentary Peni engaged in another mysterious hiatus, Great War has finally emerged to kiss the gas-tinged light of a mustered morn. Expanding on the skeletal sounds and subject of 2009's "Wilfred Owen" single the band has seen fit to concentrate on a more mechanized approach doing away with even more of the humanizing aspects in their music this time delivering ten painful familiar shards fraught with brittle anxiety and anguished simplicity. Great War cements new phase in the ever-crawling metamorphic madness that is Rudimentary Peni. The record comes with brand new Nick Blinko Artwork on the sleeve and Inner Sleeve."
In addition to releasing Great War, Sealed Records are also set to reissue the band's back catalog throughout 2021 and 2022:
Death Church LP and CD
EP's of RP LP and CD
Cacophony LP and CD
Pope Adrian 37th Psychristiatric LP and CD
Echoes of Anguish 12″
The Underclass 12″
Archaic EP 12″
No More Pain EP 12″
More EP's of RP CD (Compilation of Echoes of Anguish 12″. The Underclass 12″, Archaic EP 12″ and No More Pain EP 12″)
Great War is out on the 23rd of April and is available for pre-order on their Bandcamp here:
Tracklist
1. Anthem For Doomed Youth 01:57
2. Path Of Glory 01:36
3. Crimson Sun
4. Mental Cases
5. Asleep
6. Blood For Seed
7. Soldier's Dream
8. Strange Meeting
9. Witness
10. The Old Lie