You stagnate in thought
And overflow the walls
It all spills out
You always drown
When the end of the world comes, Matthew, a.k.a. XOR, predicts he will already be hunkered down in his basement studio, fiddling with a Roland JX-3P vintage synthesizer and writing songs for End Times.
XOR's self-titled debut album, due out this summer, is a brooding, hypnotic set of darkwave gems equally at home in a goth club or a future dystopia with subjects like mental health, the loss of loved ones, and the general ennui and anxiety of living in a collapsing empire. "I wasn't like, I'm gonna write a dark album," Matthew says. "That's just what came out…I wanted to start singing again."
The songs on XOR are bathed in a warm melancholy glow, but brightened by Matthew's melodic vocals and taut, pulsing tempos. Often, he'll start humming a melody while walking his dog around the forest, then return to the studio to build a song around it. The natural environment around his home influences his melodies and synth patches.
Much of XOR is animated by psychic dread. The downcast Yesterday examines pandemic isolation and the weight of a year's worth of abandoned plans. The deceptively buoyant Cheer Up takes comfort in the thought that someday we'll all be dead and the universe will reach a cold stasis. The hooky gloom of Saturn Returns thoughtfully addresses the ambivalence of getting older in an uncertain world. With its gurgling synths and new wave flourishes, Tooth Worms reckons with historical ignorance (the title alludes to the once-common belief that tooth aches were caused by worms) and addresses the grim reality of living in a collapsing empire. But there is still a glimmer of hope.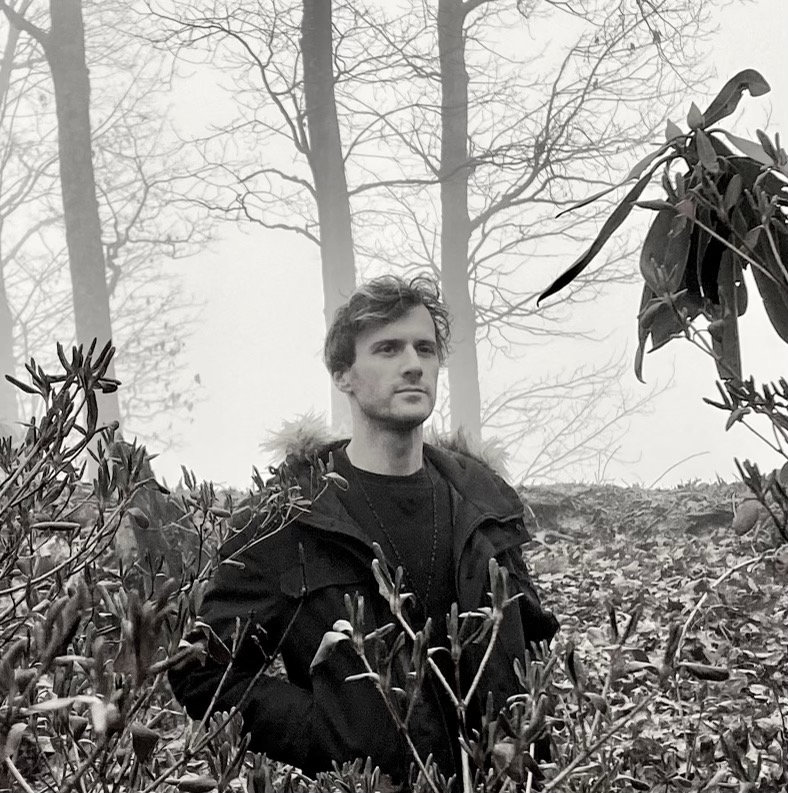 Matthew has spent the past five years as bassist for Secret Shame. "Secret Shame's a guitar-driven band with drums, and I wanted to do something that's more dancey, more pop, but still had the darker elements."
This solo album—his first after self-releasing several EPs—provides an outlet for the influences and sounds long simmering inside. These 10 nocturnal slow-burners draw on influences as wide-ranging as The Cure, Björk, Aphex Twin, and Clams Casino, topped off with an insistent drum-machine pulse and glistening synth lines worthy of a John Hughes montage. After previously releasing music under the name Fuck Jamz—"which was not easy to put on flyers," Matthew laughs—he rechristened the project XOR (pronounced "ex or"), borrowing the name from a type of digital logic gate. He began writing songs near the start of lockdown, initially planning a single and then realizing he'd have enough for a full album. At the heart of the record is an unresolved tension between the artist's unease with technology and his heavy reliance on it, both for music and for work as a software developer and creator of open-source, in-browser synthesizers.
After growing up in the epicenter of the Moral Majority and then taking refuge in green anarchist subcultures, Matthew spent several years trying to live off the grid, hopping freight trains to get around—sometimes living outside, getting into foraging. He spent one summer at an Ojibwe harvest camp, where members were doing land defense against a mine being built on traditional tribal land. For years, Matthew has felt caught in limbo: entrenched in punk and hardcore subcultures, but personally more into electronic music and synth-pop.
"For a while, I was just like, 'The world is collapsing around me! I'm going to prepare for it and go off the grid,'" Matthew recalls. "And then it wasn't? I was like, 'Alright, time to get that 9-to-5 job, get that mortgage, get my shit together.' And as I'm doing that, it feels like the world is actually collapsing around me."
"I think it's common enough in punk or anarchist subcultures for people to bounce from city to city, so you don't often think much of it when someone has a spotty history or long list of places behind them. Sometimes, though, it allows people to burn bridges, leave town, and start over somewhere new, instead of building meaningful relationships or working through the ways they've harmed people. This song is about the uncomfortable intersection between accountability and abuse, trauma and mental health. I spent a couple years trying to help a friend learn to treat people well, but in the end I had to cut them off."
The intriguing self-directed black and white video for the song "Path" depicts Matthew performing, interspersed with scenes of him cutting his own hair (in a bathroom eerily reminiscent of Dale Cooper's hotel room at the Great Northern in Twin Peaks) and grinding a mysterious substance in a mortar and pestle to mix with wine. It is disturbing in the mundane; ominous in the absurd, a snapshot of the eternal forever of quarantine life.
The song itself is sonically reminiscent of minimal synth variation on Violator and Playing the Angel era Depeche Mode, tinged with melancholia specifically tied to isolation; its churns with quiet introspection and woodland settings of the video and press photos brings to mind the simplicity of Thoreau's Walden, and the diverging roads of Robert Frost.
Watch Path below:
Matthew plans to perform his XOR material live later this year, or whenever live music safely returns. In the meantime, he's set a goal to record and release one cover song each month: In January, he put out a darkwave rendition of AFI's God Called in Sick Today, and in February, he covered New Order's Temptation.
Stream Path on the XOR Bandcamp below:
The XOR album is available for pre-order (self-release, out July 30th). Order here.
Follow XOR: