For those who prefer a little anxiety infused in their dance music, Montreal-based musician Laura Krieg has just unleashed a new searing single that's a perfect counterpoint to the sweltering summer heat. Watch and listen to "Fin du travail, via magique" below:
"Fin du travail, vie magique" features a minimal, throbbing bass groove, steady electronic percussion, and atonal, processed guitar leads (all performed by Krieg) that cut straight to the core and drive the track's unsettling energy. The piece evokes the spirit of Malaria's pioneering work in the NDW/post-punk scene, as well as flourishes of early, more primitive D.A.F.. recordings as well as Austrian darkwave duo Astaron's experimental edge. The key to the track's success is in it's hard-hitting, yet minimal approach, where each instrument operates in its own swaying sphere, bridged together by Krieg's vocals. The title and lyrics are directly inspired by one of the chapters of Maintenant, a book by the Comité Invisible (Éditions La Fabrique, 2017). Krieg offers a statement of intent for the track:
A black cat screaming against wage labour
corporate culture
team bonding
self promotion
team building
time management
team retreat weekend team getaway after-office activities
and such abominations
The video, created by K089, taps into a decaying sense of futurism, set against Krieg's absurd, detached kinesis. The visuals compliment the song's scathing edge, denouncing and deconstructing the future we were all promised in the late 20th century. K089 also offers a bit of additional context about the video's themes:
You have to imagine Sisyphus on antidepressants,
crushed under the weight of its ego
on top of a mountain of toxic waste
turned into an virtual amusement park.
guarded 24/7
"Fin du travail, vie magique" kicks off the Vie magique EP, which features four additional tracks of sparse, blistering electro-pop. The EP was mixed by Xavier Paradis (Automelodi), produced by Krieg and collaborator Johnny Couteau (K089), and mastered by Dea Hydra at Les Jardins de Verre . Check below for the full EP details, album artwork, and digital purchasing link: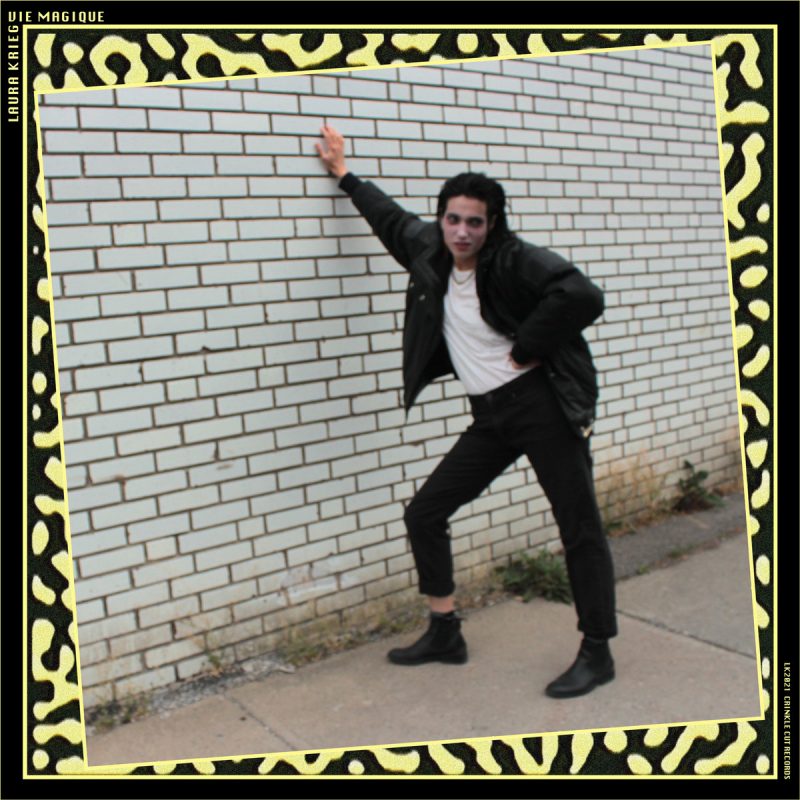 Laura Krieg- Vie magique
1. Fin du travail, vie magique
2. Angst
3. Brûle asphalte
4. Tout s'effondre tout va bien
5. Bureaupathologie
Order here via Bandcamp.