Parabolic acoustic mirrors, used in surveillance, pick up sound from great distances. An obsolete one in the south of England inspired the video for "Unbound," the final offering of The KVB's new album Unity, out November 26 on Invada Records. Looking like the alien cousin to the great monolith mysteries of ancient Britain, the giant structures act as sound receivers….made obsolete by radar almost as soon as they were built. But perhaps…they are still picking up transmissions.
The fascinating clip explores this sound play with a fantastically creative approach, working off the band's radiant guitars, textural synths, and ear for a moody, brooding melody, this results in a song that echoes shimmering light and haunted shadow in both sound and vision.
"The video reanimates these eerie monuments, showing them pulse out mysterious signals of light and colour," explains director Sapphire Goss. "The film is made using a mix of analogue & digital effects- lenticular 3D & stereo loops shot on an 80s Nimslo (35mm) and an old Mamiya passport lens attachment that freeze moments in time & dance around them spatially, adding to the uncanny feeling."
"We've been fascinated by the sound mirrors that are on the south coast of England for a while now and were very pleased to know that Sapphire shared our interest in these decaying, monolithic sculptures!" adds the band. "In fact, they were part of the inspiration for Unity's album cover. It was great to finally visit one in real life, despite the wind and rain that came with filming there. For us, Sapphire's dreamlike, analogue aesthetic feels like the perfect complement to Unbound's hazy sound."
Watch the video for "Unbound" below:
Underground coldwave duo The KVB formed in 2010 by singer/songwriter/multi-instrumentalist Nicholas Wood. Kat Day joined Wood in 2011. The band have released several critically acclaimed albums and EPs over the last decade before signing to Invada Records for their last album Only Now Forever.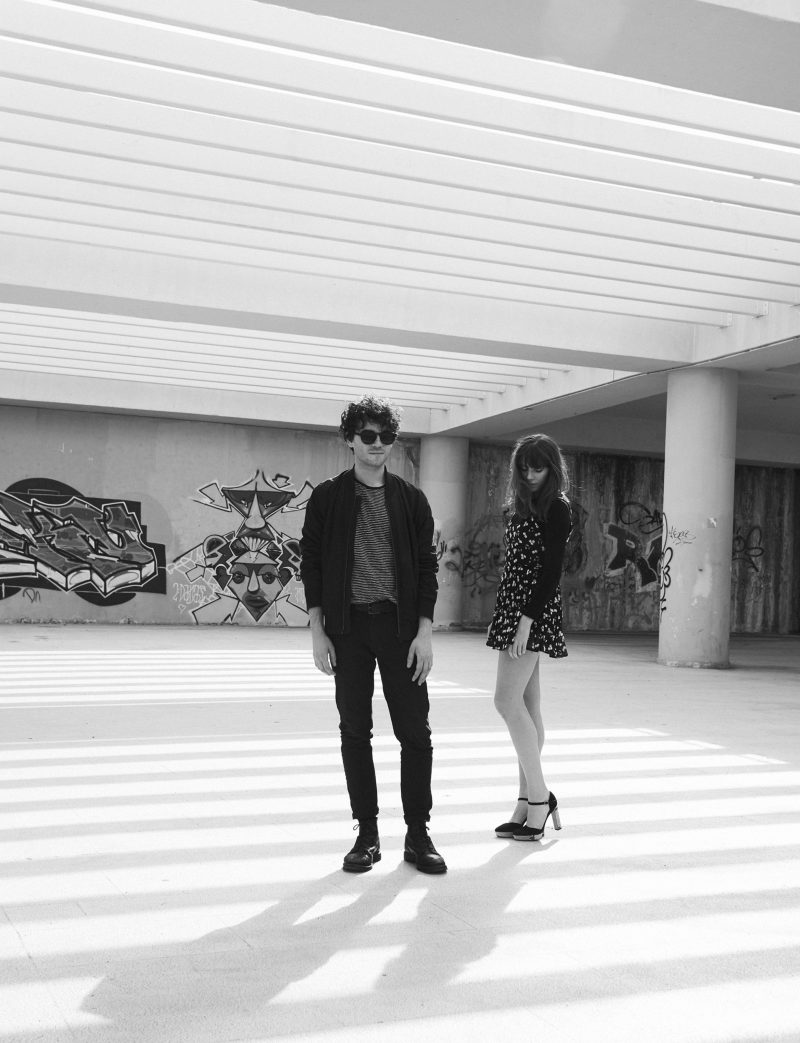 Blending reverb-soaked shoegaze with minimalist electronic production, The KVB's music reflected Wood and Day's mastery of atmosphere. The initial writing sessions for the new album Unity took place in Spain in early 2019, where the duo found influence from "half built luxury villas, still unfinished from the crash in 2008. "There was something eerie and beautiful about the desolate landscapes and concrete in the sunshine," they say. "There has always been an element of dystopia through their sound, but now there is also more of a rapturous release."
Having toured extensively, the band amassed fans far and wide before lockdown offered an opportunity to relocate from Berlin to Manchester to work on new music.
Produced and mixed by Andy Savours (Black Country New Road, My Bloody Valentine, The Horrors), Unity represents an exciting development in the band's sonic journey.