There's deathrock—and then there's deathrock. (Emphasis: mine.) California's New Skeletal Faces help remind of the existence of the latter, and with their new EP, "Sextinction," they've tapped back into the roots of a classic, "trad" gothic rock & deathrock sound. Their new "Sextinction" EP arrived June 25, 2021. And the band recently announced dates with ex-Christian Death members' (Rikk Agnew, Gitane Demone, et. al.)'s revivalist Only Theatre of Pain Christian Death project. NSF's debut LP, Celestial Disease, came out on Halloween, 2019—a testament to the band's dedication to the darker side of traditional gothic rock. "People always assume we just worship Christian Death and Rudimentary Peni," vocalist Errol Fritz says in the interview below. "But there's a lot more than that to us."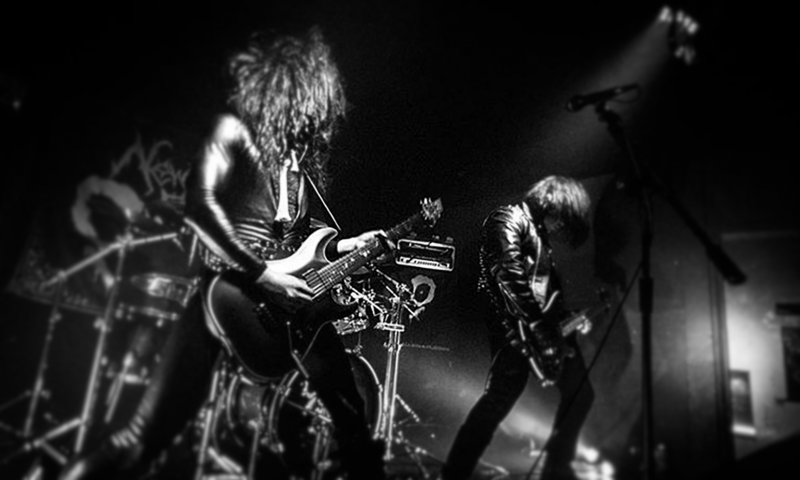 New Skeletal Face's new EP, "Sextinction," underscores Errol's point. Sounding like an unholy marriage between Lords of the New Church, Deathcharge, and the more dark, rocking side of Sisters of Mercy or Terminal Gods (or, for the true believers, check out old 1980s US garage gothic rock like The Dispossessed, for another comparison…) the new "Sextinction" EP is a full-on affair of caustic bleakness. Big, sprayed-up black hair, leather jackets, sunglasses, leather boots, and a sound powered by doomy riffs—New Skeletal Faces quote early The Cure in their interview below vis a vis their eclectic, dirgey approach to music. While some NSF tracks do remind of "Deathwish"-era Christian Death, that comparison may be too easy for this group's new EP.
Check out the interview with California's New Skeletal Faces, and listen to their new EP, "Sextinction," below.
New Skeletal Faces were interviewed by Oliver for post-punk.com in June, 2021
Where did the name "New Skeletal Faces" come from? Who thought of it and what does it "mean"?
Errol (guitars, vox): I came up with the name. NSF represents a malevolent post-human entity.
So, a basic question, to get some basic facts out of the way: When did NSF start? Who was in the band originally, versus now?
Errol: In late 2016, after my previous band ended, KRO and I collaborated to create New Skeletal
Faces. With KRO on bass and me on guitar/vocals, we wrote 3 songs using shitty keyboard drums with some atmospheres which I programmed. An EP with those songs were released in 2017. The songs came out good considering the situation. It wasn't a proper representation of what we were going for, though. We were already planning on getting a drummer from the beginning, we just wanted to get our stuff out there asap. But eventually we found Don Void soon after.
KRO (Bass): Errol and I started it together. Both our bands had broken up so we linked up and started practicing and writing. Originally, we had E-drums that Errol would program with a synth. We shot a DIY music video for "Skeleton Structure" in my old apartment during this era. We tried out a series of drummers; but then Don joined and our band has been complete since then. We were thinking of adding a keyboardist for awhile but we find being a 3 piece to work really well for us.

Don (percussion): Originally Errol and KRO started the band as a two-piece, but very early on I joined as the original drummer and it's been us three ever since. I play drums and occasionally keyboards or second guitar tracks. I've also taken the lead on the recording, mixing and mastering through my studio.

So, being a "power trio" (hah) there's an obvious comparison I want to make to Rudimentary Peni, also a trio, and the EP artwork looks sort of Rudimentary Peni-ish—so I have to ask: How large does Rudimentary Peni's shadow loom over ya'll's songwriting?

Errol: Rudimentary Peni's 1983 "Death Church" LP is the perfect punk rock album. But I can't say we're consciously inspired by them. I have a specific style to my visual artwork, which is how I've been attacking the canvas long before I even heard the band: Acrylic paints with a lot of color is what I use. Nick Blinko of Rudimentary Peni usually does black and white pen. So it's very different, but maybe equally disturbing! I'm naturally attracted to artists that see things similar to me.

KRO – I love Rudimentary Peni, too, but they do not play any part in what we're trying to do, at all.

Don: In regards to New Skeletal Faces being a trio, Lol Tolhurst of The Cure once said, "In a three-piece, everyone must play to the best of their abilities. There is no room for mistakes. It tends to make you very accurate and tight as musicians, but it also means that each gig has some tense moments. Each member has to literally carry the show at certain points in the set, because any bum notes or miscues will be very obvious in the skeletal structure imposed by the three-piece band."

So, that is something that I absolutely agree upon as a three-piece. There is a sort of nakedness on stage that larger bands do not experience as much. Though Rudimentary Peni is an all-time favorite of mine, I would say their influence is somewhat slight. I've still yet to use the traditional Rudi Peni/Jon Greville drumbeat (think of their song "Blissful Myth") in any of our work.


What bands were members in previously? Your previous band, Existential Nightmare, seems to have definitely had a Rudimentary Peni/early deathrock/darl punk influence. What are ya'll's primary influences, musically?

Errol: We were all a part of bands previously. Now, New Skeletal Faces is our main focus. I was playing in a friend's bestial black metal band for a short period too, which kind of influenced my tremolo guitar playing and wanting to incorporate double bass drumming into NSF. People always assume we just worship Christian Death and Rudimentary Peni, but there's a lot more to us. I'm into a lot of extreme metal like Celtic Frost, and rock n' roll like the Stooges
KRO: I was formerly a touring upright bassist. NSF is my first band playing electric bass. While we don't consciously summon any particular influence on our music, we all listen to gothic rock, deathrock, punk, post-punk, anarcho, black/extreme metal, glam, etc. and I suppose a certain fraction of influence has naturally permeated into our playing.
Don: NSF is so forward-looking we don't spend much time thinking of the past. Rudimentary Peni and
Bathory are two of my favorites and consistently have been since the late 90s. Drum-wise. NSF takes some influence from the expected places but also less expected as well, for instance there's a fair amount of Nausea and early '90s Fenriz playing in my approach to drums as a whole.
When NSF started, was there any sort of overarching vision for the band? If so, what? What is the band's "purpose"?
Errol: At its core, NSF is an artistic outlet. When it all started, we just wanted to make dark intense rock n roll that was totally original. Everything was feeling so stale in the scene. I would go to shows and not feel satisfied. What's happening currently in music does not inspire me, but it actually drives me to do more. We have to shake things up because no one else will.
KRO: New Skeletal Faces prophesizes the dark fate that humankind is bound to. We want to explore this vision and create a savage, otherworldly atmosphere with our music. We are always trying to push the limits of what we are capable of, so growing as individual musicians has been important to us, as well.
Don: Honestly to make music that we want to listen to. Explore dark and rarely touched-upon areas of music.
So, as far as that goes. what do NSF's songs tend to be about, thematically? And about the songs on thyour new EP; are they political? Is NSF a political band?
Errol: We're about reality. A reality too harsh or beyond our understanding. In a society plagued by anxiety, many people seek false comfort. My lyrics aim to show the unpleasant side that many choose to not see. The track on our EP, "Banshee Sex Tomb," is about lust and embracing the immoral nature of humanity. Some of the lyrical imagery is inspired by a succubus during a sleep paralysis episode I had. The other track, "Extinction Of Bodies," is very apocalyptic. It's anti-human. Our species will cease to exist at some point, and the earth will continue on. Other creatures will flourish. We are not important. I understand if people interpret my vision as negative. But I think it can be a positive thing to shed the skin of fantasy.
KRO: NSF is not a political band. We have a dark and surrealist artistic vision that doesn't engage the political.
Don: No, NSF is not political. What we do focus on, however, is the cold universal darkness that binds the
cosmos.
How would you categorize yourselves? To me, you play raw, back-to-basics deathrock. Is that
accurate? If someone never heard you, how would you describe your sound?
Errol: We're often described as deathrock. But when I listen to a lot of bands in the genre, we're not like them at all. Our sound is definitely old school, yeah. But it's also fresh, at the same time. We have no interest in recreating the past. It's intense and darkly atmospheric music. Genres are lame but useful. Sometimes I just end up saying "Dark Punk."
KRO: We are not interested in being confined to any rigid, homogenized framework. I feel we are an inexplicable blend of punk, gothic rock and metal. We quite enjoy being a band that people struggle trying to fit into a category.
Don: I just usually refer to us as "Dark, Heavy Music."
When and where was this EP recorded? what label is it on now? when is it coming out?
Errol:  It lands on June 25th, 2021. It's self-released. Order the record now!
Don: Sextinction was recorded in the same place as our Celestial Disease LP, from my Cosmic Void studio. The tracks briskly followed the Celestial Disease recording session and were done a track at a time, beginning with drums, to bass, to guitars, and finally vocals. The tracks were then mixed and mastered with me sitting as engineer. The session was built off of what we learned in self producing Celestial Disease but with improvements across the board. I'm particularly proud with the massive low end this record achieves, especially on vinyl.
===========================
You can order New Skeletal faces' "Sextinction" EP HERE.
NEW SKELETAL FACES have a Bandcamp HERE.
NEW SKELETAL FACES have a Facebook page HERE.
NEW SKELETAL FACES have a webpage HERE.

.