Brooklyn post-punk heroes Bootblacks have been busy since the release of 2017's Fragments, an album that garnered well earned critical acclaim via many music magazine's year-end lists and consequently earned the band slots on various festivals worldwide such as Cold Waves, Terminus, Absolution, Murder of Crows, and the legendary Wave Gotik Treffen.
Now, the NYC fourpiece are back with their latest record Thin Skies, the band's first album for Artoffact Records.
The record is a headrush, propelling itself forward with nine songs drenched in reverb and delay that capture the vigor and nostalgia of a 1980s dancefloor, with anthemic post-punk melodies that are both captivating and intense, especially on the album's first single, "Traveling Light".
"When writing "Traveling Light" I was reflecting on the level of disconnect I was experiencing in public spaces and interactions," explains frontman Panther Almqvist. "This was of course before the impending irony of the loneliest year ever, and against the backdrop of that, it seems absurd – the sense solitude I was feeling then (considering we could still actually see each other and gather in person).
However, I think that vague feeling of being lonely in a crowd actually came more from a feeling of internal distance and artifice between people, rather than simply physical distance. Even though that all sounds a bit dismal, the song is hopeful because its center is about seeing the cracks in the facades we often wear and ultimately finding a meaningful glimpse into another's true self."
The promo video for "Traveling Light" was Directed by Michael Thomas and Bootblacks, with dancing and choreography by Lauren Woods.
On the video's majestic clip, Panther continues:
"Working on the video, it was just letting Lauren do what she does. We wanted to showcase her talent, which was thematically what the song is about as well; a person alone. She's very talented. Michael Thomas, a regular creative collaborator with the band, did an excellent job of making sure he didn't miss any moment of it. It's a quite hypnotic performance and elevates both the themes of isolation and of celebration."
Watch below:
Featuring the thick and sonorous production of Jason Corbett of ACTORS, Bootblacks channeled the spirit of their hometown of New York City into Thin Skies' sound. Even the band's name itself is said to be derived from novelist William Burroughs' description of the dark underbelly of glitzy NYC.
Almqvist elaborates:
"It's an energetic city and people have all the reasons in the world not to give you the time of day. I think our music has been shaped by that in many ways."
The loneliness of city life permeates both the music and lyrics on the record:
"Most of the lyrics on the album are about loneliness," says Almqvist. "Looking back on the lyric writing process there seems to be some connective feeling of isolation and distance present in all of the songs… I'm always hoping that a listener personalizes the song, that's why the songs never have a narrative but try to embody a feeling."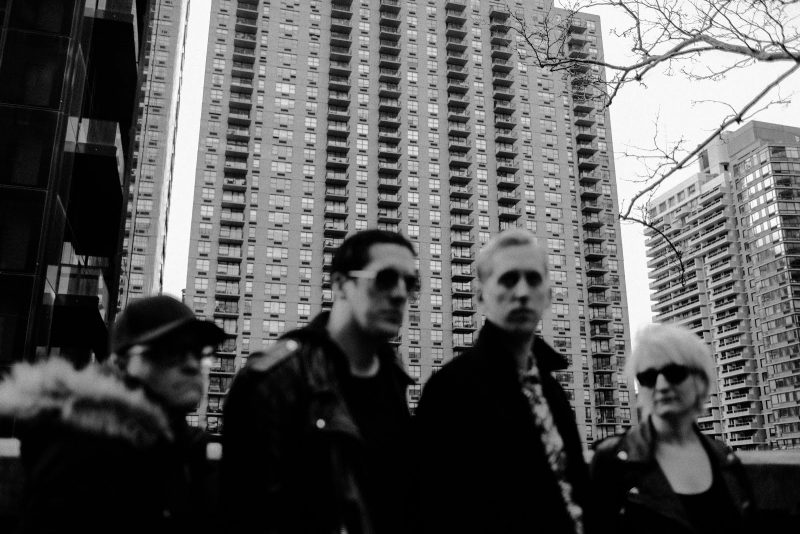 Bootblacks were recently handpicked by Modern English as direct support for a 2020 North American tour that has understandably been postponed.
You can, however,  find Bootblacks' "Voices" from their 2013 LP Narrowed, featured in a film about a fictional 1980s band, Viena and the Fantomes, which is out now on streaming services. The movie stars Dakota Fanning, Evan Rachel Wood, Jon Bernthal, Zoë Kravitz, and Caleb Landry Jones. The soundtrack also features The Soft Moon, The KVB, and Weeknight.
Thin Skies is out September 30th, 2020 via Artoffact Records
Tracklist:
1) Traveling Light (feat. Shannon Hemmett of ACTORS)
2) The Jealous Star
3) Thin Skies
4) Hidden Things
5) Parallel
6) Nostalgia Void
7) Brouhaha
8) New Lines (feat. Kennedy Ashlyn of SRSQ)
9) Inextinguishable