Brace yourself for this eerie number about Brazilian "cangaço," a murderous and subversive social movement during the turn of the last century in the rough terrain of arid Northeast Brazil. Attracting scores of people, the movement grew into a mob of outlaws and nomads who roamed inland to seek money, food, and revenge.
Brazilian voodoo goth/industrial band Pecadores weaves the tale in this ominous new single about its main leader, Lampião:  "Cangaceiro Macabro". The song is part of the upcoming album, Diabo que me carregue, to be released in 2022.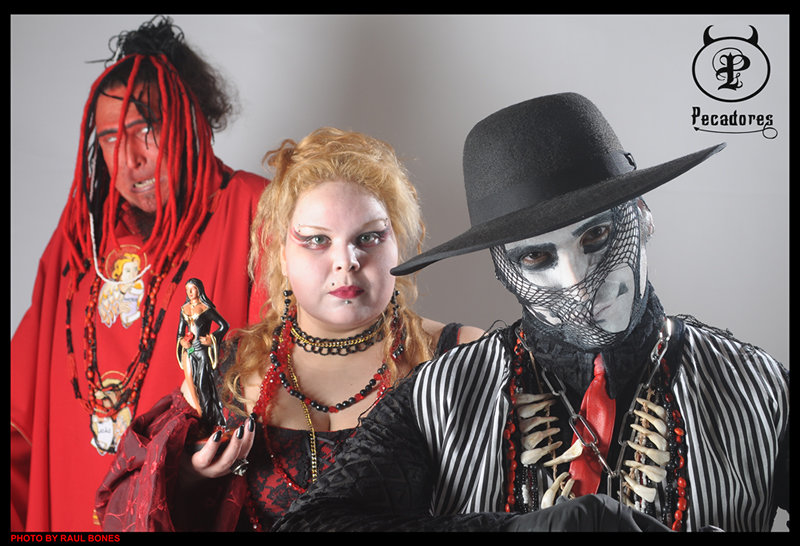 The main sample used in Cangaceiro Macabro is a lip reading from the only recorded Cangaço image where Lampião shows a knife and talks to the camera. The noisy guitars with a macabre sequencer and growling voices (doing their best Alien Sex Fiend impression) set a grisly scene. 
To make matters more jarring, the Cangaço images interspersed with the band in the accompanying video were extracted from a period film, made in the 1930s by Benjamim Abrahão Calil Botto, with technical consultant given by Adhemar Bezerra de Albuquerque. It features the anonymous image of the cangaceiros'  killer Zé Rufino. Additional research was made via "O cangaço na literatura" by Robério Santos. 
Watch the video below:
The cult band Pecadores blends Brazilian percussion with electro sequences and noise guitars, sounding heavy and unique. Music and samples were created by Apostle Niwt Voice, with lyrics by Dark Messenger. The song was produced and mixed by Fernando Nahtaivel and mastered by Marcelo Gallo.
Follow Pecadores: