And now for some goth goodness from Italy: NOKTVA releases "In Deep", a menacing, foreboding number complete with spooky video clip, via Bat-Cave Productions.
Taking inspiration from the melange of sounds cross-pollinated within gothic rock, post-punk, deathrock, and darkwave, NOKTVA formed in 2017 in Catania from an idea of keyboardist Lvx Noire and guitarist Kurten Keys. Ira and Delius later joined the project on bass and drums respectively, rounding out the lineup with Miriam's moving, strong voice. They take inspiration from predecessors like Faith And The Muse, Soror Dolorosa, Cocteau Twins, and Bohémien.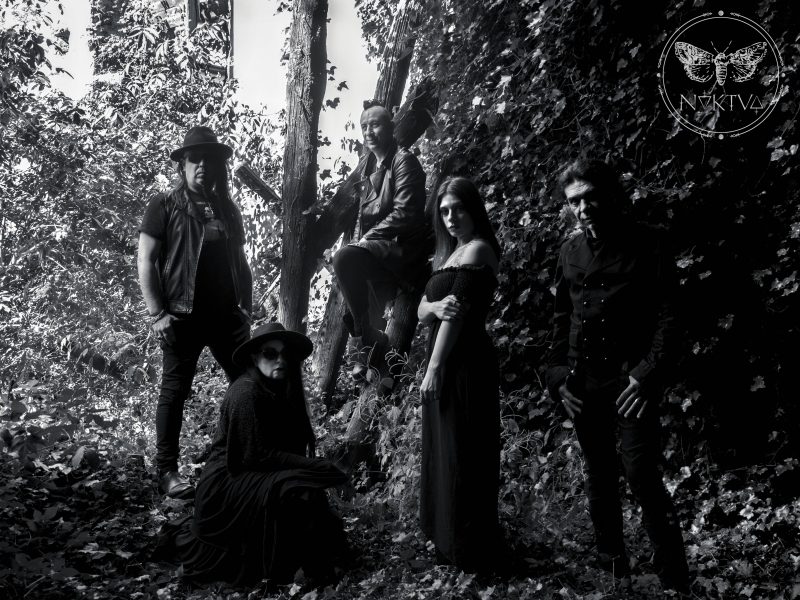 "In Deep" evokes sublime art with its avalanche of guitar and emotional vocals. It's a powerful gothic anthem right at home in a graveyard at dusk.
"You feel fangs and claws on your neck," suggests the band. The video, directed and edited by Lvx Nøire and Kurten Keys, is a monochromatic, spooky, nightmarish romp through a labyrinth of darkness. Masked entities, dreary landscapes, hooded fiends in a snowy forest – it's got all the trappings of a creepy horror film or a rough night ahead on the astral plane.
Watch the video for "In Deep", below:
"In Deep" is the first single from NOKTVA's debut album Like Seven Forgotten Tales, out now. You can stream and order the album below and order here:
Follow NOKTVA: