In the modern digital age, few projects have been able to command a completely under-the-radar, grassroots approach the same way that Babies in the Bardo have. The Bloomington, Indiana-based project began over twelve years ago as a side project for slowcore band Early Day Miners bassist Jonathan Richardson, who would spend hours tinkering with industrial feedback scrapes and dubbed-out post-punk rhythms deep into the night. On August 7th, Sister Cylinder released a series of recordings by the project, collected as a self-titled release, bringing these curious recordings to light more than a decade after their initial recording. With all of that in mind, we're honored to premiere the video for "It's Finally Here." Watch below:
"It's Finally Here" begins with a looped feedback squall reminiscent of Psychocandy, building into a thick bass groove and clapping machine rhythm, with Richardson's spoken-word vocals grounding the track. Fans of bands such as Crispy Ambulance, 48 Cameras, In Camera, and Black Marble will find much to love among the track's stark minimalism and dubbed out DIY approach. The video compiles several scenes of life in Indiana; window views, instruments firing, and signs of life trickling in, all run through filters in tandem with the song's groove.
In true anti-image fashion, Richardson offers these sparse words on the song and video: On a Tuesday in April of 2007, I called in sick to work to write a song. I recorded it and then shot and edited a video for the song. Afterwards, I went to bed feeling much better.
Babies in the Bardo's self-titled record is available via digital and cassette via Sister Cylinder. Check below for the full album artwork, track listing, and purchase links: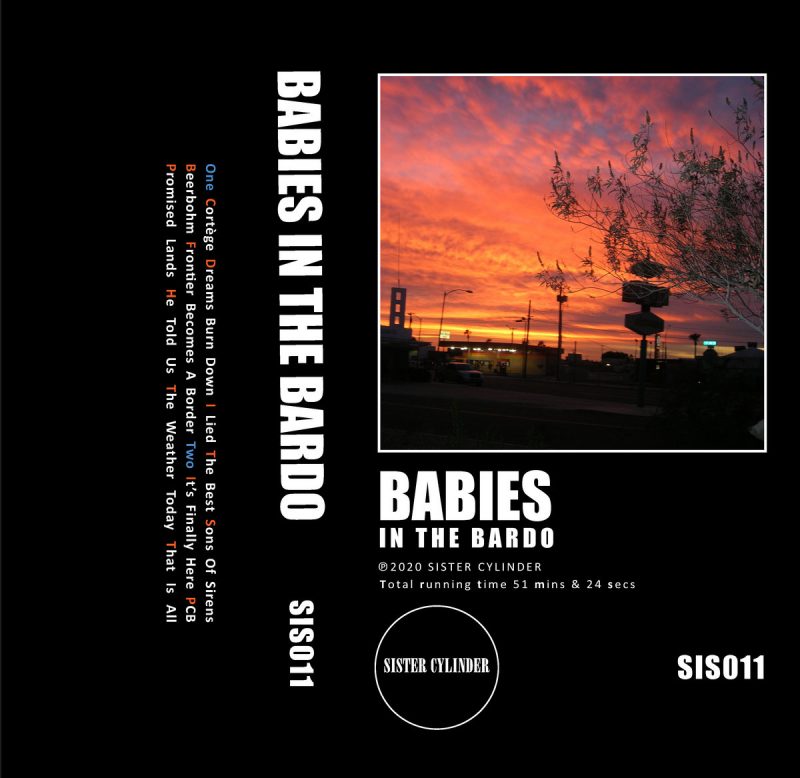 Babies in the Bardo- Babies in the Bardo
1. Cortège
2. Dreams Burn Down
3. I Lied
4. The Best
5. Sons Of Sirens
6. Beerbohm
7. Frontier Becomes A Border
8. It's Finally Here
9. PCB
10. Promised Lands
11. He Told Us
12. The Weather Today
13. That Is All
Purchase digital/cassette edition via Bandcamp