Montreal-based synth pop project Automelodi is announcing its US tour, the first one in three years, slated to kick off in Spring 2023. To coincide with the tour, Automelodi will also release INHALT's masterful remix for the song "Angoisses d'Orléac," which originally appeared on 2019's Mirages au futur verre-brisé LP.
The graphic design and animation for the the tour poster was created by Automelodi's good friend Jean Lorenzo (aka Silent EM) and features excerpts from the video for "Les Métros Disparus," originally directed and filmed by video artist K089.
The remix of "Angoisses d'Orléac" builds upon the original track's deep, new romantic-laced grooves with deep arpeggiated synth bass and industrial-tinged percussion. The remix was produced in 2019 by Matia Simovich (aka INHALT), using a classic vintage gear setup mainly consisting of an MPC3000, Jupiter-8, Prophet-5 and Emulator III. It was mastered by Paul Lavigne at Kontrast Mastering and has remained in the vault until now. Listen below:
The remix is also featured in a visual specially edited by Lorenzo from the animation and footage developed and used for the tour poster art.
Automelodi is also currently in the process of composing and producing new material and although upcoming release dates are still unknown, audiences can expect to hear new material during the tour.
Here are Automelodi's 2023 US tour dates:
03.10: NYC, NY @ St-Vitus (SYNTHICIDE)
03.11: ORLANDO, FL @ Iron Cow (Panic Underground)
03.14: AUSTIN, TX @ Empire Control Room & Garage (SXSW Music Opening Party)
03.15: AUSTIN, TX @ Elysium – Italians Do It Better/Holodeck SXSW showcase
03.17: DALLAS, TX @ The Texas Theater
03.18: SAN ANTONIO, TX @ Hi Tones
03.24: SAN DIEGO, CA @ The Kensington Club
03.25: LOS ANGELES, CA @ The Paramount
03.30: SAN FRANCISCO, CA @ The Knockout
03.31: SEATTLE, WA @ Clock-Out Lounge (False Prophet x Hierophant Booking)
04.01: CHICAGO, IL @ Epiphany Center for the Arts (Sanctum)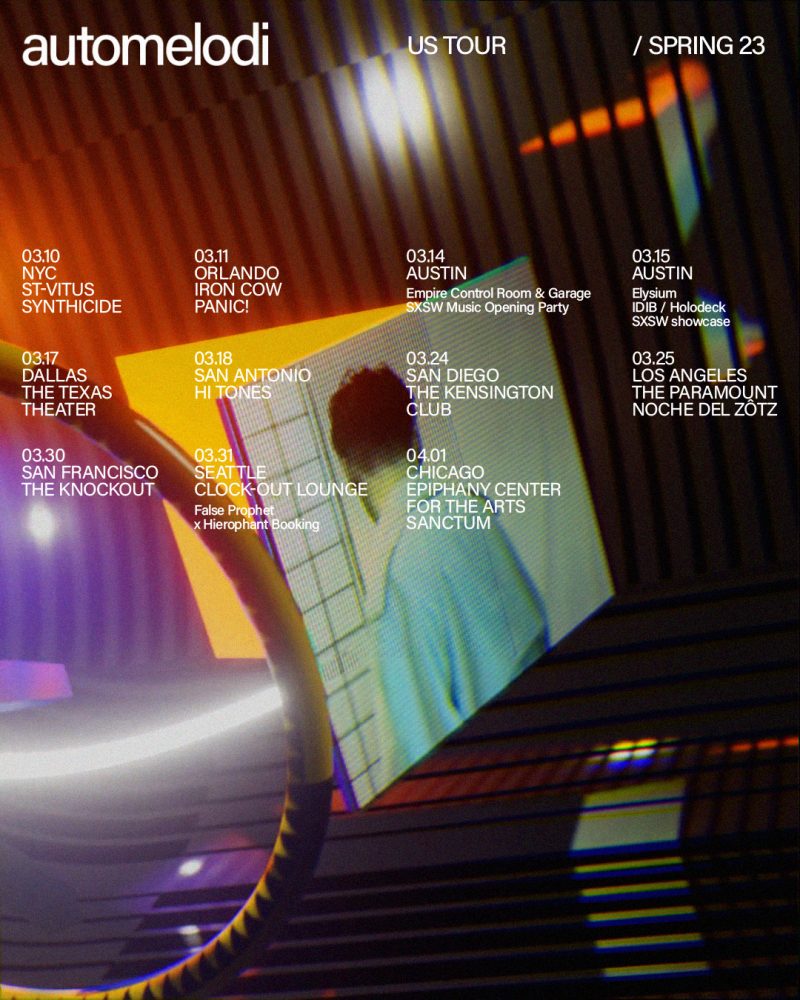 Header photo by Katie Hawes.